January 17th 2008
Posted under India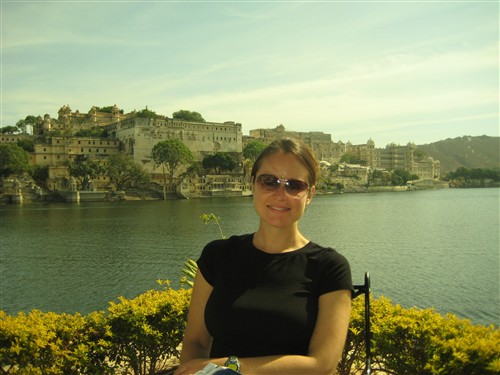 Set on the edge of a sparkling lake and nearly surrounded by mountains, the whimsical, romantic city of Udaipur has a distinctly European feel. From the sunny lakeside patio of Ambrai Restaurant, where we enjoyed our best meal in India, the afternoon sunlight glitters on the tiny ripples of the lake. Local men, women and children bathe and wash clothes at the sun-soaked ghats along the water's edge. The sound of the women beating the wet clothes clean echoes across the town.
Our first day in Udaipur was blissful and stimulating – one of the best days we've had on the trip so far. The morning began with a quiet breakfast on the whitewashed rooftop of our hotel with panoramic views of the lake and the city. When we were sufficiently fueled by hot masala chai, we ventured out to wander the streets of Udaipur. The narrow city streets were lined with vendor stalls selling the usual array of textiles, jewelry, antiques, and miniature paintings; the shopkeepers all greeting us as we walked by and beckoning us inside. We stopped for an impromptu tour of a 350-year-old Jain temple – its interior made almost entirely of glass with many beautiful mosaics. Inside the inner altar, two men were worshipping as we tiptoed around them.
We continued down the road to the immaculate City Palace, one of four residences of the current maharaja of Udaipur, for a guided tour. The palace was elaborately decorated with glass mosaics, colorful stained glass windows, cheerfully painted apartments, tranquil courtyards, windows and entryways carved in traditional Rajasthani style. Rajasthanis have a particular affinity for bright colors and ornate designs, which usually include flower patterns, probably because there are few vivid colors or flowers in the natural desert terrain. From the City Palace balconies, we took in the best views of the city and of the glassy Lake Pichola. The serene lake, only twelve feet deep, surrounds two small islands both of which are entirely encompassed by palaces: the opulent, whitewashed Lake Palace Hotel and the equally magnificent palace on Jagmandir Island, which was built by Maharaja Karan Singh in 1620. Mughal emperor Shah Jahan, who commissioned the famous Taj Mahal, is said to have gained inspiration for the design of the Taj when he stayed on Jagmandir Island in 1623-24. Our City Palace tour came to an end at a series of government-run souvenir shops, which are said to donate sixty-percent of their profits to the poor citizens of Udaipur. The shops contained more beautiful, expertly-handcrafted, and more expensive versions of the wares available on the streets but we were already entranced by the romance of the city and wanted to wrap ourselves in its exotic rhythm. We walked through the buzzing streets and made our way back to the hotel for a quick siesta; then, in a brief recess from my fantasy, we ended up in a cardboard box-like internet café.
Let me digress for a moment to explain that many small towns in India have yet to comprehend the café aspect of internet café. In these depressing and claustrophobic venues, you walk into a tiny room with four cement walls and a few computer carrels. Not only are they devoid of character but there is ne'er a refreshment to be found. In this particular nameless internet café in Udaipur, the proprietor and his visiting acquaintance proceeded to light cigarettes in the unventilated cell. They were polite enough to leave the room when they noticed that I had covered my nose and mouth (and my disgusted scowl) with a handkerchief. When the proprietor returned later, he asked me if I had an allergy to cigarette smoke to which I replied, "No, I just don't want to die from lung cancer." He seemed taken aback by my matter-of-fact response but perhaps he'll think twice before subjecting someone else to the increased prospects of a slow and painful death. In truth, I've probably inhaled enough first-and-secondhand smoke in my indulgent and fearless twenties to do the trick but JUST IN CASE I've somehow been spared the ultimate penalty for my smoky indiscretions, I don't want to push the envelope by allowing unnecessary dirty air into my shrine. There's enough air pollution on the streets of India already from auto emissions, burning trash and cow patties.
After surviving the internet café, we made our way on foot to the City Palace jetty for a sunset cruise on the lake. The boat departed promptly at five p.m. and glided leisurely along the city's edge. The sun was beginning its slow descent on the opposite side of the lake, which brushed the majestic sandstone buildings and their watery reflection in a magical, golden luminescence. The boat continued along its course, rounding the beaming white Lake Palace Hotel and cruising toward Jagmandir Island, where we disembarked to explore the palace. Across the lake, the city of Udaipur had taken on a hazy glow and we joined the throngs of tourists snapping numerous photos from the scenic upper terrace. We walked around the palace courtyard with musicians playing soft melodies from one of many intimate, curtained alcoves in the opulent background. Tempted to further indulge in the tranquil ambience by sipping overpriced Indian wine at a candlelit cocktail table overlooking the water, we hurriedly boarded the boat before we had a chance to change our minds. We had plans to attend a musical performance of traditional Rajasthani dances across town. The show was called Dharohar and was performed in the courtyard of an 18th century haveli museum on the water's edge. Havelis are traditional, ornately decorated, Rajasthani residences, many of which are now used as museums, restaurants and guest houses. We purchased our tickets with about an hour to spare and wandered through a city gate behind the haveli to one of the bathing ghats, where a kind-faced musician in colorful turban was demonstrating his handmade string instrument for a small crowd. In the pale moonlight, his tunes were mesmerizing and I found myself actually considering buying one of his exotic instruments. Thankfully, Aaron's sweet tooth pulled me away to a small café across from the haveli before I was lured further down the path of almost certain buyer's remorse.
Dharohar was a dazzling performance of music and dance. We, the gracious audience, sat on blankets in the small square courtyard while a succession of lovely ladies in bright-colored costumes with delicate embroidery and gold embellishments leapt and twirled to the sounds of three faithful musicians. Each dance had a fiery uniqueness: performers spun with potted flames upon their heads; two feisty divas rang out a choreographed tune on small cymbals sewn into unusual places on their costumes; gold glittered from spinning dresses; and, as the grand finale, a dancer pranced, swayed, stood on the edges of a pie plate and walked barefoot on glass with an astonishing stack of nine clay pots stacked on her head. The audience roared with excitement and applause as the show ended and everyone shuffled around in search of their shoes. We felt a natural euphoria in the air – everything seemed to be bathed in an incandescent glow – and we decided that an elegant dinner was in order.
We took a rickshaw across the bridge to a boutique hotel called Udai Kothi and ascended about five flights of dark, narrow stairs to its stunningly beautiful and serene rooftop restaurant. As we skirted the iridescent pool, lined with colorful cushions and low tables, the maitre d' showed us to a table in the center of the candlelit dining area under a starry sky. Musicians played soft dinner music as we basked in our gorgeous surroundings, drank some of that overpriced Indian wine after all, and dined on saucy paneer and tandoori vegetables. It was the perfect end to a perfect day.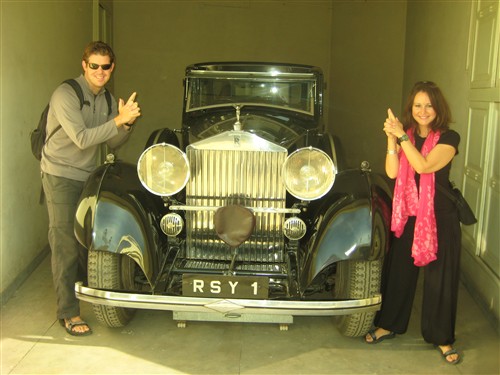 Our next two days in Udaipur were lovely. We lingered longer on sunny terraces, checked out a few shops, and kept our activities to a minimum. On day two, we took a rickshaw to see the maharaja's vintage and classic car collection. Each of the twenty-two splendid automobiles had its own garage and an extraordinarily personable guard opened them, one by one, speaking of each car with pride and affection. Neither Aaron nor I are car buffs but we were awed by the beautifully restored historic vehicles nonetheless. Most impressive was the 1934 Phantom Rolls Royce used in the James Bond film Octopussy, which was partly filmed in Udaipur.
After viewing the cars, we asked our rickshaw driver to drive us to the Spice Box which, according to our guide book, offered recommended cooking classes. Since we are crazy about Indian cuisine and, in our past domestic life, both loved to cook, we thought a cooking class sounded wonderful. The driver dropped us off at a hotel and ushered us inside. "Is this the Spice Box?" I inquired of the proprietor as there was not a sign to be found. "Yes, yes." he said and pointed us upstairs to the cooking classroom to make arrangements with the instructor personally. Her name was Sushma and we liked her immediately as she began to tell us about the class. Although the class fee was double what we'd expected to pay, we were more or less already sold when she let us sample some of the dishes that we would be learning to make and that definitely sealed the deal. Paneer butter masala – our favorite dish! We would join the cooking class at 3:30 the following afternoon and catch a sleeper bus to Jodhpur that same night at 10:15. We ran into an American couple whom we'd briefly met in Wilderness, South Africa, and told them all about our class and urged them to join.
At some point during the next morning, it suddenly occurred to me that the business card that Sushma had given us read Sushma's Cooking Classes. It didn't say anything about the Spice Box. I recalled various warnings in our guide book about rickshaw drivers taking you to a similar place to the one you requested and trying to pass it off as the requested place in order to receive commission from the proprietor. I also recalled our rickshaw driver sticking around the hotel lobby for a suspiciously long time after he'd dropped us off. We ran into the American couple later that day who said that they registered for the afternoon cooking class at the real Spice Box and, after their description confirmed that it was in fact a different place, I explained to them how we had unknowingly been scammed. Despite the hotel proprietor's role in that deception, we were too excited about making paneer butter masala with Sushma to care.
We were the eager beavers of the cooking class, arriving first and grabbing two seats in the front row, center. We took copious notes throughout the class, took turns stirring, and exchanged delicious glances as we tasted each dish. After class, the ten students sat around a large table on the rooftop and dined on an extravagant meal of the dishes that had just been demonstrated: masala chai tea, paneer butter masala, eggplant bhurta, aloo ghobi (potato with cauliflower), dal makhani, saffron rice, stuffed paratha, and fresh made chapati. We stayed at the table long after dinner had ended, visiting with our classmates. It was a lovely evening and we were sad to go as we hurriedly departed to catch our bus to Jodhpur.
Udaipur was a jewel in the Rajasthani desert; the romantic rooftops, whirling beauties, picturesque cityscapes and sunset cruises collectively made our stay there feel like a second honeymoon. The streets were filled with that endearing Rajasthani chaos of cows, stray dogs, working donkeys, rickshaws, motorcycles, bicycles, beggars and chattering shop owners. So much life happens on the streets of Udaipur that your senses are constantly overloaded by the sights, sounds and smells. Even though the buzz can make you crazy at times, you find yourself strangely addicted to it.
Comments Off on A Perfect Day in Udaipur