January 30th 2008
Posted under India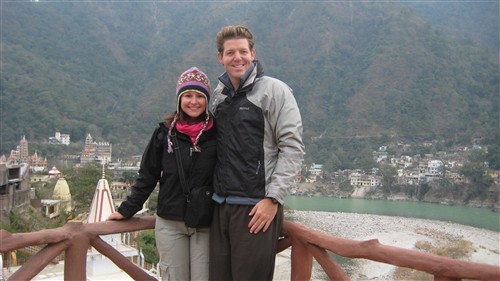 After 19 hours on a train from Varanasi, we arrived in Haridwar in the north of India. On a whim, we shared a rickshaw with two other travelers on the hour-long ride through the forest-covered Himalayas to Rishikesh, the self-proclaimed Yoga Capital of the World. From a distance, Rishikesh looks like a Rocky Mountain ski town before the first snow of the season but, as you get closer, the multi-colored buildings materialize into the conic peaks of ashrams and Hindu temples. The entire town is composed almost entirely of ashrams, temples, budget hotels, vegetarian restaurants, massage parlors and merchant stalls selling prayer beads, jewelry, clothing, music, leather goods, Ayurvedic medicine and an impressive array of books. Almost every hotel boasts a yoga studio and signs advertising yoga and meditation courses are plastered everywhere. In 1968 the Beatles famously spent a month in one of the ashrams in Rishikesh, writing many songs for their White Album. It is a tranquil place to relax, to take a sabbatical from your furious pace.
The glittering, opaque sea green water of the Ganges snakes through the mountains, dividing the town into two separate but similar areas with spectacular views from both sides. The halves are connected by two steel pedestrian bridges, just wide enough for two lanes of pedestrian traffic. On a given day, the bridges are jammed with motorcycles, mopeds, bicycles and narrow push-carts weaving through the crowd…and the occasional bovine bottleneck. Elderly and cripples with startlingly severe physical deformities beg on and around the bridge. Mischievous monkeys loiter, eager to pounce on any pedestrian foolish enough to attempt to cross with food in his hand. Vendors sell handfuls of tiny dough balls which they advertise as monkey or fish food.
We arrived in the off-season and, while the air had a sharp, penetrating chill in the mornings and evenings, it was quite pleasant during the sunny afternoons. We found a cheap, basic room with a large terrace and a breathtaking view and settled in to spend our three remaining days in India in peace and serenity. Rishikesh has that small town appeal that we have fallen love with in India. The local people are warm and friendly and the town seems to attract a very Bohemian crowd of travelers – people who come to study yoga, religion and meditation. We spent our days strolling along tree-covered roads, perusing the market stalls, reading voraciously and recovering from our feverish pace. Even though, we didn't partake in any of the many tempting activities – mountain trekking, river rafting, yoga, horseback riding, etc. – Rishikesh was exactly what we needed it to be: an oasis for the spirit. It was unlike any other part of India that we had seen – lush, green, mountainous and lacking the ubiquitous Indian chaos. It was a good place to rest.