January 18th 2008 by Tina
Posted under India
Udaipur. We were taking the overnight bus to Jodhpur that evening. A couple whom we'd met in our cooking class warned us that the sleeper berths get really cold at night so we decided to leave early to try to buy a blanket on the way to the bus station. We visited so long after dinner, however, that by the time we left, all of the shops were closed. We walked back to the hotel where we had stashed our bags for the day and layered on as many warm clothes as we could comfortably bear: two pairs of pants, three shirts, jackets and scarves. We were bundled to capacity and beyond.
We boarded the sleeper bus, which had both chairs and fully enclosed two-person sleeper compartments. Our berth was on the upper level, right behind the driver's seat. It seemed cozy and we were as excited as two kids at their first slumber party. The bus departed around ten p.m. At twelve-thirty, we stopped for an hour-and-a-half at the Indian version of a truck stop: a dirty squat toilet with no sink, soap or toilet paper; a man cooking something under a tent and a few random locals standing around selling refreshments and baked goods. At this particular stop, we were treated to a chorus of Bollywood show tunes blasting out over an old school loudspeaker. Just about that time, as we huddled in our compartment, we began to notice that it was starting to get cold outside…and also inside. The chilly night air seeped in through the sliding glass window that wouldn't stay closed and seemed to circulate through crevices in the sliding door to the main cabin. As bundled as we were, we could not get warm all night long and spent most of the night not sleeping but shivering. After trying countless heat-sharing cuddle positions, we arrived in a quiet, dimly lit parking lot in Jodhpur around seven a.m. – two hours late!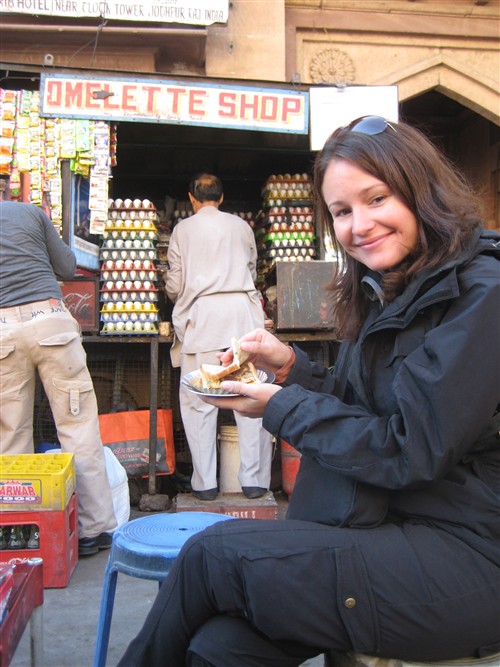 Our hostel in Jodhpur had supposedly sent someone to collect us from the bus stop but he was nowhere to be found so we took a rickshaw to the hostel. Having slept in short, intermittent segments, we collapsed onto the bed and slept late into the day. Because of our restless journey, we both woke at an odd hour, groggy and irritable, and craving a hot, greasy breakfast. The day began on a sweet note. We walked just a few short steps to the main market entrance to the legendary Omelette Shop, which was more like an omelette cart. We sat on plastic patio stools while devouring two of the house specialty – the masala cheese omelette. I never would have guessed that the world's only orgasmic omelette was being served daily from a little cart in Jodhpur, Rajasthan. Aaron tried to get the omelette man to divulge his secret ingredient but the man just threw his head back and laughed a laugh that said "I'm taking this one to the grave, son." Little did we know that our taste buds were in for another colossal treat. Sushma, our cooking class chef, had told us to try a makhania lassi – a yogurt drink made with green cardamom and saffron – when we went to Jodhpur and as we entered the market with happy bellies full of greasy omelettes, a big sign advertising makhania lassis suddenly appeared before us. We sat down and ordered one to share…and then another one. Makhania lassi is absolute Heaven on the palate! My addiction was immediate.
You wouldn't think that a day with such a delicious start could turn sour but somehow, after the lassi, things started to go south. Likely, in part, because of our attitudes, we found the people on the streets of Jodhpur collectively disagreeable. So many of the children begged and the streets felt cold and unwelcoming. We decided to tour Meherangarh, meaning Majestic Fort, which was built on top of a steep hill at the edge of the city. The fort, once the residence of generations of rulers and now a museum – was interesting and the audio tour was well done. From the highest levels, we took in the best views of the blue city of Jodhpur. The houses are painted with indigo, which gives them a cool, pale blue hue.
From the fort, we walked about fifteen minutes down the road to a grand white marble cenotaph (tomb monument), called Jaswant Thada, which was commissioned by the wife of Maharaja Jaswant Singh II in his memory. The marble used to construct the memorial is so fine as to be almost translucent. Inside were photographs or drawings of all of the past maharajas of Jodhpur in silhouette. A small altar in the center with a photograph of the honored maharaja was adorned with colorful flowers, pictures of Hindu gods and burning incense. What strikes me as odd is that, while pedestrians are required to remove their shoes before entering the monument, the dome is covered with pigeons that "bless" the marble steps and terraces all day long. While I respect the cultural custom of removing shoes before entering a holy place, I'll always remember leaving with pigeon poo all over the bottom of my last pair of clean socks.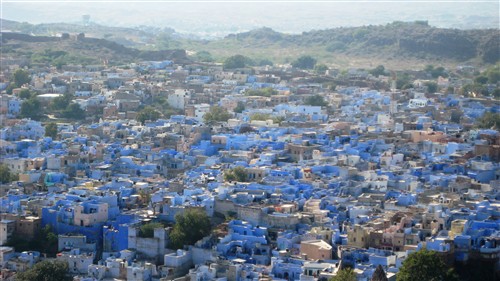 By the time we left the cenotaph, I was beginning to fade, both physically and emotionally; I think we both were. I wanted to take a rickshaw back to the hotel but Aaron thought that it would be fun to walk the medium-length distance through a different part of town. I humored him, mostly because, as a woman of thirty-two, my back side can use all the exercise it can get, especially after many weeks of paneer butter masala. So we walked down a long, curving road and down some steep steps into the heart of the blue city. Before long we were joined by three young schoolgirls who begged us for school pens and rupees. In a normal state of mind, I have more patience with the kiddos but, in this case, we just tried the very scientific and strategic method of ignoring them. Just when we thought they had finally given up, one of the little scamps slapped me square on the back with all of her pre-pubescent might and then took off running down the narrow alley, followed by her two friends. My first instinct was to chase them down, just to scare them and teach them a lesson but I chose instead the much more mature and classy alternative of shouting profanity in a show of raised fists. The incident catalyzed my impatience to its apex and we stormed back to the hotel while completely ignoring everyone who spoke to us along the way. By way of unanimous consent, we sought out the most direct route to a rooftop restaurant that served wine. On the rooftop of Indique, our spirits gradually improved as we worked our way through two half-bottles of Rajasthani red wine while watching the sun set in a pink, blue and purple sky, then headed downstairs to an enclosed restaurant with glass walls overlooking a beautiful city fountain. With full bellies and a mellow wine buzz, we retired early but not before making arrangements to leave Jodhpur the next morning – a day earlier than we'd originally planned. We hired a rickshaw-wallah to pick us up the next morning, drive us to one last palace and wait with our bags while we took a brief tour, and then drop us off at the train station.
We woke early the next morning and walked into the market in search of a warm blanket – for future sleeper buses and trains – and haggled over a heavy green-and-white flowered one that is an absolute albatross to tote around. Our master plan was to grab one more makhania lassi and masala cheese omelette before we headed out of town. We found a lassi shop and inhaled one each before making our way to the Omelette Shop only to find it dark and closed! No! Heartbroken, we walked back to the hostel to meet the rickshaw driver and, in a sudden stroke of genius, decided to skip the palace and instead wait for the Omelette Shop to open! No regrets…the omelettes were amazing! Jodhpur was easily our least favorite stop in Rajasthan. Abused by schoolgirls and hassled by a host of other beggars, we felt a very chilly reception there and, with the exception of the unequaled omelettes and addictive makhania lassis, we were happy to watch Jodhpur fade into the distance.
Comments Off on Masala Cheese Omelettes & Makhania Lassi