September 21st 2008
Posted under Italy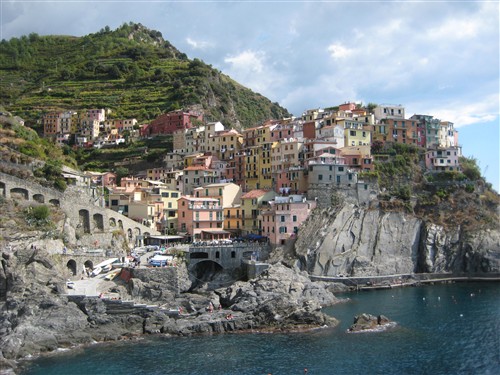 Cinque Terre is the stuff of dreams – five colorful villages, each with a unique character, built into a craggy cliffside on the edge of the Ligurian Sea. Cinque Terre has been designated a national park, which includes a protected marine area. Cars and motorcycles are prohibited from the villages – pedestrian traffic is carried between villages via an efficient train system. Add to that miles of cliffside walking trails, nearly vertical terraced rock faces cultivated with vineyards and olive groves, and stretches of pebble beach along the glittering blue Ligurian and you have a little slice of Heaven!
On a gorgeous sunny day, we pulled into the designated parking lot just outside the village of Manarola and wandered down the hill into town. The town spread as much vertically as horizontally; its weathered facades painted in dusty reds, yellows, sea greens and whites with green shutters and striped awnings. Small boats lined the streets; accordion players entertained café patrons at cozy tables with sea views; locals tanned themselves on sun-warmed boulders and swam in tiny coves; and Italian grandmothers leaned out of second story windows, watching it all.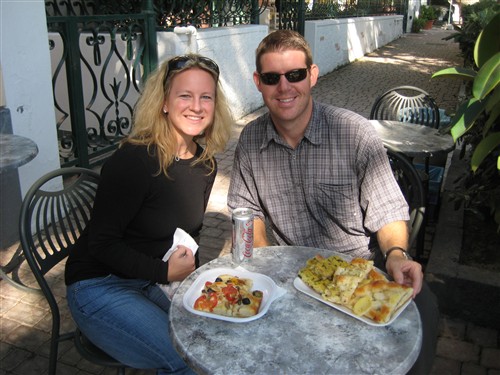 Next, we walked a scenic, one-kilometer trail, called Lovers Lane, between Manarola and the easternmost village of Riomaggiore, browsed around town for a while at the focaccerias and ceramic shops, and snapped countless shots of the photogenic villagescape before hopping a train to the westernmost village of Monterosso. Monterosso has the longest stretch of beach of all five villages and the ocean was beckoning us for a swim. Of the utmost importance, however, was finding Focacceria Enoteca Antonia which reportedly served fifteen kinds of focaccia from scratch. Our stomachs were rumbling and our mouths watering before we reached the doorway just across from the beach. All four varieties of piping hot, generously topped focaccia were unbelievably delicious, making it hard to refrain from stuffing ourselves silly. After that, I felt wholeheartedly that my Cinque Terre experience was complete.
Natalie and I walked down to the beach and tantalized our tootsies in the gentle waves. Unfortunately, our swimsuits were in the car in Manarola and I must admit that I was tempted to strip down to my skivvies and dive in. The water was cool and refreshing and, flashing back to blissful dips in Amalfi, I was overcome with a mad craving for that enlivening shock of the ocean enveloping the whole of my skin. The sensation of freedom and weightlessness that comes with ocean swimming is like an awakening of the spirit. The beach at Monterosso was so delightful that we never made it into town. We just sat on a wall, staring across the Ligurian until it was time to go.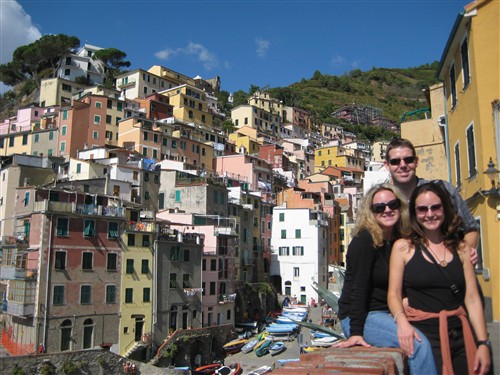 Leaving Cinque Terre was like losing touch with a good friend. You find happiness in other things but every now and then, when your mind stops spinning with the day's distractions, your friend's face flashes through your mind and warms you with fond memories. I hope someday to return to Cinque Terre, to wander the colorful streets of Manarola, to swim in the sea at Monterosso, and to explore the villages that we missed this time. In the meantime, I'll rejoice in the quiet moments when my mind is free to swim with happy memories of a very special place.