Posted under Bali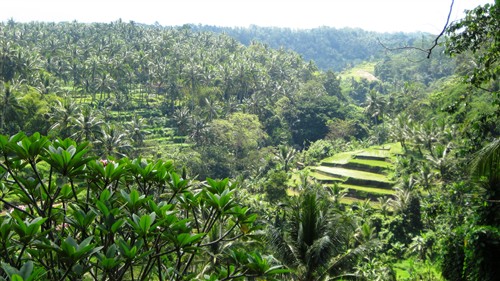 We hired a taxi to drive us an hour north to Ubud. It is thought that Indian traders introduced Hinduism to Indonesia around the 7th century and the indigenous people adapted it to their own animist beliefs. Centuries later, as Islam began to spread its black shroud across Indonesia, many of the artists, scholars and theologians from the newly Islamic islands fled to Bali, and especially Ubud, cultivating the budding rural town into the cultural center of Bali. Today Ubud is a nucleus of artistry, industry and proudly preserved elements of Balinese culture and Hinduism.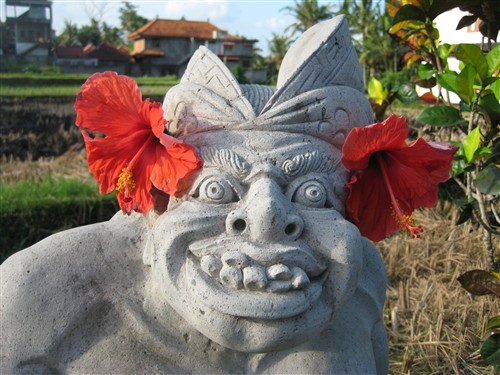 We checked into Nick's Pension – a complex of two-story Balinese-style cottages surrounding a small rice field. It was located along a quiet side street, across from a larger rice farm, giving it the rural charm of a tropical hideaway. As we settled into our cottage, afternoon tea was served on our shaded patio – a lovely touch, we thought. Weary from our surfing exploits earlier that morning in Kuta, we dropped everything and sat down to enjoy the tea in the lush garden setting of the property, meticulously kept by an abundant staff. The grounds were adorned with ogre-like stone-carved statues decorated good-humoredly with fresh, bright red flowers behind their ears.
We rented a moped for the duration of our stay and rode into town to have a look around. Monkey Forest Road, named for the actual forest full of long-tailed Balinese macaques at the end of it, was lined with lovely shops, boutique hotels, alluring restaurants and cafés. We didn't get far before stopping for a beer at a Japanese-inspired tapas bar, called Waroeung, with funky jazz music luring passersby. It was a good spot to check out the scene and plan our next move. Planning to walk a bit after that, we made it about five feet before a sign for 2-for-1 mojitos at the restaurant just next door grabbed our attention. The rest of our first evening in Ubud is a bit hazy in my memory.
Day two took on its own direction. There were many recommended walking itineraries for Ubud in our guide book so we put on our walking shoes and headed out for the day. Ubud is known for its traditional Balinese dance performances and our first stop was at the office of tourism to pick up some tickets for the evening show. As we perused the brochures for the various performances, Aaron randomly spied a pamphlet for the Sayan Aesthetic Institute, which advertised cosmetic dentistry. Why mention this, you might ask. The answer is the story of one of our most frustrating challenges thus far on the road.
Aaron had used Invisalign to have his teeth straightened several years ago and had continued to wear the molded plastic retainers at night. Shortly after our trip home for the holidays, Aaron managed to melt his retainers – both of them – in the cleaning process using water that was too hot. Anyone who has had orthodontics knows two things for sure: one, it usually takes at least a month to get in to see an orthodontist, especially as a new patient; and two, the retainers themselves are not made by the orthodontist at all. He or she simply takes impressions which are then sent off to a lab that makes the final product. This product can take days to weeks and that's in the States where orthodontics is common practice. We were in India and traveling to a different city every few days. Looking forward, we both agreed that New Zealand or Australia would probably offer the best chance to have new retainers made. As we traveled on, we found it very easy to find travel medical clinics but there just isn't much of a market for emergency orthodontics. Aaron made a frustrating attempt in Oceania to get an orthodontist appointment but we were not surprised to find them all booked out at least a month.
I wore braces for three years – from fifth to eighth grade. Before the braces went on in the first place, I recall having several teeth pulled as I, like many others, was born with too many teeth for the size of my jaws. After the braces came off – a glorious day – I had a permanent retainer set into my lower teeth, which was decidedly a good thing considering the short length of time that I wore my removable upper retainer before retiring it for good. Thankfully, my teeth are still as straight as the day the braces came off. Aaron, on the other hand, had his teeth straightened as an adult but never had the excess teeth extracted that had made his teeth crooked to begin with. After a few months without the retainers, his top and bottom teeth had begun to noticeably shift.
Aaron inquired at the tourism office about the location of the cosmetic dentist's office and we decided to walk there first. It took us a couple of hours to find the place, located on the property of a posh hotel called The Mansion. We walked past the unimposing security guard and into the office where we were greeted by a welcome burst of air conditioning and a friendly attendant. Aaron explained what exactly he needed and, miraculously, the attendant said that Aaron could be seen in about thirty minutes! While we waited, we perused Asian travel magazines, admired the local art on the office walls (particularly a large painting behind the attendant's desk), and refreshed our wilted appearances in the spa-like bathroom. When I commented on the painting, the attendant suggested that it might be for sale and offered to call the manager for an ask price if we were interested. "Sure, why not?" Aaron chimed in, sensing my interest and surprising me in the meantime. The ask price came back exorbitant – nearly three times my mental appraisal – and I expunged the possibility from my dazzled mind.
The molds for the retainers were completed in about ten minutes and the attendant offered to deliver the retainers to our hotel in a few days. Those words were music to our ears. Initially, we had thought it rather odd for a hotel to have a cosmetic dentistry office but it's actually a clever idea. While enjoying your Ubud vacation, you can get your teeth whitened or straightened with little effort. The office also advertised a nouveau non-surgical fat-burning procedure which, I must admit, piqued my curiosity. While it certainly was tempting, it just seemed a little too good to be true. Even without the fat-burning procedure, we left the office a little lighter on our feet, as though a great weight had been lifted.
Continuing our walk, we soon discovered what makes Ubud a very special place. Spreading out from the tourist-driven city-center were expansive rice fields with small-statured fieldworkers, wearing traditional rice paddy hats, laboring in the hot sun. In many fields, teams of ducks are sent in regularly to eat pests and leave fertilizer; they can be seen and heard noisily splashing through the muck. Small towns and villages on the outskirts were dotted with artists' workshops and private galleries; painters, stonecarvers, woodcarvers and weavers worked on their latest creations in the shade of their open air workshops and beckoned passersby inside for a personal exhibition. Almost every restaurant and hotel doubled as an art gallery, the quality ranging from "my five-year-old could paint that" to shockingly impressive with prices to match…but everything's negotiable in Bali. Just a short distance from Ubud, you could trek trails through tranquil rice fields or sit on the patio of a beautiful resort restaurant, glass of imported wine in hand, and enjoy the brilliant contours of the green and gold rice terraces glistening in the sun. We did a bit of both. In town, the sidewalks are narrow and broken, often missing huge sections entirely, threatening to send you express delivery into the sewer below if you happen to be window shopping and not paying attention. Small rice fields are tucked into empty plots between homes and commercial buildings, bordered with coconut palms and banana plants, giving Ubud an eclectic mix of artistic urban, colorfully cultural and tranquil rural characteristics. Traditional music and dance are proudly practiced, not only for tourist audiences, but also as a part of daily life in private celebrations and ceremonies.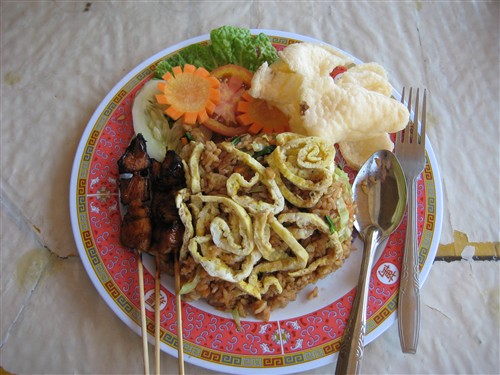 Our favorite Indonesian dish is nasi goreng – fried rice with chicken and prawns, topped with a fried egg and accompanied by prawn crackers and skewers of chicken doused in peanut sauce. Nasi goreng is offered in most restaurants for breakfast, lunch and dinner and, on occasion, we have had it for all three. There are many small, family-run eateries, called warungs, which usually have four or five small tables and cheap Indonesian eats, though many proprietors in central Ubud have commercialized the warung concept to a trendier and pricier level.
Balinese Hinduism is part of daily life, as evidenced by the daily offerings of incense, rice and flowers laid at the step of every home, statue and building. The tiny offerings, assembled in cleverly woven palms and laid on the ground, are accidentally kicked by passersby and ravaged by the stray animals, which doesn't seem to bother the locals. Despite the prevalence of Hinduism in Bali, the cow is not revered as it is in India. Beef appears on many restaurant menus and the buxom bovines do not roam free on the streets. Chickens and dogs run wild, however, scavenging for scraps; even in the busiest parts of town, you are more likely to hit a jaywalking chicken than another vehicle. The dogs in Bali are amazingly streetwise – they actually look both ways before crossing the road! They generally seem to be in better overall health than the stray dogs of India and we have fed them as much nasi goreng leftovers as possible.
The traditional dance performance started at 7:30 that evening. After an early dinner on a patio overlooking rice fields at sunset, we rode to the temple venue of the Kecak (Monkey Dance) Ramayana and Fire Dance. In the courtyard, illuminated by a large flaming sconce, a cast of more than two hundred chanted and danced in the firelight. The costumes were colorful and elaborate and the energy was high as the dramatic scenes of love, battle and deceit played out before a captive audience.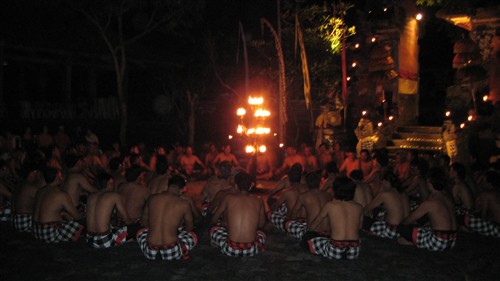 The fire dance was performed separately after the Kecak Ramayana. A large bonfire of burning coconut husks was built in place of the large sconce in the center of the courtyard. As the male cast members chanted a trancelike mantra, a single man in a contrived hobby horse costume ran barefoot through the flames, sending burning husks flying in the direction of the audience, seated in a semi-circle of plastic patio chairs. The horseman repeated the exercise of running through the flaming husks until they had all but burned out. Miraculously, no one in the audience was burned, though the hot red embers fell within a foot of the crowd. That part of the show frightened me and I was ready for it to be over before it ended.
As we exited the temple, the performers were one step ahead of us, mounting their motorbikes to hurry home to their families. It had been a beautiful but long day and we were early to bed that evening to rest for the morning's adventures.
Comments Off on Ubud