September 22nd 2008 by Tina
Posted under Italy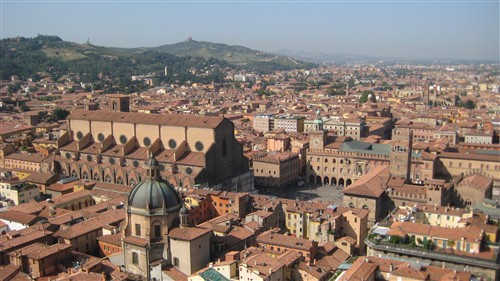 Over the many months of this adventure, I have written occasionally about our experiences in the hostel world. In our attempt to travel so long and far, we have mostly restricted ourselves to youth hostels and budget hotels. To borrow a line from Forrest Gump's mama, "Hostels are like a box of chocolates. You never know what you're gonna get."
After a long, wonderful day in Pisa and Cinque Terre, we arrived at our hostel in Bologna around nine p.m. There seemed to be some confusion regarding our reservation though we were never made privy to it as we stood patiently listening to the two clerks banter in Italian. When we finally received our keys – one for a men's dorm and one for a women's dorm – the clerk informed us that our rooms were in the other hostel just two hundred meters down the road. After some frustrated wandering in the dark, we found the "other hostel" and carried our load up to the second floor. I tried our Room 303 key in the 303 lock but the door would not open. I tried again. Natty tried while I stood aside, cursing under my breath. Finally, we summoned Aaron who confirmed that our key would not open 303 and then randomly discovered that our key would open neighboring 301. Hesitantly, we peered inside to find and empty room with three naked beds. With no hostel staff to be found in this "other" building and no phones, we agreed that it was too cumbersome, too late, and too cold to go back for a new key. We collectively decided that Nat and I would set up camp in 301 in hope that we would have the room all to ourselves.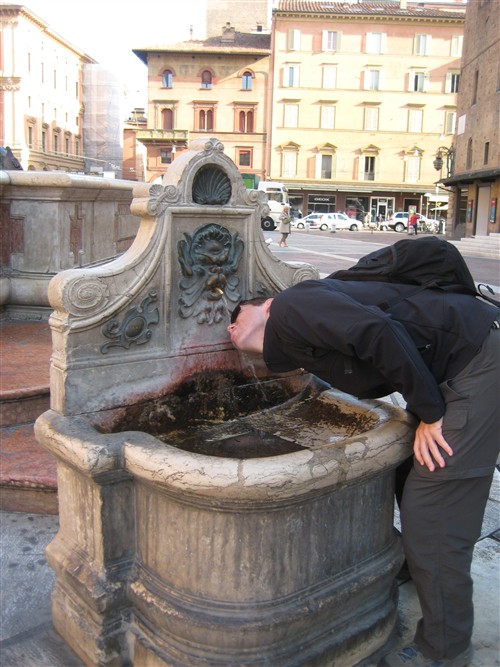 By ten p.m., we had made up our beds, showered and settled in. A brisk fall chill had swept through the whole building and, as I opened the wardrobe doors to look for heavy blankets, I discovered a pile of possessions behind door number two: leather jacket, white collared shirt, camouflage dob kit, some miscellaneous articles of clothing, and a large metal wrench! The items clearly belonged to a man and our heads began spinning with paranoid ideas of a crazy wrench murder with a key to our room. Why would a backpacker need a wrench?
After Nat and I had catalyzed each other's fears into a paranoid frenzy, I knocked on Aaron's door across the hall to warn him that by morning, he might possibly be a widower. He thought we were being melodramatic but gave us the key to his room and told us to come in if anyone suspicious entered our room in the middle of the night. We could re-evaluate the situation then.
We were fast asleep in our cozy beds when, at one a.m., we heard a key clinking in the lock. I pulled the covers up to my nose and pretended to be asleep meanwhile spying in the dark as the young male latecomer tiptoed around, trying to organize his things and make his bed in the dark. I kept my eyes on the area around Natty's bed. If he raised a wrench, I would leap out and scream bloody murder before he had time to strike. I sensed that Natty was awake and playing possum as well. As it turned out, he never raised the wrench but rather stripped down to his skivvies and crawled into bed. My heart finally stopped racing after another half hour and I drifted back to sleep.
At four a.m., I woke again to the sound of a key in our lock, followed by the horrid stench of stale cigarette smoke. Two male backpackers, who had obviously been assigned to the two beds in 301 that Nat and I were occupying, opened the door (at four a.m.!) to find all the beds full. Nat and I lay perfectly still, pretending to sleep, waiting to see what they would do. They stood in the doorway laughing for a few minutes and then left. We heard them talking and laughing outside the door for a while and then they were gone. I felt bad for them but I was too cozy under my warm blanket to be a Good Samaritan. There were no further disturbances after that. Natty and I both popped up before our alarm went off, packed up quickly and quietly, and got out of there.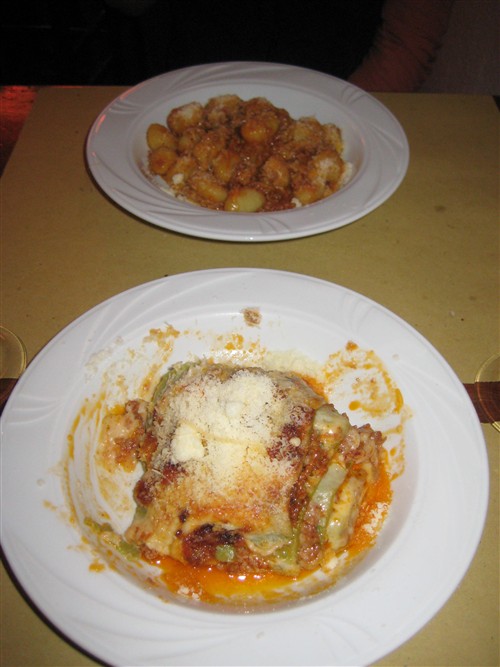 We met Aaron in the hallway at the designated time, loaded the car, and laughed over breakfast at our crazy night in the hostel dorm. Natty has been officially initiated into the hostel world.
We spent the first half of the day walking around Bologna – the food capital of Italy. The few hours that we spent wandering through the city's endless porticos and quaint university quarter were enough for all of us. Not surprisingly, the most memorable part of the day was the decadent lunch that we shared in a little "Mom and Pop" establishment with checkered tablecloths. The long walk and steaming plates of fresh made pastas in rich, meaty "Bolognese" sauce helped to soothe our nerves and lure our thoughts away from psycho wrench murderers. By the last bite of tiramisu, all seemed right in the world again.
Comments Off on Drama Bolognese