November 6th 2007 by Tina
Posted under Africa & Tanzania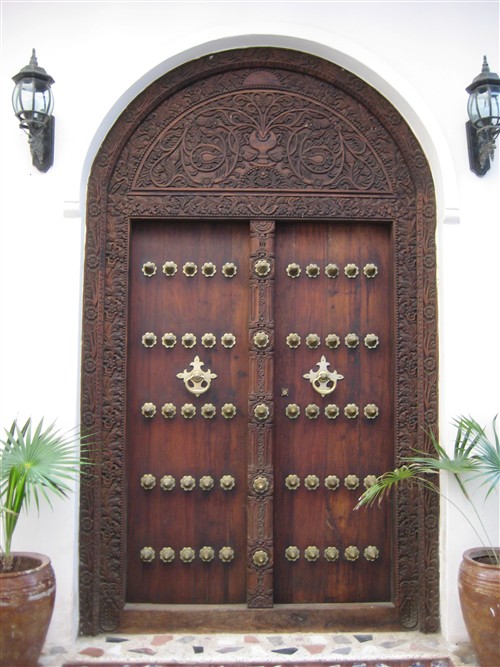 At the ferry dock in Dar es Salaam, there are several classes of ferry tickets listed on the board but foreigners may only purchase the most expensive VIP tickets at $20 each…and that's for the slow ferry. Additionally, the Tanzanians have a currency scam going on from Arusha to Zanzibar. They quote all prices in U.S. dollars but when you actually pay in their local currency (the Tanzanian shilling), they use an outrageous conversion rate, which inevitably adds a couple of dollars to the original price. It is so infuriating, especially when they do it with a smug grin that says "yes, I know I'm screwing you but there's nothing you can do about it", but we're dealing with it begrudgingly…for now anyway.
We departed Dar es Salaam for Zanzibar in the relatively plush VIP section of the most wobbly ferry vessel that I've ever experienced. If not for the powers of meditation, I might well have lost my breakfast in the middle of the cabin. After three and a half long hours, we arrived at the port in Zanzibar Town, the main commercial hub on the west side of the island.
Because Zanzibar is an independent city-state, joined to Tanzania by a declaration of unity, we had to clear immigration. As we had feared, our transit visas came into question and we were shown to a separate immigration office where an agent lectured Aaron on the meaning and limitations of the transit visa. The sole purpose of your visit must actually be transit (i.e. passing through Tanzania directly from one country to another within fourteen days), which apparently doesn't make allowances for a five-day pass through the island paradise of Zanzibar. The agent informed us that we would have to pay the full price of $100 each for new visas. However, after twenty minutes of savvy negotiation by Aaron, we paid only $70 each – the difference between the full visa price and the price of the transit visa that we already had. We cursed the additional $140 but we couldn't be too upset; we'd tried to beat the system and gotten busted with no real harm done. Anyway, now that we have the regular visas, we are in no rush to leave Zanzibar, which is picturesque perfection!
We spent two nights in old Stone Town, getting lost in the narrow, zigzagging streets, perusing the island shops and local spice markets, and admiring the historic town known for its slave trade history, Swahili Muslim culture, and old stone buildings with exquisitely carved wooden doors. On our first evening, we watched a gorgeous sunset from the terrace bar of the posh Afrika House while sipping deliciously overpriced cocktails. With mild island intoxication, we wandered through the darkening streets to a late-night outdoor market along the shore, where Masai tribesmen sold their colorful, beaded wares and street vendors served up fresh grilled seafood skewers, fruit and Zanzibar pizzas, all by lantern light.
We ordered two pizzas from the vendor who seemed to be getting all of the local business and watched curiously as he generously layered ground beef, diced tomatoes, a mix of chopped onions, peppers and spices, one raw egg, a dab of mayonnaise and a dab of soft, white cheese in the center of a round flat disk of dough; he then mixed it all together, turned the corners up, and tossed it onto a makeshift skillet. After browning both sides, he served it sliced with salad, ketchup, and chili sauce on top. We noticed that the local patrons were paying 1000 shillings for each pizza so, when ours came up, we tossed 2000 shillings into the money bowl. "One more thousand," said the vendor. Oh yes, the mzungu price! We endure this sort of discrimination a lot in Africa, for transportation, food and lodging: one price for locals and one price for the mzungus, or white people. Guess which one is higher. While the individual instances of discrimination are certainly more minor than, say, job discrimination for example, they are unapologetically blatant and equally infuriating. In the case of the pizzas, it was about $1.50 versus $1.00 each so we laughed it off and tossed in the extra bill. Anyway, the pizzas were scrumptious and we finished off the meal with a chocolate-banana pizza from another vendor who didn't charge us the mzungu price. We enjoyed our evening so much that we did exactly the same thing the next night: Afrika House for the sunset and the street market for dinner. The second night, however, we paid the local price for our pizzas from the hospitable vendor but only after stopping by the first discriminating vendor's stand to tell him that we were taking our business down the way, "where mzungus are treated as equals!"
One Response to "Zanzibar: Busted by Immigration & Paying the Mzungu Price"
Anonymous on 10 Dec 2012 at 8:49 am #

the plural of mzungu is wazungu