November 7th 2007 by Tina
Posted under Africa & Tanzania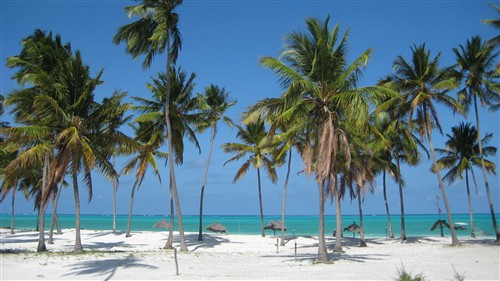 After two nights spent wandering around Stone Town, we headed for the beach. Stone Town encompasses the west side of the island while the many white sand beaches, peppered with resorts and bungalows, lie along the north and east sides. We chose to start at Paje, on the eastern shore, because of its reputation for beautiful beaches, turquoise water, and sleepy bungalow atmosphere. It is everything we dreamed and more!
The fine, white sand is so soft that you feel like you're walking in baby powder. The water is a glistening turquoise for almost as far as the eye can see and then gives way to a deeper shade of blue. The resorts are small and personal with thatch-roofed bungalows, hammocks swaying between palm trees, beachside cabanas, and cozy outdoor lounges with lots of cushioned seating and mellow tunes playing softly day and night. A gentle breeze from the east blows constantly over the beach, making even the hottest afternoon hours pleasant and the evenings comfortably cool. The beaches and resorts are only sparsely populated at this time of year so we have the place almost entirely to ourselves. Swahili women, draped in colorful island fabrics, walk along the beach in the mornings, at low tide, collecting seaweed in hand-woven baskets. The tide is so low that they can walk a half mile out and, from the shore, they appear to be walking on water.
We spent our first night at a quiet resort on the south end of Paje. The room was adorned with African lamps and tribal accents surrounding a rustic king-size bed. The beach there had more dense concentrations of seaweed, making it less desirable for swimming, but the indoor lounge featured cozy nooks and conversation areas, a pool table, and a great selection of board games. After placing our dinner order, we engaged in fiercely competitive games of pool, chess and Rummikub while our hosts busied themselves preparing the meal for us, as well as the other six guests of the evening. We all sat down together at beachside tables and feasted on fresh seafood prepared with local spices. Aaron's crab pasta in cream sauce and my prawns in rich coconut sauce over spiced rice were both superb. It was a quiet, relaxing meal and a perfect start to the perfect beach vacation. In Zanzibar, you exhale every worry, every tension and twinge of anxiety while inhaling the peaceful, happy island breeze. Hakuna Matata.
After breakfast and a game of chess the next morning, we moved up the beach to our newly beloved Cristal Resort. The beach is pristine – the swimming is heavenly – and the outdoor lounge is a self-contained oasis of relaxation. The thatch-roofed bungalow has an "island minimalist" theme with open spaces, clean lines and wood trim. I could stay here for a month without batting an eye but my darling husband, with his undiagnosed Attention Deficit Disorder, could never endure it. He'd have to start a business or something to keep himself stimulated. Aaron and I are polar opposites in this regard. Give me a stack of books, a pen and a journal, and I can spend endless hours of uninterrupted bliss on a picture-perfect beach. For Aaron, what constitutes paradise for five days could quickly become excruciating without enough activities to hold his attention. On this trip, we strive to maintain a healthy balance between his desire to sail on and my need to drop anchor every now and then. Zanzibar is my island paradise. I smile as I watch Aaron lying across from me on a plush outdoor sofa with book in hand and wonder how long he can last.
Our daily activities consist of eating, reading, swimming, sunning, walking, and just hanging out in the lounge at Cristal. There are a handful of potential excursions such as snorkeling, scuba diving, boat trips called Blue Safaris, and SWIMMING WITH DOLPHINS! OK, we agreed to be anti-excursion this week – to spend an entire week just relaxing – but who could resist the opportunity to swim with dolphins? Not us!
The driver picked us up this morning at 6:00 sharp, along with seven other guests, and drove about twenty minutes to the south coast of Zanzibar, a village called Kizimkazi. After selecting a mask, snorkel and fins, we waded about fifty yards through shallow water to our vessel, the Jumbo, a long wooden boat like a dhow but with motor instead of sail. We quickly set out on the gentle morning waves and, almost immediately, saw dolphins surfacing in the distance!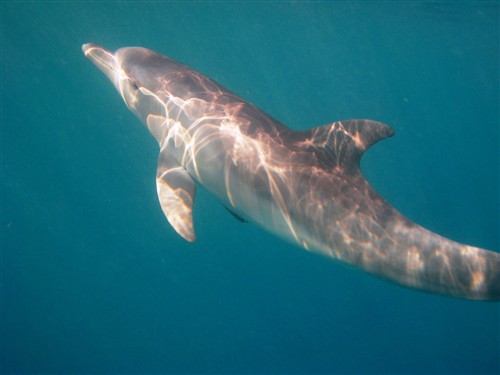 We cruised a bit further from the shore until we could see several groups of them around our boat. We excitedly pulled on our snorkel gear and rolled off the sides of the boat. Almost as soon as I put my mask into the water, I saw them – sleek gray dolphins gliding through the water below us and on all sides. They were beautiful and they were everywhere! On several occasions, we would see nine or ten of them swimming about twenty feet below us while we floated above with our masks in the water. Then the dolphins would start rising toward the surface, gliding slowly and sometimes only an arms length away! They would stay with us for five to ten minutes at a time and, when the dolphins would swim away, we'd patiently wait for them to resurface, then frantically swim to catch up to them. When they were too far away, we would swim back to the boat and go looking for more. There were so many dolphins around us that we were hardly in the boat at all! No sooner would we all climb back into the boat than a new group of them would surface just a short distance away and we'd flop back into the water and kick furiously after them.
When we finally headed for shore, we were all fatigued from an hour long rush of adrenaline-fueled dolphin pursuits. We were overwhelmed by the intensity of the most amazing aquatic experience of our lives. We had envisioned seeing a few pairs of dolphins that would swim away from us as quickly as we hit the water but the dolphins delivered and delivered big! We estimate that we saw about thirty of them in all and they lingered and played around us as if we were dolphins too. The sensation of floating effortlessly along the surface of the warm ocean water, staring in amazement and awe at those marvelous creatures, was pure magic! Though not even a full day has passed since our incredible swim, it already feels like it was a dream…but it wasn't! Today we swam with dolphins!
2 Responses to "Paradise Found"
Little Sister Natalie on 10 Nov 2007 at 11:30 am #

Tina,

I love that picture of you with the black bandana – you're so hardcore.

Jas on 10 Nov 2007 at 5:56 pm #

As the fall rain of the Pacific Northwest sets in and I get down because it's too soon for skiing – I come to your blog and get "lost" in your stories. I've showed your adventure to a few friends and you've got all of us surfing mobissimo for airfare deals to some of your exotic destinations. You should sell this blog to Lonely Planet when you get back!