February 5th 2008 by Tina
Posted under Thailand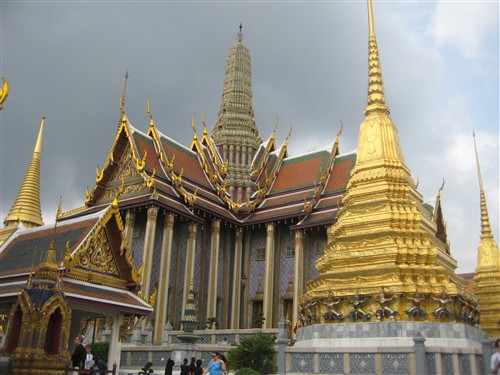 After an uneventful three-and-a-half hour flight from Delhi, we landed in Bangkok a little stunned. The flight was so short that we didn't adequately prepare our minds for the cultural transition from wild, crazy, colorful India to meek, mild yet mischievous Thailand. As we collected our bags and headed for the airport exit, we saw a huge sign which read, "Welcome to Thailand: The Land of Smiles". We decided to be adventurous (and thrifty) and take the public bus from the airport rather than a taxi. We managed to catch the bus and get off at Victory Monument – the closest stop to the Banglamphu area, where we wanted to stay. We still needed to take a taxi from there but it was a much shorter distance. After several taxi drivers quoted exorbitant fares to Banglamphu, we sat down in a slump on the curb, tired and frustrated. When all seemed lost, I decided to keep asking taxi drivers while Aaron brainstormed for another solution. Miraculously, the first driver quoted a slightly less exorbitant fare that I decided we could live with and we were both relieved to be off the curb.
The taxi dropped us off in the middle of backpackers' Mecca. We walked google-eyed down Th Rambutri – an L-shaped road lined with budget accommodation, trendy clothing, jewelry and music shops; street side food carts with vendors frying up pad Thai, spring rolls and spicy curries; and restaurants and bars literally overflowing with artful-looking backpacker types drinking beer on outdoor patios with soft, funky music playing in the background. At ten p.m., the street was alight and magically alive! I loved it immediately. Most of the hostels in Bangkok do not accept reservations – they get so many tourists that they don't have to be bothered with reservations and no shows – so we needed to find a bed. We stopped in one hostel after another on Th Rambutri and the first ten that we tried were full. We finally found the Place Inn near the end of the road which had a room available. Aaron waited outside while I gave the room a cursory glance and then subsequently booked it for three nights. It was definitely on the lower end of the comfort spectrum but it had air conditioning, television, a western toilet and hot water and was reasonably cheap considering its prime location. It was only after we had paid in advance and carried our bags up that we noticed the swarms of mosquitoes and lack of flush mechanism on the toilet; it had a bucket and water faucet and you had to pour buckets of water into the bowl to push your business down the hole. Also, it had that old-style plumbing that can't handle toilet paper so you had to put it in a trash bin beside the toilet, which is disgusting to begin with and downright rancid after three days. Honestly, though, I was starry-eyed over the location and would have taken the room even if I had noticed these "quirks" in advance. Luckily, Aaron managed to secure a very effective mosquito killing device in India that plugs into the wall and works like one of those plug-in room fresheners, effervescing mosquito repellent throughout the room.
Unfortunately, that first night in Bangkok began what would be the climax of my "Ganges blessing", a torturous head cold that kept me holed up in our grungy hostel room, unable to consciously subject that beautiful world to my hideous symptoms. Even the constant intake of cold medicines did little to quell my itchy sinuses, sneezing and nasal faucet; the meds simply left me drowsy, dazed, and mentally impaired. I sent Aaron out to explore the streets while I wallowed in a river of snot and a mountain of tissues.
Finally, on the third day, I reluctantly emerged and we set out to tour the Grand Palace and Royal Monastery of the Emerald Buddha. Ninety-five percent of Thailand's population is of the Buddhist faith and Bangkok has several hundred Buddhist temples. The temples are visitor-friendly and welcome photography but most require conservative dress and all require the removal of shoes. Inside the temple, your head should never be higher than the Buddha statue and your feet should never point toward the Buddha. The faithful venerate the Buddha statues with burning incense and lotus flowers.
The Emerald Buddha is one of the most revered Buddha statues in Thailand. The statue sits high atop a grandiose jeweled throne inside a beautifully ornate gold-pillared temple. Inside, the four walls are completely covered with gorgeous murals against a black background, giving the interior of the temple a dim ambience and highlighting the golden traditional Thai-style throne in the center. The Emerald Buddha is actually carved from a block of green jade. When it was re-discovered in 1434, it was covered in plaster, which eventually chipped away to reveal the green stone; it was initially thought to be emerald and the name Emerald Buddha remained even after it was determined to be jade. The statue is always dressed in one of three seasonal costumes, which are changed by the King. We saw the statue in its winter costume – a luminescent and sparkling gold robe.
After taking in the majestic buildings of Grand Palace, we moved on to Wat Pho, another temple which features the enormous reclining Buddha. The colossal statue is 46 meters long and 15 meters high as it lies on its side. It is made of plaster and brick and covered in gold leaf. The sight of it is shocking! You simply cannot fathom how big it is until you get your first glimpse of its gargantuan head! The Buddhists seem to have a respectful sense of humor when it comes to their idols.
After a full day of sightseeing, we wandered down one of the main boulevards near our hotel that caters almost exclusively to foreigners, Th Khao San. It is like a magnified version of our Th Rambutri with even more bars, restaurants, food carts, and clothing vendors as well as Thai massage parlors and little hair stalls whose stylists can weave multi-colored braids or dreadlocks into your hair. The street was filled with hundreds of wide-eyed farangs (foreigners, usually white people); the only Thai people here are working. The flash and flair of the raucous rue were mesmerizing but I was still feeling mildly wretched so we opted for some street food and foot massages and vowed to return to the Th Khao San the next day. The massages were so relaxing and wonderfully inexpensive and I was tickled by the realization that this was only the beginning. Aaron is lukewarm about massages, in general, but I adore them and have given myself carte blanche to indulge in Thailand's rubdown repertoire.
The next day, we went for full body massages – an oil massage for me and a Thai massage for Aaron. We were both led into a quiet room with individual mattresses and pillows on the floor. We had our massages side by side but I was so engrossed in my own pleasure that I didn't even see the acrobatics that were being performed on Aaron. He reported later that he was kneaded, bent and stretched by powerful hands and then walked on, just like in the movies. I wish I would have seen it! The massage parlor was located on Th Khao San so we wandered around the clothing stalls, stopped for cold drinks and great people-watching, and then headed back to our hostel to check out and catch a taxi to the train station. We were off on the overnight train to Chiang Mai in the north.
Our first taste of Bangkok was wild, edgy, erotic and exotic. It seems to have a wonderfully mischievous mix of characteristics in common with both Amsterdam and Las Vegas. We seem to be leaving a whole mysterious world unexplored as we head north. We'll be back for a few days at the end of our three-week stay in Thailand but we already know that it won't be enough. The Thai people live up to their reputation of living in the land of smiles. We find them to be mild-mannered, happy and lovely people. They are always smiling and it is refreshing and contagious! We love it here!
Comments Off on The Land of Smiles