February 16th 2008 by Aaron & Tina
Posted under Thailand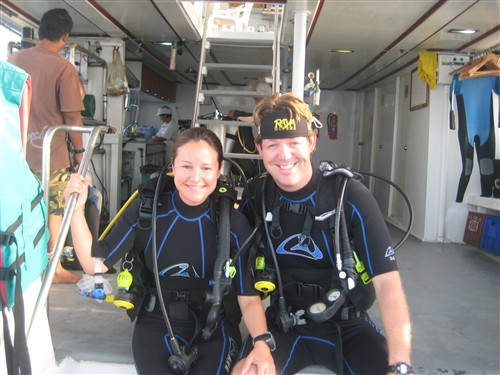 Most scuba divers will tell you that the best diving is done from a live aboard boat. A live aboard is basically a sea-worthy vessel equipped with sleeping berths and a dedicated deck to house scuba tanks, equipment and an air compressor. These boats usually sleep as few as six people or as many as thirty, depending upon the size and design of the boat, although fewer divers usually makes the experience more pleasant. The advantages of a live aboard are basically three-fold; you can reach far away dive sites which are practically undesirable for a day trip, there's no need to switch tanks and gear between dives because your original tank is simply refilled by the compressor onboard, and minimized boat travel time means more time for diving. But diving from a live aboard can be expensive and you're stuck, for better or worse, in rough seas or calm, in the middle of the ocean on a boat. Given our passion for diving and proximity to a world-class diving destination, we tossed our budget out the window and booked the best, last-minute boat deal that we could find; a four-day, four-night trip to the Similans aboard the Vilai Samut.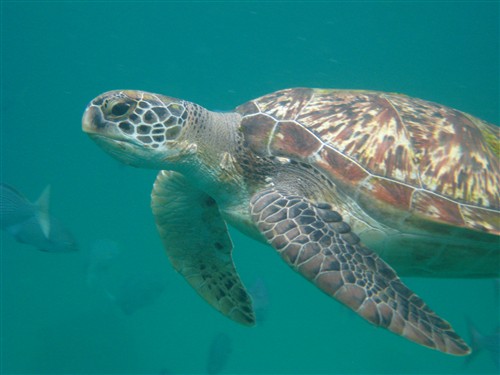 The Vilai Samut (meaning Sea Anchor in Thai), has the capacity to carry 22 divers plus crew, but our trip had only 10 divers plus an all-Thai crew: two dive guides, two kitchen staff, two deckhands, and the captain. Our itinerary included the Similan Islands, plus two small islands north, Koh Tachai and Koh Bon, and an underwater sea mount near the Burma Banks named Richelieu Rock. For three glorious days we followed a full but relaxing daily schedule; 8am dive (one), eat, sleep, 11am dive (two), eat, sleep, 3pm dive (three), eat, sleep, 7pm night dive (four), eat, sleep. We lazed on the sun on deck, immersed ourselves in good books or quiet conversation, and took intermittent naps, lulled by the gentle rocking of the boat.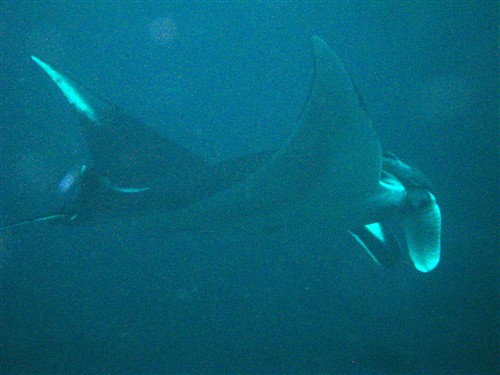 The diving was good to great, but varied significantly between dive sites. The visibility was better than average but we were often plagued by thermo clines, currents of cold water mixing with warm water, sending chills through our wetsuits and significantly reducing visibility. Most of the reefs were in very good condition, surprisingly unaffected by the December 26, 2004 tsunami that devastated the Thailand west coast. According to our dive guides, the greatest threat to these reefs now is the tourist masses, boating in each day to snorkel and dive the islands. During our twelve dives we found the reefs to be plentiful with fish life, big and small. We saw hundreds of schools of reef fish, numerous giant moray eels, gigantic tuna, a banded sea snake, blue-spotted rays, a great barracuda, a leopard shark, and on our last dive at Koh Bon Island, two majestic, graceful manta rays. During one of our lazy afternoons anchored in an island bay, two green sea turtles graced us with their presence for almost an hour, allowing me to swim with and photograph them freely. After four full days of diving we head back to shore and prepare to explore a different side of Thai wildlife, the tourist hotspot and omnipresent party scene at Patong Beach.
Comments Off on Living Aboard on the Andaman Sea