February 28th 2008 by Tina
Posted under New Zealand
The eight-hour road trip from Christchurch to Queenstown was a dazzling display of astonishing natural beauty. The South Island is sparsely populated in comparison to the North Island and you can drive for hours without seeing a city. The landscape is breathtaking, diverse and constantly changing: hulking rocky mountains dominate almost every view; mountains shrouded in blankets of alpine forest, sheer gray rock faces cut by shadowy contours; rolling hills, fields of grass speckled with grazing sheep, meandering streams, rivers rushing through mossy, boulder-strewn valleys, and crystal blue lakes. The South Island of New Zealand seems to have more inland bodies of water per square mile than anywhere else on Earth.
After brief stops at the Rakaia River Gorge and Lake Tekapo, we rolled into Queenstown in the early evening. Set on the edge of the sparkling, S-shaped Lake Wakatipu and surrounded by jagged rocky mountains, the former gold rush town has fully realized its potential as a tourist magnet. In winter, the snow-covered Remarkables – the only mountain range besides the Rockies that runs truly North-South – draws vacationing skiers in droves while warmer months bring the hikers, adrenaline junkies and scenery buffs. The charming alpine town rivals any Rocky Mountain ski town with its high-end clothing stores, gift shops, boutique hotels, trendy cafes and bars, restaurants and day spas. Two peninsulas jut out into the tranquil, crystalline lake; one is encompassed by a botanical garden and the other by a golf course.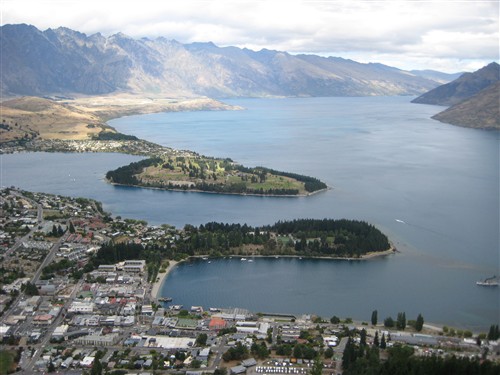 We checked into Scallywag's Travelers Guesthouse and were awestruck by the million-dollar view of the lake and surrounding mountains from our bedroom window. We drove into town to pick up some groceries for the next few days – after two months of eating every meal out in India and Thailand, we're back to self-catering – and then stopped at the charming Vudu Café in town for an appetizer, a couple of microbrews and some great people-watching. From our perch at a sidewalk table, we hypothesized that the tourist population in Queenstown was comprised of the following groups in almost equal parts: Australians and North Island Kiwis on holiday, Japanese tourists, Europeans (spending their soaring Euros and towering Pounds) and Americans (spending their sadly deflating dollars) on family vacations, and thrifty globetrotters (most of whom fall into the European category) like ourselves, monopolizing every camper van and backpacker hostel available for miles. Back at Scallywag's, we finished the evening with some local wine and cheese and good conversation around the dinner table with some other interesting couples at the hostel.
The next morning, we met Julie Speed, a friend and colleague of Aaron's from Fort Worth. She was in Queenstown on business, coincidentally, and we'd planned for a day of adventures after her business concluded. Over a quick cup of coffee in town, we decided on paragliding and a jet boat ride and shortly thereafter walked to the base of the mountain to check into paragliding. Unfortunately, the windy conditions shut down the paragliding operation for the day so we walked back into town to get tickets for the jet boat.
Originally designed in New Zealand, the Shotover Jet is a flat-bottomed jet boat propelled by two tubes that thrust water behind the boat at a volume flow of 300 gallons per second. Because the boat has no propellers, it is able to travel through water as shallow as four inches! It travels at speed up to 50 mph and can make a 360 degree turn in little more than a single boat length. The three of us boarded the sleek red vessel and with minimal delay, we were off. The boat glided seamlessly through the shallow Shotover River, maneuvering through the narrow, rocky gorge. The driver maximized the thrill factor as he skimmed past rocky outcroppings at close range and threw in 360 spins whenever possible, jostling the unbelted, helmetless passengers as we shrieked excitedly and held on for dear life. With only a metal bar to hold onto, my heart skipped a beat each time the edge of the boat narrowly missed a jagged rock face. The scenery was incredible inside the gorge and in the surrounding mountains, covered with lush vegetation in a full spectrum of greens. The jet boat ride lasted only 30 minutes but it was a truly thrilling experience!
A shuttle delivered us to town and, without hesitation, we moved on to the Skyline gondola and luge. A gradual, scenic ascent in the fully enclosed gondola car ended at a lodge near the top of the mountain. We paused to take in the view of Queenstown from the terrace before taking a ski lift even higher up to the luge track. Donning the requisite Speed Racer plastic helmets, we took our first run down the beginner track. The only luge that I've ever envisioned is the aerodynamic sled racing down a snowy half-pipe in the Winter Olympics. The Skyline luge is more like a go-cart sans motor – a wheeled sled, snaking through sharp twists, turns and tunnels of an all-downhill concrete track.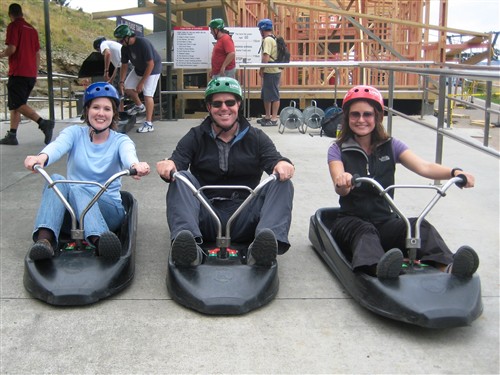 Needless to say, this activity was Aaron's pick and he was, inarguably, the most antagonistic and enthusiastic racer. We moved onto the advanced track after our introductory run and Aaron tried to coax us into racing each other on the next five runs. I think the spirit of friendly competition overcame him as he took turns on two wheels, sticking his leg out the side to keep from flipping sideways, and flew over long drops with one hand in the air. On one run, he was so intent on keeping me in his sights as I threatened to pass him that he almost crashed into the side of the tunnel wall. He was like a teenager breaking all of the track safety rules and I was the scolding mother hen, flashing forward to the gruesome scene of having my thirty-year-old husband air-lifted from the mountain to the nearest hospital to set broken bones from flying off the luge track. Incorrigible! But it was fun to witness such youthful exuberance. Adulthood and its corresponding worries and responsibilities seem to suffocate the frolicsome, free-spirited nature of many people but I have a sneaking suspicion that it won't happen to us. As I flash back to that cheeky, insolent, mischievous grin in sunglasses and Speed Racer helmet, in fact, I am certain of it.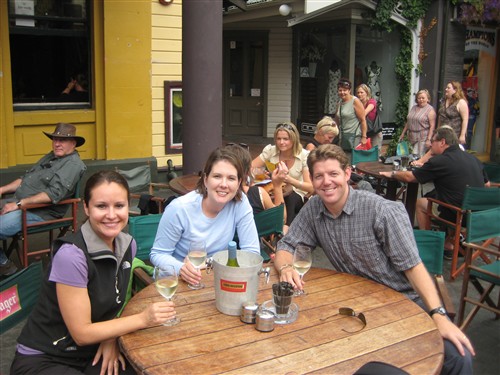 Six action-packed runs down the luge track left the three of us weary and ready for a grown-up's beverage. We hopped back onto the gondola for the picturesque descent and then walked into town. Queenstown has so many tempting venues for afternoon (après adrenaline rush) cocktails and we didn't walk long before settling into a patio table with a bottle of Oyster Bay Sauvignon Blanc from the Marlborough region in the north. The Central Otago wine region, just outside of Queenstown, is known for its Pinot Noirs; however, I would argue that there is scarcely a better wine to have on a sunny afternoon than a well-chilled Marlborough Sauvignon Blanc. Interestingly, it is more expensive to drink NZ wines in NZ than in the States.
For dinner, we chose a lovely seafood restaurant with outdoor tables overlooking the lake. The Cloudy Bay Sauvignon Blanc (another Marlborough) was the perfect complement to everyone's meal and the food was delicious. What a treat for two crusty backpackers! In the midst of our full day of decadent spoils and splurges, we felt like two-week travelers again.
It was such a pleasure to be able to spend time with Julie, to catch up on news from Fort Worth, and share some great experiences (and NZ wines) with a good friend. The good times never last long enough but they leave us with cherished memories that last a lifetime. Thanks, Julie, for a wonderful day in Queenstown!
Comments Off on Queenstown