Posted under New Zealand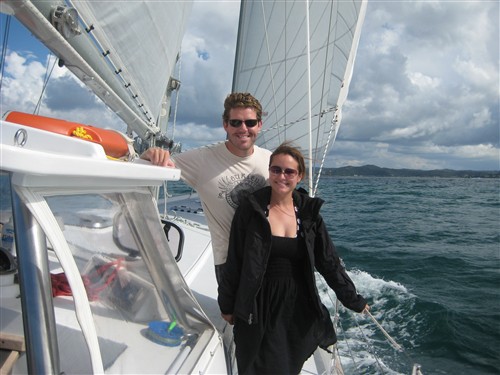 A focused morning of driving landed us in the coastal town of Paihia in the Bay of Islands in the early afternoon. After checking into Captain Bob's Backpackers – a mere fifty meters from the beach – we set off on a walk around town. The Bay of Islands, as the name suggests, is a picturesque ocean bay, which is sheltered by a cluster of 140 islands, large and small, and mostly uninhabited. Paihia, a quiet resort town with guesthouses, small hotels, restaurants, shops and a random smattering of beachside residences and vacation homes, is a haven for water activities, particularly sailing!
On a slightly brisk and cloudy morning, we excitedly boarded the Gungha II – a 65-foot ocean sailing yacht – with Captain Mike, our witty Canadian-turned-Kiwi skipper. We were joined by a young German girl with her retired parents as well as a couple of British honeymooners. We glided away from the pier on Captain Mike's words, "It's going to be a great day of sailing!"
The boat was beautiful and we had been on board for a whole ten minutes when the quiet discussion began about our need to have one. As the day wore on, the conniving blossomed into a new dream of sailing around the world with our young family. Naturally, we seized upon the opportunity to interrogate our wily captain about the ins and outs of acquiring and maintaining such a boat and he was happy to oblige our endless curiosities as sailing is clearly his passion.
As eager volunteers were recruited to help crew the boat, Captain Mike must have sensed my lackadaisical desire to sit on deck, chat, and enjoy the views because I managed to escape the draft. Aaron proved to be a trusty deckhand, however, pulling on ropes, tying or untying this and that, and compensating for my sheer laziness. I felt positively alive with the sun on my face and the smell of the salty sea air blowing through my hair. We sailed along at a leisurely pace while Captain Mike regaled us with his sailing stories and impressed all with his extensive nautical knowledge. We crawled into the quiet bay of Robert Island and dropped anchor just as the sky was beginning to clear. Aaron and I paddled the two kayaks to shore while the rest of our party motored ashore in the dingy.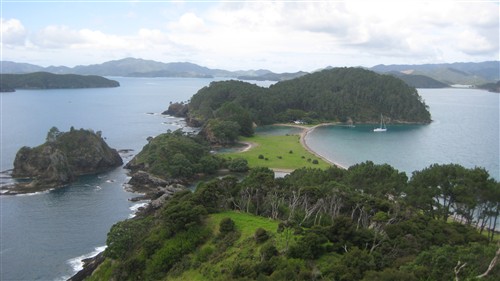 The island was long and narrow with three turquoise lagoons and a forest-covered peak with a lookout at the top. We walked along the pebble beach, collecting periwinkles which Captain Mike would later make into bracelets for us. It was a steep climb to the lookout but well worth it for the stunning panoramic views. The waterscape was so beautiful in every direction that I found myself almost spinning in circles just to take it all in. We explored the island for about an hour until Mike returned with the dingy to pick us up for lunch on the boat.
After coaxing a couple of others to paddle the kayaks back, Aaron and I decided to swim back to the boat – about 200 meters against a light current. The water was refreshingly cool and, needless to say, we arrived hungry. We cracked open a round of cold beers – which rarely taste better than they do on a boat on a sunny afternoon – while the captain distributed simple basket lunches of fresh, healthy sandwiches and orange wedges. We lounged for a while after lunch because the Germans wanted to snorkel in the lagoon, which was fine by me since the weather had become glorious and I didn't want the day to end.
By the wind, it took us over an hour to sail back to the pier, during which time I came into the possession of one periwinkle bracelet. I've never been a fan of seashell jewelry (I am my mother's daughter after all) but since it is a token reminder of a lovely day (and it's pointless to wear anything fine with cargo pants), the rattling periwinkles on my wrist are beginning to grow on me.
As we cruised in to the pier, I asked Mike if he was planning to take a group out the next day. If he hadn't replied that he was hoping to take a day off, then I would somehow have convinced my little sailor to go sailing two days in a row. It was such a wonderful, relaxing and yet thrilling experience on the water. While we continue to contemplate what the future holds for two yuppies-turned-vagabonds, I have a mischievous suspicion that there will be sails in it.
Comments Off on A Sail in the Bay of Islands