June 11th 2008
Posted under Vietnam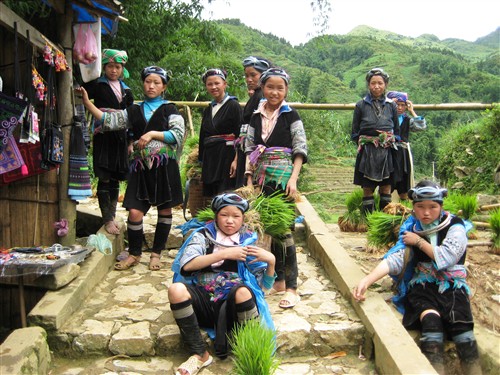 Arriving in Sapa, after the unpleasantness of Hanoi, was like a breath of fresh air. The endeavor to reach this secluded mountain town involved an overnight train (which was actually quite comfortable) and an hour-long ascent by minibus. Sapa is a colorful town, nestled in the mountains of northwestern Vietnam very near the Chinese border. The town overlooks a lush valley of green and gold with stunning rice terraces cascading down the hills. Tribespeople from the surrounding farming villages come to Sapa to buy, sell and trade. The Black H'mong and the Red Dzao are among the most prevalent villagers on the streets of Sapa, distinguishable by their clothing, peddling brightly colored embroidery, silver jewelry, and other handicrafts. Though most of them have no formal education and are illiterate, they are curious and engaging with tourists. Many of the younger girls speak functional English. The village women are strikingly short in stature, many topping off around four feet, making them seem doll-like in their traditional clothes. We found them sweet and endearing with a few of the older women who got ornery in their native language when we weren't buying what they were selling. It was cute.
We had arrived on a Saturday, excited to observe an interesting local tradition called the Love Market. Supposedly, when young men and women from the surrounding villages reach marriageable age, they come to the Saturday Love Market for an evening of traditional dancing. Apparently it's the ethnic minority equivalent of speed dating. If a pair decides that they like each other, they marry after a very brief courtship. As it turns out, the tradition continues in other parts of this remote region, however, the Sapa Love Market caters more to tourists now than to actual matchmaking. We peered over a crowd of tourists encircling young villagers as they performed the dances but the event lacked the authenticity that we had hoped for and we soon returned to the colorful stalls of the market.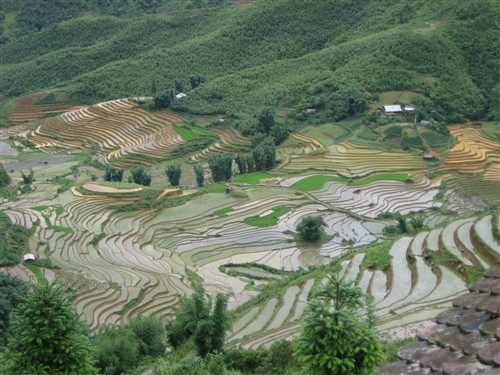 Sapa is known for its many opportunities to trek among the dazzling contoured valley and indigenous villages. From the city, we found one of the trailheads and started down into the valley. The views were truly amazing with mountains and fields covering the entire spectrum of green, cool white mist rising and falling over the peaks, and sunlight dancing off the glassy surfaces of the waterlogged rice paddies. We watched farmers planting seedlings and a group of young Black H'mong girls preparing to work in the fields. Cows and water buffaloes grazed the fields and two very pregnant sows provided a snorting roadblock. Every turn on the path opened up a new breathtaking view.
When we reached the beginning of the long, steep ascent back to Sapa, some local men were waiting to whisk us up the winding hill road on the back of their motorbikes for a small fee. Now that's my kind of trekking! We were back in town by early afternoon with hours of daylight remaining. We were still feeling energetic and awestruck by the valley so we decided to rent a motorbike for the rest of the afternoon. This was an easy task since we had not been able to enter or exit our hotel without at least three offers for motorbike rentals. I think the village men must leave their wives to do the heavy work while they sit around with their friends and ask "Motorbike? Motorbike?" as tourists walk by. In any case, after a quick exchange of dong, we were on our way.
Aaron had read about a scenic mountain road leading to the highest mountain pass in Vietnam, Tram Ton Pass and, after a quick stop for petrol, we headed in what we thought was the right direction. Sapa was a small town and we had a map – we should have been able to find our way with no problem – but the roads were poorly marked and the locals spoke little English. After a series of wrong turns, things became a bit heated. The driver scolded the passenger for singing instead of navigating which prompted the passenger to politely remind the driver that bad attitudes are contagious. A few more wrong turns followed before we finally found our way.
May is the beginning of the rainy season in Vietnam. For Sapa, that meant a light shower in the early morning and another in the afternoon. It was great for the rice but made the winding, unsealed mountain roads a challenge. We ascended slowly and carefully until we reached a section of saturated dirt road, resulting in inches-deep muck. Initially thinking the road impassable, we stopped to make a careful assessment. After watching two locals on motorbikes cruise through what looked like the most treacherous stretch, we decided to go for it too. It was a muddy mess but soon improved to wet gravel. We continued on, pulling out our poncho when the mist thickened to drizzle, and took in the valley landscape. The more we distanced ourselves from Sapa, the more clearly surprised the locals were to see two tourists braving the rainy muck on a motorbike. We were reassured that we weren't the first gringo pioneers to cross their path when a young boy and girl guiding a herd of water buffalo called out to us for money.
We reached Tram Ton Pass, shrouded in a fog so thick that we could only see about ten feet in front of us. If there was a climactic view from the top, the fog obscured it completely. We decided to turn around and head back to Sapa.
Aaron has been riding motorcycles for over ten years – he is a careful, conservative rider. We have rented motorbikes in countries around the world because we enjoy the freedom they provide in exploring islands and small cities. I always ride on the back because I like to hold onto my husband, feel the wind in my face, and take in the scenery. I was doing exactly that as we made our way back down the wet gravel roads. We eventually reached the muddy stretch of road that we had initially deemed impassable on the way up. "This is where it gets mucky again," Aaron said.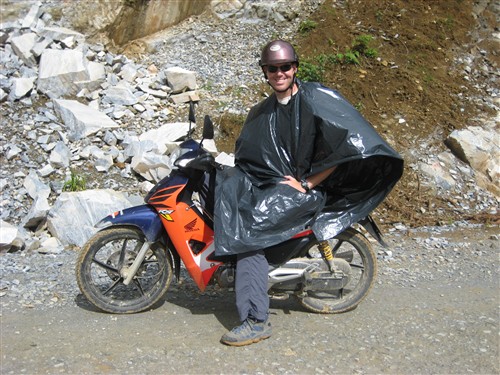 Suddenly, without any warning at all, the front tire of the motorbike slid in the mud, diminishing Aaron's ability to control it. Engrossed in the scenery, I didn't realize what was happening until we were falling, in slow motion, on our left side. We hit the ground with a thud, landing in a puddle of mud. We had been going slowly so the impact was minor but I felt the outside of my left kneecap hit the ground first. It hurt, but not badly. Instinctively, I crawled in the mud away from the bike and turned to see Aaron's leg trapped under it. I screamed in panic but he assured me that he was okay and immediately moved to lift the bike off his leg. It took us a few minutes to get over the initial shock and determine that we were both okay. I had broken the fall with my hand, which had a few small cuts. Aaron had landed on his hip and had some bloody scrapes on his left arm. I must have been in a mild state of shock because when Aaron asked me if we should get back on the bike, it seemed like an utterly preposterous notion. It occurred to me then that we had to get back on the bike. No one was going to drive along this remote mountain road in his Ford pickup and offer us a lift.
Never have I been so happy to relinquish a motorbike as I was that afternoon in Sapa. Our clothes and shoes were caked with mud and all we wanted was a hot shower and a hot meal. The excitement of the wipeout had wiped us out.
We were both a little sore when we woke the next morning but thankful for surviving the fall relatively unscathed. It could have been worse. We were scheduled to depart that evening on the overnight train back to Hanoi and decided to take it easy all day. Our most ambitious endeavor was walking fifteen minutes up the road for a late breakfast at a French café called Baguette & Chocolat. It was worth the walk for a proper cappuccino.
As we enjoyed a leisurely breakfast at a table by the window, a Black H'mong woman tried to sell me handicrafts through the glass for at least five minutes before finally giving up. Later, we watched as an old man herded a half-dozen water buffaloes up the road. It is moments like these that reaffirm why we love to travel: to see things that we would never see in our former suburban bubble; to learn about people's lives in faraway places – to witness their struggles and their joy; for the education of a lifetime. One day soon, we will return to some semblance of a normal life. While the details of our adventures will eventually fade from our memory, the overall experience has already changed us in immeasurable ways.
Comments Off on Sapa