October 16th 2007
Posted under Jordan & Middle East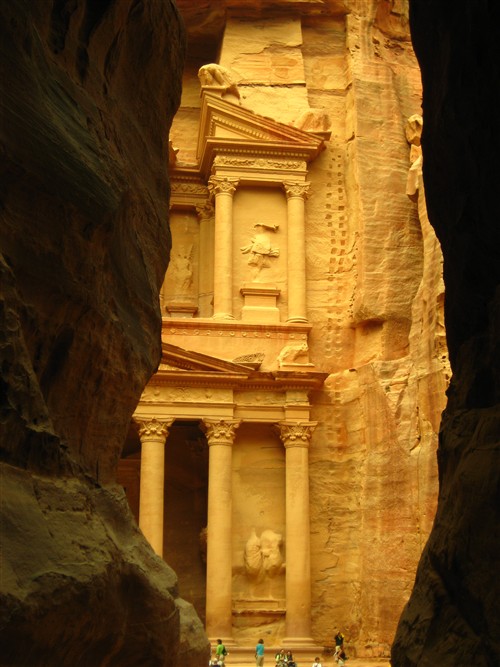 We checked into the Petra Gate Hostel and, after our rather adventurous passage to Petra, we decided to treat ourselves to a nice, uneventful evening. We awoke refreshed at about 7:30 the next morning, intending to beat the rush of tourists to the ancient city, but were enticed into having breakfast at our hostel. The scrambled eggs, fresh pita with apricot jam, and hot coffee were a perfect start to our day but the best part of breakfast, the part that kept us at the table for over an hour, was the company. David, a Swiss native, has been working for the Red Cross for the past couple of years. He has been stationed in Sudan and Nepal but, most interestingly, is now working with Iraqi detainees in American military prisons in and around Baghdad. We sat around the table in wild-eyed amazement, listening to his fascinating stories. David and his team, as a neutral party, go into the prisons to assess the conditions of detainees; they help the prisoners contact their families, try to resolve prisoner complaints, and try to improve individual situations. David has met with the family of Saddam Hussein as well as members of his cabinet. He said that this is his most frustrating assignment because the conditions are so unstable that he is only able to spend about thirty percent of his time in the field. He is doing noble work and we felt honored to make his acquaintance. We also spoke with a Danish couple who were traveling with their three young boys. They had traveled extensively and were so friendly and interesting. The table conversation was of war, politics, religion, and travel from three very unique points of view.
After breakfast, we walked with David to the ancient city of Petra. He had been there the previous day and knew the way, which was about fifteen minutes of steep downhill walking. At midmorning, Petra was crawling with tourists, most of whom were Sri Lankan. We were fascinated by their attire – business casual shirts, slacks and dress shoes for the men and colorful, flowing dresses for the women – in the rocky, dusty hiker's paradise.
The entrance to the ancient city is the bed of a deep, narrow canyon where, thousands of years ago, a river eroded an eighty meter deep gorge into the sandstone. As you walk through it, you cannot help but marvel at the rolling curves, varying colors and unique formations, created by nature, in the cliffs on either side of you. Just as you are beginning to get lost in the nooks and crevices, you suddenly catch a glimpse of the most well-known monument in Petra – the Treasury. The morning sun illuminates the façade of the Hellenic-style building, carved into the side of the rock, so at first you only see a thin slice of the glowing façade between the dark, shaded canyon walls. Only when you emerge from the canyon do you get the magnificent full view of the Treasury. It is 43 meters tall and 30 meters wide; with two stories of Greco-Roman pillars, the design combines round, rectangular and triangular shapes with intricate and ornate detail, creating an artistic majesty that rivals the architectural and engineering genius.
The old city of Petra was built by the Nabataeans, an ancient Arabian tribe that migrated to Jordan. The city was built over five centuries, beginning around 200 B.C., and flourished as a result of its location along the busy trade route between Africa and the Middle East. The Nabataeans were in the caravanning business and were thus exposed to a variety of foreign influences, which is evidenced by the facades of the many sandstone buildings combining Greco-Roman, Egyptian, and Mesopotamian architecture. We were astonished by the size of the ancient city with its seemingly endless winding mountain roads and paths. The more we walked, the more the city opened up to us with rows of business and residential dwellings, including a theatre, a monastery, temples, tombs and a colonnaded walkway, carved into the sides of the cliff at every turn. We climbed a steep succession of rock steps, enduring occasional vivid Sinai flashbacks, to the High Place of Sacrifice. The ascent was intense but, with fresh legs and childlike curiosity, we propelled ourselves up and up and were justly rewarded with spectacular views at the summit. We sat at the edge of the cliff, staring out over the bustling tourist activity in the city below, and imagined Petra in the prime of its life: giant caravans carrying Indian spices and African trappings, herds of animals; civilization and commerce, powered by man and beast. The artistic diversity of the city implies that the Nabataeans were an open-minded society, embracing ideas from all cultures, with a hunger for knowledge and enlightenment.
Petra is full of Bedouins, who seem more Westernized than the nomads of Sinai. The Petraean Bedouins speak functional English and most of the young men wear Western-style clothes. They make their living by peddling horse, camel and donkey rides within the ancient city and by selling handmade crafts, souvenirs and refreshments. As we neared the end of our first day in Petra, we stopped on a shaded bench to eat our lunch and conversed with a group of young Bedouin men who were also enjoying the shade. They had fascinating, exotic faces with wild Arabian eyes lined with black coal, like Captain Jack Sparrow. I was wearing my "Dive Now. Work Later" t-shirt from Dahab and one of the guys said that he had been diving there and also did the Sinai hike without a guide in an hour-and-a-half (we barely made it in three). My initial perception of the Bedouins was that they were close-knit tribes who lived and died in their villages with little exposure to the big, bad world. At this point, I can only laugh at my own ignorance and naiveté. My only solace lies in the knowledge that I am growing everyday, shedding the many tinted shades over my eyes, one layer at a time.
We left Petra around 3:30, hot, dusty and tired. The modern city of Petra is small and antiquated, with very little in the way of amenities, but we managed to find a private rooftop café with a decent view, a chess set and great coffee. Happily relaxed on the rooftop, we ordered a coffee and sheesha – the secondhand smoke is going to kill us anyway; might as well enjoy some of it firsthand. Sheesha is relaxing and social and it neither hurts your throat nor leaves your mouth tasting like an ashtray. You could almost trick yourself into thinking that the apple-flavored smoke isn't harmful…if you didn't know better. We Americans are well-versed in the dangers of tobacco smoking.
We initially had the rooftop all to ourselves but were eventually joined by a Jordanian man who ordered up his own water pipe and made friendly conversation with us. After about twenty minutes of intermittent puffing and chitchatting, he invited us to his home to watch the sunset. Aaron glanced at me to gauge my interest and comfort level. We had felt so warmly welcomed by the Jordanians that we'd met that I didn't have a moment's hesitation and we soon found ourselves in Issa Sbehat's car, ascending winding mountain roads. Issa's home was on a scenic lot with a perfect view of the sunset. He pulled out three plastic chairs onto the terrace and we all sat down to watch the sun quickly disappearing below the blue horizon. We soon heard the pitter patter of little feet behind us and turned to see Issa's youngest son ambling toward his father with that adorable toddler clumsiness. Issa pulled him onto his lap, kissed him and smiled like a proud papa.
Issa said that I should go inside to meet his wife. The invitation was only for me, not for Aaron, so he waited outside while Issa showed me inside and introduced me to his beautiful dark-haired wife with sparkling blue-green eyes. She didn't speak a word of English so we awkwardly shook hands and smiled and then she disappeared into another room and I sat alone on the sofa while Issa went back outside with Aaron. Just as I was beginning to realize that I would likely be expected to sit with the wife – a language barrier the size of the Grand Canyon between us – while the men talked business and smoked sheesha outside, Issa appeared in the doorway, called out to his wife in Arabic, and entered the house with Aaron close behind. Issa's wife emerged from the back room with her dark, pretty hair now concealed by a red hijab and greeted Aaron shyly.
The interior of the house was beautifully decorated and pristinely kept and our hosts humbly and graciously accepted our generous praises. Issa led us into a less formal sitting room, which he called the "Bedouin Room", while his wife remained in the kitchen. The small, rectangular room was lined on three sides by long, blue cushions and several decorative pillows, making a large, floor-level, u-shaped sofa around the cozy sitting room. As we relaxed and visited, we were served hot Bedouin tea with sprigs of fresh mint by another one of Issa's sons. We were soon joined by his third son, his brother-in-law and his mother-in-law. Still, Issa was the only one who spoke any English. The others just looked at us and smiled but we shared laughs over the playful antics of the children. I was enjoying the visit with this beautiful Jordanian family but was beginning to strategize our departure when Issa briefly stepped out of the room and returned with two plates of hot appetizers of meat and rice rolled in grape leaves and cabbage, very similar to dolmas. He set the plates on the small table in front of us and gestured for us to eat. Aaron and I exchanged quick, inconspicuous glances and instantly read each other's minds: this could be the beginning of a long night of "worshipping the Porcelain God" but here goes nothing! We tried one of each kind – they were pretty good – but as I picked up the plate to pass it around, Issa stopped me. "No, these are all for you. Just for you." OK, this was going to be awkward. Issa ate a few pieces, only because I insisted, but the others sat watching and smiling. The mother-in-law brought in a small glass and a chilled bottle of water, which she proceeded to pour into the glass for us. I took a small sip and then, a few minutes later, as I went for another sip, Aaron nudged me with a wild-eyed look on his face. At that moment, I saw what he saw: the cap on the bottle wasn't the original cap. The bottle had been recycled and refilled from an unknown source – a "big no no" on the road. You always break the seal yourself to make sure that the bottle has not been refilled with "local" water, which could be full of nasty little microbes with the potential to turn you greener than Kermit the Frog in a matter of hours. We ate a respectable percentage of the dolmas and then Issa took us outside to show us his fruit trees. He pulled fresh figs, grapes and nectarines from the branches and we ate them right there. They were all perfectly ripe and sweet and I thought to myself what a lovely oasis Issa had created with scenic views, lush fruit-bearing trees, a warm home and a beautiful family with whom to share it.
We wandered back into the house, ate more fruit while we visited, and then Aaron asked Issa if we could take a photo of him with his family. "Not ok", he said. "OK to take a picture of my boys and me but not my wife." A short moment of uncomfortable silence followed and then we resumed our conversation. I asked why all of the women cover their heads and he acknowledged that it is because they are Muslim and it is in the Qur'an. He clearly didn't want to elaborate and I didn't push it, even though I was dying for a glimpse of his perspective on the subject. When I felt satisfied that we had stayed long enough so as not to be rude, I asked Issa if he would drive us back to town. We took some photos of him with his three boys and his brother-in-law and the boys took some of us with Issa's camera. We thanked everyone and left. As we were driving away, Issa explained which of his family members lived in each of the neighboring houses. He also pointed out an old, stone, one-room house that had belonged to his grandfather. Aaron and I were simultaneously contemplating whether to take an Imodium and a Cipro as a preventative measure. Back at the hostel, we thanked him again for his wonderful hospitality. It was such a unique and interesting experience and we hope to have many more like it in different parts of the world because, as we've said many times before, the people are the intrigue of this adventure as much as any of the sites. We are thankful for the warmth and welcoming spirit of the Jordanian people, all of whom have been wonderful. It should also be noted that we survived the night with no signs of intestinal discomfort.
Back at the hostel, we ventured into the dining area to visit with some of the other travelers. The lack of amenities in Petra has served as a social catalyst among the boarders. We have enjoyed the varying dining room dynamic of the Petra Gate Hostel more than any other so far. Hostels are great because you meet so many young travelers with an equal passion for travel and the adventurous spirit to back it up. We especially enjoyed visiting with a pair of American girls who are studying at universities in Cairo and Amman. They had recently traveled in Lebanon and Syria and we were instantly intrigued by their descriptions of their experiences. Now we want to travel more extensively in the Middle East but, of course, we cannot – not with the Scarlet Letter (a.k.a. Israeli stamp) on our passports. The Middle East will have to wait.
We are now in Amman, just for the night, and flying to Nairobi tomorrow evening to begin the African adventure. Lions and tigers and wildebeests, oh my!