February 15th 2008
Posted under Thailand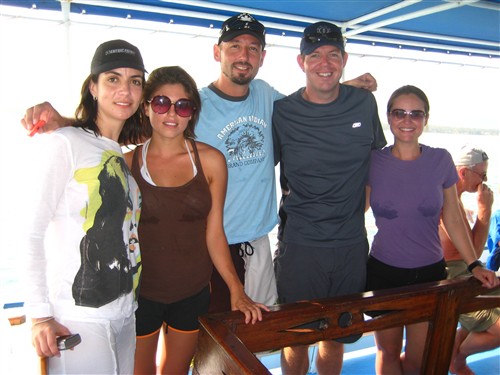 Emerging from the airport in Phuket, the hot balmy air surprised us. Noticeably hotter and wetter than Chiang Mai, we were happy to finally be in southern Thailand; the land of idyllic white sand beaches, warm crystal-clear water, and world-class scuba diving. We decided to head directly to Phuket Town, in the southeastern part of the island to get our bearings and hopefully meet up with the brother of a Fort Worth friend. Phuket Town is the provincial capital and while it has its share of tourist haunts, there are very few tourists here in comparison to the streets of Bangkok or Chiang Mai. It was a refreshing change to be surrounded by more Thais than farang (westerners). The streets were filled with tuk tuks, cars and of course, the ubiquitous motorbikes which weave haphazardly in and out of traffic. And as we would soon find out for ourselves, the motorbike drivers in Phuket are some of the craziest in the world.
Before we left on our trip an Alcon colleague introduced us, via email, to his brother who is living and teaching English in Phuket. After checking into our hotel, we connected with Jon and agreed to meet for dinner. While we've eaten out for almost every meal, including lots of street food, we have remained relatively unadventurous in our ordering (usually because the menus are either too ambiguous or poorly translated to English), sticking mostly to Pad Thai and vegetarian noodle dishes. With a local expert on hand, we asked Jon to order some of his favorites for dinner, no holds barred. We feasted on spicy chicken and prawn curries, a delectable grilled pork dish, and a fried catfish served with an assortment of vegetables. Dinner was wonderful! Having become fast friends with Jon, we finished the night with a couple of pints at a local pub and eagerly accepted his invitation to join him for a day of scuba diving on Saturday.
Friday was for the beach and our recommended stop was a lesser-known cove in the southwestern part of the island, Nai Han. Against our better judgment we rented a motorbike, and two helmets, and braved the Phuket Town traffic. Having ridden a motorcycle for a number of years in the U.S., I am confident in my own abilities but the rest of the town's drivers concerned me. When you first learn to ride a motorcycle, you are taught to expect everyone else (drivers, pedestrians, other motorcyclists, etc) to do stupid, crazy things. Most of the time people in the U.S. behave somewhat logically and accidents are relatively uncommon. But in Phuket everyone actually does all of those unexpected, illogical things and guidebooks and locals alike warn of the dangers of riding a motorbike in Phuket. Thousands of people are injured or killed on Phuket highways every year in motorbike accidents. Jon told us about his numerous close calls and the relative frequency with which students at his school are involved in road accidents. The sheer number of motorbikes is staggering; by my rough approximation, outnumbering cars and trucks at least ten to one. To complicate matters, motorbike riders do not seem to follow the same traffic rules as automobiles. They weave through traffic with reckless abandon. The most disturbing sight, in our western minds however, is the prevalence of children on motorbikes. We realize that this is cultural thing. Motorbikes are an inexpensive mode of transport and often the only mode financially available to families. This was evidenced by a funeral procession that we saw on the street while riding one day; the coffin was carried in a truck bed and the entire motorcade consisted of motorbikes. Still, the sight of young children sandwiched between two adult passengers or sitting in front near the handle bars without helmets instinctively makes us cringe.
After a harrowing 45-minute ride, we arrived at Nai Han and enjoyed a day relaxing at the nicest beach we've seen since Zanzibar. The white sand beach, enclosed on either side by sheer granite cliffs jutting out into the sea, was filled with colorful umbrellas sheltering sunbathers from the afternoon sun. The water was warm, clear and calm with an occasional rolling wave to remind us that we were still swimming in the ocean. After allowing our skin its first kiss of sun since Mozambique, we returned to town via a scenic route through Phuket's western hills and stopped for dinner at an ocean view restaurant high above the shoreline with a front row seat to a paradise sunset.
The next morning, eager to get our fins wet once again, we met Jon and two friends, Sarah and Maria, for a scuba diving excursion to one of the islands directly south of Phuket, Racha Yai. As a Dive Master with a local shop, Jon helped us procure our gear and agreed to be our guide for the day. The diving was nice and easy, warm calm water and better than average visibility, but we were still underwhelmed by the corals and aquatic life – our Red Sea standard still firmly entrenched in our minds. The reefs were in good condition, colorful and vibrant hard and soft corals, and huge schools of reef fish. We were both happy to have some easy diving after our experience in Mozambique and it convinced us that we had to dive Thailand's greatest aquatic offering, a self-proclaimed Top 10 diving destination in the world, the Similan Islands.
Comments Off on Phuket