June 21st 2008 by Aaron & Tina
Posted under China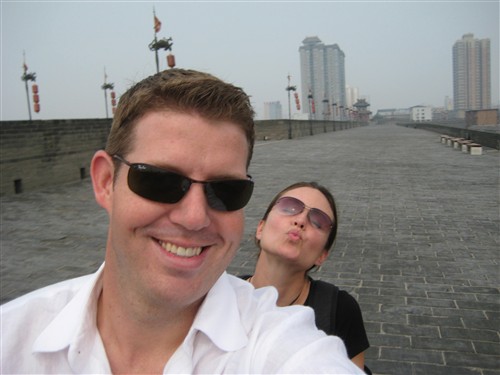 Giant, cuddly, loveable pandas, or panders as the Chinese call them, were on the itinerary for our third day in Xi'an. We hired a driver from our hostel to make the two hour drive to a WWF (World Wildlife Federation)-sponsored wildlife sanctuary.
The sprawling grounds of the sanctuary were empty except for a handful of animal keepers busily attending to their daily responsibilities. No one seemed to pay us any mind. With inadequate signage, no map, and no English-speaking staff on the premises, we wandered aimlessly through the grounds for the first half hour, searching for pandas. Miraculously, we stumbled upon a boisterous Australian woman who explained that she was spending her two-week holiday as a volunteer at the sanctuary. She led us to a spacious green walled-in yard where two giant panda pups, a three-year-old male and a four-year-old female, were enjoying a reprieve from their cells. The male panda was happily gnawing on a piece of bamboo (the main staple of a panda's diet) while the female napped near the entrance to their man-made cave. The three of us watched as the male panda, now taking notice of his audience, began to playfully engage the female. As the female sat peacefully nibbling bamboo, the young male accosted her time and again, flirtatiously trying to engage her in impromptu wrestling matches. With a running start, he would deliberately fall into her, toppling both of them in a heap of black and white fur. She was clearly annoyed and kept running away from him but he was relentless in his antagonistic pursuits. We watched the two bears chase and wrestle and roll around for nearly an hour. At one point, both of the bears came so close that we could have reached out and touched them. As they met our eyes with the submissive sweetness of teddy bears, we were reminded of our own furry angel waiting back in Arizona.
Reluctantly leaving the giant pandas, we continued on to visit some of the other endangered and orphaned residents of the sanctuary. Large aviaries housed golden eagles, owls, pluming peacocks, egrets and swans. Small concrete cells contained numerous mammalian species including black bears, golden takin (endangered mountain buffalo), red pandas, monkeys, and a leopard. We were heartbroken by the living conditions of some of the animals. With the exception of the showcase attraction, the coveted giant pandas, who seemed to have adequate room to exercise and play, the other animals were reclusive and depressed in cages that were clearly too small. One monkey in particular was imprisoned in a tiny cage barely twice his size. It would be like one of us living in an elevator! WWF is a respected, international relief agency so we were both surprised by the inadequate housing that we found. Many of these animals were rescued from imminent death in the wild, but we question whether this claustrophobic captivity is really a better alternative. The sad conditions of the other animals stifled our panda euphoria somewhat but it was still a great experience overall.
We returned to Xi'an with a sunny afternoon at our disposal. Xi'an is the only major city in China whose old city walls remain intact. The top of the wide, cobbled wall has been restored and is open to the public for a nominal admission fee. On top of the wall, there are several places to rent bicycles and we were elated to find a tandem, or "bicycle built for two", as Tina affectionately calls it. The mere sight of a "bicycle built for two" invariably causes her to belt out the old song lyrics from Daisy Bell:
Daisy, Daisy
Give me your answer do
I'm half crazy
All for the love of you
It won't be a stylish marriage
I can't afford a carriage
But you'll look sweet upon the seat
Of a bicycle built for two
We paid for the rental, picked out our trusty steed, gave her a quick once-over and we were off! Shortly thereafter, the singing began. Switching seats, clowning for photo ops, racing other duos around the wall, and dodging man-eating potholes, we rode like giddy school children as we circumnavigated the city, covering the 13.7km perimeter in just over an hour. At the end, we were happy to relinquish our bike, both of us sore from the bumpy ride.
In the mood for some cheap street food, we walked to the nearby Muslim Quarter markets to window shop and sample the Islamic fare on offer. The Muslim Quarter has been home to the Hui community (Chinese Muslims) since the 7th century. After bargaining hard for some knockoff Olympic t-shirts, we made our way to the food market. The tourist section of the quarter was a tree-lined avenue and a narrow street, both lined with family-owned restaurants, shops and food stalls. We walked both streets, perusing displays of dried fruits, candied nuts, skewered meats, and local sweets. Plastic patio furniture was set up on the sidewalks with patrons chatting over bowls of noodle soup and dumplings. We spied a tiny dumpling shop where a woman was steaming dumplings in stacks of round flat baskets just outside the entrance. We sat down for a basket of spiced lamb dumplings, which were the cheapest and easily the most delicious food that we've had in China. We immediately ordered another basket and savored every bite.
With visions of playful pandas in our minds, the happy exhilaration of a bike ride, and bellies bulging with dumplings, we walked leisurely back to our hostel with a mutual air of satisfaction and delight from our wonderful day.
2 Responses to "Giant Panders and a Bicycle Built for Two"
Ashley on 23 Jun 2008 at 7:27 pm #

Hey Guys! I can't believe it's been almost a year since you started this amazing trip. I miss you! I'm glad to hear that it's been such a fun time. You have to come to Fort Worth for a weekend visit once you come back to the states and up to traveling again. =) Hallie was born on 5/7 and is now 7 weeks old. Harper has adjusted to her new sister great. She is too young to be jealous.

John S on 01 Jul 2008 at 10:52 am #

Hey guys,
Thanks for the lovely postcard! Its so nice getting personalized correspondence. Loving your website commentary. Kaity especially liked this installment about the Panda bears—she is soooooo jealous. They're like her favorite species in the entire world.

Not much going on over here. Lots of new people at Church. Same finance problems–but we've got some new thinkers working on it. Just had the AHEPA Ft Worth – Dallas hosted district convention. Your's truly finally stepped down as District Governor, so now that's out of the way. Its a relief. All that politics was driving me nuts.

On a personal note, I may not be working for the same job much longer. F-22 program is cutting back. I've been job hunting in preparation. Funny side note, one of the jobs available is a Lockheed inspector in Europe–go figure! Kaity is extatic if we can go live in Tuscany, Italy. Who knows, maybe if we play our cards right, we'll be there when you're in town. Wouldn't that be a kick? Give ya a place to stay, ehh.