May 31st 2008
Posted under Vietnam
Our flight from Denpasar to Ho Chi Minh City was an undesirable itinerary to say the least. We had a seven-hour layover in Singapore from 12:35am to 7:20am. It was the cheapest itinerary, booked only by people like us who have more time than money. What we didn't realize until checking in for the first leg was that, because the first leg was considered an evening flight and the second leg a morning flight, the airline would not check our bags all the way through. We would have to clear customs in Singapore and spend the night in the outer part of the airport until two hours before our morning departure when we could get a boarding pass for the second leg.
While we had spied some modern lounge chairs – perfect for a few hours of good sleep – in the inner part of the Singapore airport, there were no comfortable places to lay down in the outer part. Neither of us got more than a few minutes of sleep despite our best efforts to construct an elaborate nest on the floor with miscellaneous articles from our backpacks. The icy tile floor penetrated our bundled and buffered bodies while the fluorescent lights simulated a sterile sunny afternoon.
We cleared customs in Ho Chi Minh City (formerly Saigon) around 9am and rode in a taxi through the buzzing streets of the motorbike capital of the world. HCMC has a population of 8.5 million people and 3 million motorbikes. In this developing nation, a single motorbike is often the sole source of transportation for a family and it is quite common to see two adults and three children cruising down the road. A cheap Chinese moped can be purchased in Vietnam for as little as $320, providing a lower to middle class family with a greater range of income opportunities.
As we checked into a hotel in the backpacker area surrounding Pham Ngu Lao, we were beyond exhausted. However, a critical task lay before us – acquiring Chinese visas – and we had no time to rest. We had two weeks total for Vietnam and Cambodia combined and, somewhere in there, had to get the visa since China was our intended next stop. Instead of collapsing onto our respective twin beds, we ingested our first dose of caffeine and sugar and pressed on. With a U.S. passport, the task of acquiring a visa is usually quite easy. Many countries do not require a visa of U.S. citizens and many others that do require visas make them available at the border in exchange for a fee. A handful of countries – India, China, and Russia among others – require that you obtain a visa in advance of your arrival. China – incorrigible little problem child that she is – has many pesky documentation requirements and restrictions over and above what we have experienced thus far.
Our original plans for China went something like this: fly into Shanghai; travel overland within China for a month, slowly working our way to Beijing; take the new fast train from Beijing to Lhasa, Tibet; tool around Tibet and then go overland to Nepal. At that point, our China plans were merely ideas – no reservations had been finalized. If you have been following world news, then you probably know that China isn't letting tourists into Tibet due to recent uprisings of Tibetans, protesting their oppressive occupiers. The train to Lhasa was no longer an option. We would have to find another way from China to Nepal. We decided to make our first stop the Chinese embassy, which was, according to our map, reasonably close to our hotel.
Foreign city streets can be disorienting at first, even with a good map, so in the interest of expediency, we negotiated a lift on a cyclo – the Vietnamese incarnation of the bicycle rickshaw. The cyclo rider spoke zero English and did not know where the Chinese embassy was but, in our haste, we climbed into the passenger seat and trusted him to figure it out.
The Chinese embassy in Ho Chi Minh City only accepted visa applications between eight and eleven a.m. It was 10:30 and we were moving at a snail's pace through congested traffic as mopeds whizzed by – a function of our rider's age and frailty as well as the heavy, antiquated bicycle with a single gear. Our blood pressure rose each time we checked our watches through the gut-wrenching duration. By the grace of God, we arrived at the embassy building at 10:55.
Inside the gate were two small offices dedicated to visa applications. The first office was for assembling the documentation. There was an attendant inside, charged with the task of advising applicants on the process. He was bombarded with travelers who shared our same desperate ambition to hold Chinese visas in our hot little hands. With patient persistence, we finally got his attention and inquired about the official list of documents required. The man spoke about two words of English but produced a small card with a list of the requirements. I furiously scribbled the list into my notebook:
Passport with valid Vietnam visa inside (had it)
Disembarkation card for Vietnam (had it)
Two passport photos with white background
Round trip paper airline ticket to/from China
Printout of a bill from a hotel in China
130 U.S. dollars (that's only for U.S. citizens, by the way; all other nationalities pay only $30)
The Amazing Race began.
Twenty-nine hours without sleep. From the embassy, we decided to walk back toward our hotel, a thirty-minute endeavor involving numerous opportunities to play chicken with clusters of speeding mopeds. The effects of the caffeine were waning and I began to feel the wave of exhaustion that comes just before the crash. We stopped to recharge at a Pho (pronounced "fer") restaurant near our hotel. Pho is a common Vietnamese meal – a large bowl of steaming broth with rice noodles, meat and vegetables. We powered up with Pho Bo (Pho with beef) and Pepsi – the people's petrol – which we hoped would buy us a few more precious hours of productivity.
After lunch, we pounded the pavement in search of a local travel agent who could help us. At the first office, a sharp, fiery young woman, named Tran, listened to our quandary and did some preliminary research for us. Flights from China to Nepal were expensive. After several phone calls to her mysterious contacts, Tran proposed that, for a small convenience fee, her contact could acquire a Chinese visa on our behalf. We simply had to relinquish our passports to the mystery man on the other end of her phone; none of the other documents would be needed. Having read warnings in our guide book about numerous fraudulent tour offices in Vietnam, including some offices that disappeared completely after taking your money and/or passport, we were skeptical. It just seemed too good to be true. Tran called her contact once again to confirm the details, resulting in a "two-hundred percent" guarantee that it could be done.
We decided to perform our own little background check by walking around to other tour offices to see if they offered a similar service. Most of the other agencies claimed not to deal with the problem child (China) at all. Others spoke limited English and seemed utterly dumbfounded by our request. In short, we struck out completely. With China seeming more impossible at every step, we decided to throw caution to the wind and gamble on Tran.
Thirty-three hours without sleep. We returned to Tran's office, ready to relinquish our passports.
"We have a small problem", she said with a smile. "Now my colleague says that he needs all of the documentation for the Chinese visa. With the Olympics, China has become very strict on this."
Curses! I felt my face fall and noticed that Aaron looked similarly deflated.
"How much do you care about China?" I asked, resolved at that moment to tell China exactly where she could shove her visa.
"I'd like to go," Aaron responded.
"Okay," I said, "let's sit down here and try to make it work."
With Tran's unwavering patience and stamina, we spent the next FOUR HOURS exploring our options. It was a painstaking, frustrating, energy-sucking process. At the end of it, we were physically and emotionally drained and were left with only one China option: a very expensive round trip flight between Beijing and Hanoi, which connected to Nepal on the back end. The flight cost three times what we'd planned to spend on the Ice Train and the itinerary was a nightmare, including numerous plane changes and an overnight layover in the Bangkok airport. Our travel within China would be hindered by the outbound flight out of Beijing and the only available dates would shorten our China stay by almost a week. The tickets were nonrefundable and there were only two seats remaining. All of this and we still weren't 100% certain that China would even give us a visa. Each new detail about the whole transaction made it increasingly unattractive. "Book it!" we said, after some fatigued deliberation, relieved at having made a decision. Tran took out her receipt book and we took out our credit card. "Four percent charge to use credit card," she said…and that was the straw that broke the budget warden's back. "Whoa, hold on a minute," said the warden, suddenly re-evaluating all of the cons in this scenario that just became $80 more excruciating. We sat for a few moments, reconsidering, and finally decided against it. Tran said that she could hold the seats until morning and her office was open until nine that night if we changed our minds. Aaron slid a generous tip across her desk, which she politely declined despite our greedy monopolization of her last four hours.
Thirty-seven hours without sleep. I suggested that we stop at the hotel, grab our fold-up, laminated world map – one of Aaron's more brilliant street purchases – and discuss our other options over dinner. I felt excited at the prospect of having a month to play with, somewhere in Asia. We strongly considered spending that month in southern India – a wildly delightful thought – and working our way to Kathmandu on cheap flights and Indian trains.
After dinner, I continued to look at the map in bed, tracing our recent and future paths with my finger. It was then that I realized what a gap would exist if we skipped China. I sensed that China was still lingering in Aaron's hopes and, the more I thought about it, the more I felt the same prospective disappointment at missing out on China. It is an enormous country that has influenced art, architecture, culture and religion all over Asia and beyond.
"Let's go to China," I said, slowly melting into my bed.
"Should we go back to the office and book it now?" Aaron asked, without hesitation.
"I'm not leaving this bed until morning but you have the green light."
When he returned a short while later, I was deep in dreamland.
The next morning, I streamed in and out of consciousness to the clickety clack of busy fingers typing away on a keyboard. I could almost feel Aaron's wheels spinning, his practiced patience tested as he devised our mounting list of urgent tasks for the day. God bless him. He let me snooze. Fully cognizant of the magnitude of will power required to restrain from waking me, I rose quickly and we were out the door in ten minutes. The race continued.
Our paper airline tickets would arrive by courier at Tran's office mid-morning. Before that, we had to get passport photos made with a white background. We scurried around on foot in search of a place that could create the photos pronto and found a tiny shop with a computer, a camera, and a young man who said he could make the photos in ten minutes. Aaron and I, in turn, sat for our mug shots against a light blue sheet; the man promised that he could make it white on the computer. We waited several minutes while he doctored the background of the photos, using Photoshop, a process that made me cringe with each stroke of his mouse. After twenty minutes, he was still at it. Aaron eventually left to go to Tran's office and I waited for the photos. When the man finally tried to print the photos, his dusty, antiquated printer would not turn on. I stood by while he manipulated various flaps and buttons, growing ever more anxious at the thought of telling Aaron that Operation Passport Photos had failed. After another ten minutes of tinkering, the machine huffed and puffed and spit out our photos. And then I ran.
We had made a reservation the previous night for a Beijing hotel, using one of our many booking sites and had sent an email request to the hotel to fax a copy of the actual bill for our visa application. The booking site had sent the usual emailed booking confirmation but our sources had told us that the actual Chinese hotel bill was required. When I reached Tran's office with the photos, Aaron told me that we had received no response from the Chinese hotel. He hastily completed our visa application forms anyway – opting to shell out an additional $30 each for same day processing – and assembled our documents in Tran's office. The eleven o'clock application was fast approaching. At 10:40, we printed out the confirmation from the booking site (not the hotel bill) and hopped into a taxi bound for the embassy. We had to go for it.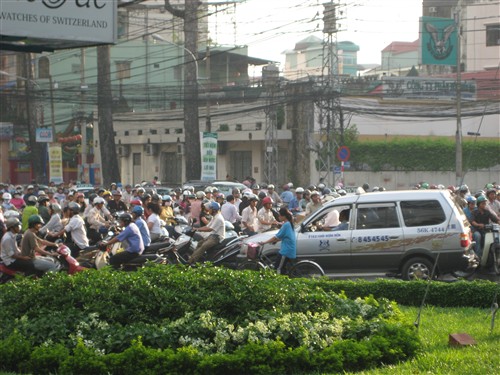 The taxi should have been the fastest mode of transportation but mid-morning traffic was in a steamy state of gridlock. Finally, at 10:57, with the embassy building barely in sight, we paid the driver, weaved through the gridlocked mopeds, and made a dead sprint for the embassy gate. It must have been 10:59 when we slipped through. We made a hurried stop in the first office to glue our passport photos to the application forms, then scurried through the cement courtyard to the application office. The queue was short and we breathlessly presented our documents to the clerk. We had everything on the list. We were pessimistic about our substitute for the hotel bill but at least someone official would examine our documents and confirm that everything else was acceptable. The clerk hastily perused our docs.
"Where are the photocopies? You must have photocopies of everything."
He didn't say anything about the hotel bill.
"Where can we get copies?" we asked desperately. "Can we come back today?"
"Hurry," he replied, ignoring the "where" question, "we close at 11:00."
It was 11:05.
We grabbed our docs and hurried to the gate.
"Where can we get copies?" we asked of the guard. By the way, the Chinese are notorious for not speaking English. The guard fit the stereotype but magically produced the business card of a copy shop nearby. The card had a map on the back – the shop was about four blocks away.
"Tomorrow," the guard said, as he started to close the gate behind us.
"No, no! He said, he said!" we protested like preschoolers, gesturing toward the application office. The guard said okay but we thought that there was a better than average chance that the gate would be locked and guarded by the pacing soldier with his automatic weapon. Still, we made a break for the copy shop, with backpacks bouncing and our important documents crinkling in my sweaty clutch. We found the shop with relative ease and the copy process was shockingly efficient. We were in and out in just over five minutes! We raced back to the embassy, laughing all the way at the prospect of this schizophrenic rat race actually resulting in a Chinese visa. The guard at the embassy gate witnessed our determined charge from down the road and, perhaps out of pity or respect for our hustle, he let us in.
Even more breathless now and certainly more disheveled, we handed over our respective stacks of photocopied documents. A manic moment passed before the clerk, devoid of emotion in the way that workers in government offices always seem to be, said the magic words, "Okay, come back 4:30 to pick up visa." And the Lord looked down from the Heavens and saw that it was good. We staggered out of the office in shocked disbelief. Could we possibly have a Chinese visa in our hands by the end of that very same day? Neither of us was willing to believe it.
It wasn't even noon yet and we were totally exhausted. With almost five hours to kill before returning to the embassy at 4:30 sharp, we stopped for lunch at a restaurant with a lovely patio overlooking the park. Judging by the clientele, we had stumbled into one of Ho Chi Minh City's haunts of the young, chic and beautiful. We were the only foreigners on the premises and I received as many inquisitive glances as I extended. It felt good to sit and watch the world go by, if only for an hour. We spent the rest of the afternoon leisurely taking in some of Ho Chi Minh City's tourist sites.
We returned to the embassy at 4:20 and waited nervously for the gate to open. At 4:30 we were third in the queue of equally doubting applicants, all wondering if today was their day for a miracle too. We watched anxiously as the clerk carefully inspected both sides of each note of U.S. currency and slid it through a machine before stacking it meticulously into a hidden drawer and sending the first two lucky winner away with visas.
When our turn came, Aaron slid his receipt along with three U.S. hundred dollar bills and one twenty dollar bill beneath the bulletproof glass. Come on, we're almost there! I could almost feel my visa-laden passport in my hand. Suddenly, the clerk slid one of the hundreds back under the glass.
"Can you get a new bill? This bill not good." she said, indicating a slight smudge on Washington's face (clearly a result of normal wear and tear).
"That's all I have," Aaron replied honestly. We were down to the last of our coveted U.S. dollars. "Can you just try running it through your machine?"
"No," said the clerk, with an air of finality. "Machine okay but Bank of China not accept. You must get new money." And that was that. We had tripped and fallen, five feet short of the finish line. Where could we possibly get a new hundred dollar bill in time enough to return to the embassy before it closed at five, we asked ourselves frantically as we exited the gate once again? The question was still hanging in the air when Aaron spied a Western Union office in the distance. Another round of chicken. Another sprint.
Inside the office, we explained our dilemma to the young female clerk whose instinctive response was "No, I can't help you. Sorry." Then, another miracle happened. Moses again parted the Red Sea and through the divide walked a male employee with two fifty dollar bills from his own pocket. After a brief inspection of our bill, he made the exchange and we bolted out of Western Union and back to the embassy, where we were now at the end of the queue of ten people. As we waited in line, Aaron's paranoia had reached its climax and he repeatedly critiqued the fifties, noting their every flaw and wallowing in negativity, driving me utterly insane for about ten minutes.
When we finally reached the clerk again and slid the money and receipt under the glass, she quickly repeated the inspection process and quickly produced our two passports and handed them over with another receipt. It was almost as if she sensed that we were hanging on to our sanity by a thread. Aaron immediately opened both passports to the page with the Chinese visa sticker. He checked the details – names, dates, etc. – for accuracy and gave me an assuring look. We walked out of the office and looked at them again in the sunlight before leaving the embassy grounds. We were too stunned to celebrate.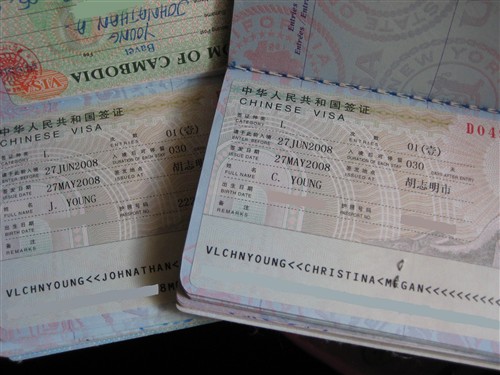 When we first began to share the news of our plans for this trip, several friends suggested that we apply to compete in The Amazing Race, a reality T.V. show full of physical and mental challenges quite similar to those we have faced throughout our travels. We had found the suggestion humorous at the time but have pondered it occasionally along the way. As we walked from the Chinese embassy for the last time, we laughed at the similarities between our visa ordeal and an episode of the well-known reality show. We concluded that there is no need for us to compete in The Amazing Race; as far as we're concerned, we've already won.