April 30th 2008
Posted under Japan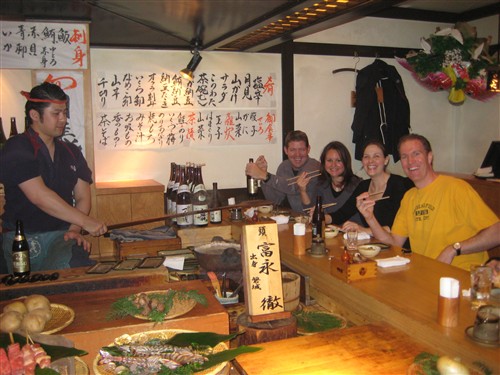 After traipsing across Japan at a feverish pace, we reached Tokyo, our final destination, with a desperate need to relax and reorganize. We had done so much so quickly that I hadn't had a chance to process it all much less write about it and the experiences were fast becoming faded memories. We had been invited by our expat friends and former Fort Worth neighbors, Seph and Trish Jensen, to stay with them in Tokyo and we were very excited to see them and meet their sweet little baby Kate Hana for the first time. Trish had mentioned in prior emails that Kate sleeps twelve hours every night and is a really good baby during the day. I'm sure that she said it to put our minds at ease because, as a parent, you never know how your childless (I hate that word but we are, in fact) friends will react to your little one. We were not worried in the least, of course. Trish had emailed some pictures of Kate at Easter, in which she looked like a Madame Alexander doll, and on that same day, the Youngs re-entered the insane world of "not not trying".
So we found our way to the Jensens' place on the 27th floor of a beautiful high-rise in the trendy Roppongi area of downtown Tokyo. We arrived around 6pm on Sunday night and Seph had just walked in from work so we did the round of hugs and then digested the surrealism of meeting again in Tokyo. Kate was already down for the count so we settled in and caught up over champagne and a home-cooked beef tenderloin dinner. This proved to be the manner in which the Jensens would spoil us rotten with their generous hospitality for the entirety of our Tokyo stay.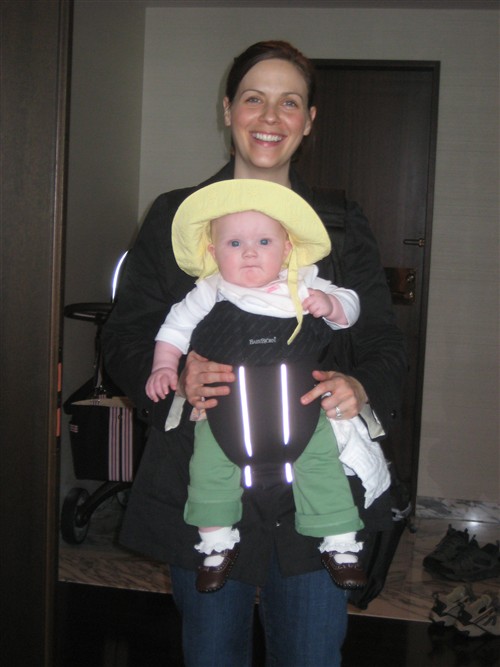 With nothing on our agenda but relaxation and visiting, we slept late almost every morning, lingered over coffee, played with Kate, went to lunch, and basked in the spa-like comforts of the cozy flat in the evenings. You may be wondering how an enclosed area with a six-month-old baby could be described as spa-like. The explanation is simple: Trish wasn't exaggerating – Kate really is an angel! She smiled and played all day and then went down for the night around 5:30 and we didn't hear a peep from her until morning. Seph and Trish are very calm and natural parents, which certainly seems to reflect in Kate's personality. Tokyo was a huge, modern city with skyscrapers galore, flashy neon, a lot of stressed-looking businessmen chain-smoking and running for trains, more vending machines per square mile than anywhere else in the world (more than 400,000 in total), and every type of retail and restaurant offering imaginable (except for Trish's beloved Target) – but all of this combined was not nearly as interesting as our little bald, blue-eyed hostess. Even Aaron's baby fever spiked to a new level.
One night, the four of us went out for a night on the town sans baby. We stopped into a traditional Japanese restaurant called Inakaya (Seph's pick) and were told that we could be accommodated in about an hour. We walked down the street to a small Irish pub for a round of beers and had worked up a healthy appetite by the time we returned to Inakaya for dinner. We were seated along one side of the single enormous table that encompassed the entire dining area. Three very spirited and vocal chefs kneeled in the middle of the table behind a grill and griddle. We ordered some Japanese beer and Seph ordered dinner for all of us – beef, chicken, prawns, mixed sashimi, snapper, assorted mushrooms and vegetables. While we enjoyed our drinks, the various courses began to arrive, served one at a time on long wooden paddles maneuvered by the chefs.
The jumbo prawns were skewered live and placed over hot coals, their little legs wriggling furiously as they fought their fate. This bothered my conscience tremendously but I tried not to think about it, letting the beer and conversation divert my attention. When the prawns were delivered – one large one per person – Aaron dutifully removed the exoskeleton while I looked the other way. When he was finished, the prawn looked just like the ones I used to buy at Costco, only bigger and juicier. It was by far the best damn prawn that I've ever tasted in my life! The sashimi medley was also unbelievable. I've been eating sushi for more than ten years; I've had all kinds of sushi, sashimi and rolls but I must admit that I didn't know just how good raw fish could taste until this meal.
Somewhere in the midst of skewered meats and luscious fishes, the premium cold sake started flowing, followed by Seph's recommended Shochu – a Japanese distilled spirit, which was surprisingly smooth and delicious, considering its thirty percent alcohol content. The big table stayed full throughout the evening and an air of giddy indulgence seemed to circulate the room. Inakaya was an inconspicuous, intimate place tucked away on a quiet side street but it was clearly a hidden gem. As we neared the end of our meal around 10:00, people were still piling in. We finished our experience with a round of green tea ice cream and then laughed all the way home.
My persistent hangover precluded me from leaving the flat the next day but everyone else seemed to be functioning semi-normally. I didn't mind – I needed an "office day" anyway. With our Tokyo visit nearing its end, we had not done much in the way of sightseeing, our laziness exacerbated by the kind of comforts we used to call home – sparkling clean bathroom, big screen T.V., wireless internet, washer/dryer, couches that you can sink into and, most importantly, the most fabulous toilet that my discriminating derriere has ever encountered. Trish, having read some of my earlier potty commentary, mentioned that Japanese toilets have "all the bells and whistles". I wasn't exactly sure what she meant until we arrived in Japan.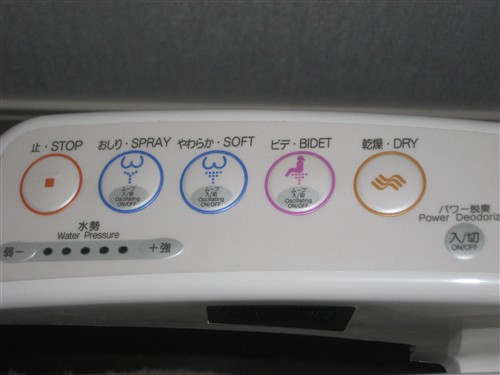 The Japanese take a lot of pride in their toilets, a characteristic that I find most admirable. You begin by sitting down on a startlingly lovely heated seat. After doing your thing, you select from a range of functions on a small control panel attached to the toilet. Functions such as a deodorizer, three levels of warm, gentle bidet with adjustable water pressure and a dryer maximize the ease and enjoyment of an otherwise unpleasant necessity. Ladies and gentlemen, I was in Heaven! I have never enjoyed the experience of powdering my nose so much in my life! How this utterly brilliant invention has not made it into every home in America, the most luxury-consuming society on Earth, remains a total mystery to me. I wholeheartedly urge everyone reading this (and tell all of your friends) to find a way to import a Japanese toilet and install it in your home as soon as possible. Your life will never be the same again.
So we skimmed the Tokyo chapter of our guide book in search of any last-minute tourist stops. Aaron decided that he wanted to see the Tsukiji (pronounced "skid' jee") Fish Market, the largest fish market in the world, and specifically its famed tuna auction. After a little (okay, a lot) moaning and groaning about having to wake up at 5am, I managed to rise to the occasion and we scooted out the door before our first cup of coffee – always a risky move. A few trains later, we finally found Tsukiji and made our way to the back warehouse where the tuna auction was just finishing its final round for the day. Hundreds of giant tuna were laid out in rows across the entire floor of the warehouse. Men in coveralls and tall rubber fishing boots walked between rows, inspecting the fish and looking busy and important for the tourists who watched excitedly from the viewing area.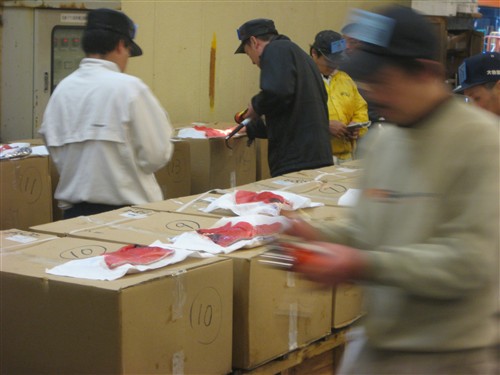 The auction round seemed very informal. Sample slices from each fish on the auction block were placed on top of a stack of cardboard boxes with a number written in permanent marker on each stack. The auctioneer stood on a small raised platform in a circle of bidders and launched the bidding process with his rhythmic auction chant. We watched as the last round concluded and then ventured into the main area of the market, packed tightly with stall after stall selling every type of raw fish imaginable. In the alleyways between the rows of stalls, men driving motorized flatbed carts frantically navigated through the crowd. We had to stay alert in order to avoid becoming road kill for the carts speeding through the market with reckless abandon as the carts seemed to have the right of way in all circumstances. We wandered up and down several rows of stalls and then headed out of the market. The raw fish odors were nauseating on an empty stomach and a dizzying display of fish corpses seemed to dominate the view in every direction. I'd had enough.
As we were leaving, we came upon a small five-stool sushi bar on the sidewalk and Aaron decided that, to complete his tuna auction experience, he should eat some tuna sashimi for breakfast. In my state of fish fume nausea, I couldn't think of anything more revolting to put into my mouth but I sat down with him and sipped some hot miso soup while he ate. It was the most I could stomach before 8am.
Back at the flat, Seph and Trish were busy getting ready to depart on a three-week trip back to the "United States of Awesomeness", as Trish now calls it, later that afternoon. Miss Kate was not a happy camper, which suggested that Trish's earlier worry that she might start teething right before their eleven-hour flight might become an unfortunate reality. We managed to calm the little fusser down and, among the four of us, delivered the Jensens' family-size luggage load down to the airport bus pickup. We said hurried goodbyes and then they were gone in a flash.
Our flight wasn't until the following evening so we headed back to the flat. At Seph and Trish's suggestion, we ordered Pizza Hut and vegged in front of the television. Aaron even managed to sit still through an entire movie (Juno), although I'm sure that he was multi-tasking in some way, probably with the laptop or a magazine in his lap. I don't question it anymore as long as his little side projects don't disrupt the movie. It was a wonderfully quiet, relaxing evening and we felt a pang of nostalgia for our big, comfortable former house in Texas. I was a great house and we still puzzle over how easy it was to let it go. At this point, we feel so comfortable in the simplest accommodation that we hardly think of our former lifestyle until we get a taste of it again.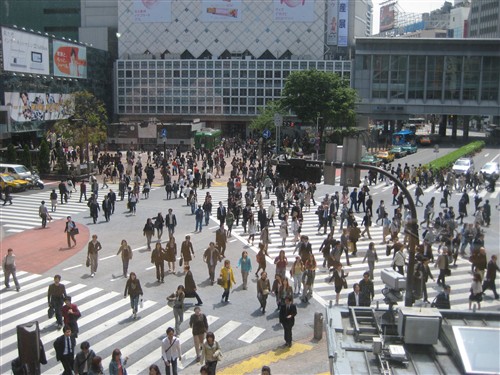 The next day, we took a late morning train to the Shibuya area and stopped into a Starbucks which looked over the Shibuya Crossing – a famous intersection where pedestrians in all directions get a simultaneous green light and flood into the street before disappearing toward their respective destinations. It is an impressive sight, especially from the second floor vantage point of the Starbucks. I must say that I am continually impressed by Starbucks ability to occupy the most prime real estate locations in the most patronized areas. They are well-positioned around the world. You don't usually have to seek out a Starbucks; if there is one, it tends to magically appear like a lighthouse in the storm. God bless Starbucks and McDonalds too! While I remain generally a fan of "the underdog", I literally light up when I discover one or the other global oasis in a new city because I know that I have found a home base. I may not even stop in but I take comfort in knowing it's there.
Tokyo was a perfect end to our two-week sprint through Japan. We were both surprised to find Japan among our favorite destinations thus far. We proudly crammed about a month's worth of experiences into our short visit and have no regrets for there is so much to see. Despite the language barrier, we found the Japanese people to be warm, welcoming and eager to approach us with an offer of help if we appeared lost, which was fairly often. We loved the mix of old and new: beautiful Japanese gardens and historic buildings hidden within modern cities with modern amenities; chic designer fashion mixed with women, young and old, in traditional kimono. In Asia's most Westernized country, there is a kaleidoscope of rich culture that we've only begun to explore. Whether we were staking out geisha, visiting centuries-old castles, hiking through the mountains or sampling the local cuisine, we were continually thrilled and fascinated by everything that is Japan.
Comments Off on Tune In Tokyo