September 29th 2008
Posted under Belgium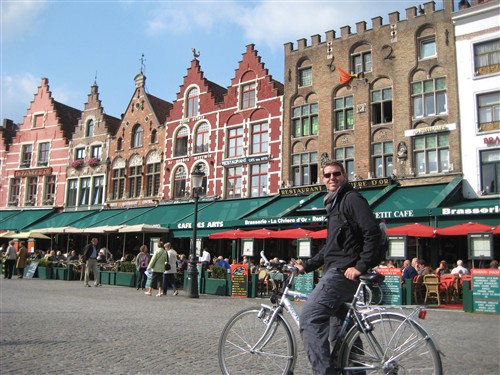 We began our three-day stay in Bruges the way every respectable Belgian tourist should – by sampling the frites and beer. Our hostel was located close enough to the Grote Market (main square) to walk there but not nearly far enough to burn off the sauce-smothered, heart-attack-waiting-to-happen, deep-fried Heaven served up at the two competing frietkots (frite carts) on the square. Frites are big business in Belgium and the picturesque Grote Market, a magnet for locals and tourists alike, is prime frite-selling real estate. There is apparently an ongoing controversy among locals over which of the two frietkots is better. Interestingly, the eight square meters of cobblestones under the two trailers is auctioned off every three years so that often one or both frietkots are replaced by new ones and the debate starts all over again. Upon reading of this, we felt it our personal obligation to make our own determination. It's a tough job…
With bellies full of salt, carbs, and grease and plenty of daylight left, we set out on a long walk around town. Bruges flourished as a port town around the 12th century, attracting increasing capital inflows as trading ships began to arrive from all over Europe. But around 1500, the Zwin channel that linked Bruges with the sea began silting up, gradually halting the city's prosperity. It was not until the 1950s that Bruges reemerged as a tourist destination. The medieval city – often called the Venice of the North – is a dreamy place with colorful gabled houses, towering stone churches, cobblestone streets, lovely parks, quiet canals, and pretty old bridges. The canals are dazzling, particularly when they catch the hazy reflection of the cityscape, but Belgian architecture is Bruges' most defining feature. We spent hours strolling in wonderment through the Grote Market (a UNESCO World Heritage Site) and the narrow cobbled streets lined with Belgian storybook houses.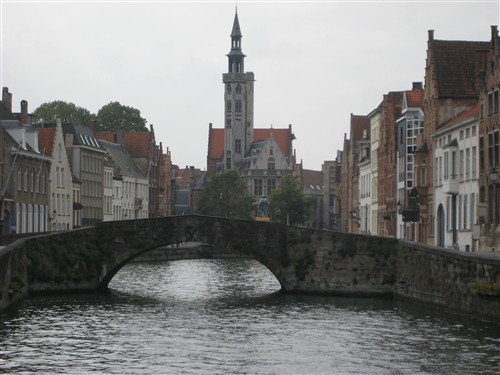 On our second day in Bruges, we rented bicycles and cruised out of town, following a trail along a pretty tree-lined canal that led all the way to the sea. We didn't make it that far though, stopping instead in the village of Damme. Parking the bikes in the small square, we wandered through the quaint, cozy village. The air was brisk and the sun was shining – it was a beautiful day! We sat outside at a restaurant that boasted over 100 kinds of pannekoeken (crepe-style pancakes), ordered some hot drinks and one each of the sweet and savory varieties of pancakes. Ladies and gentlemen, in addition to frites, chocolate, waffles, mussels, and beer, the Belgians do pancakes…well! Mine was so stuffed with fresh spinach that it resembled a burrito, smothered in cheese and cream sauce…the gluttony continues.
After a pleasant afternoon in Damme, we pedaled back to Bruges and rode around the refreshingly bicycle-friendly city – through grassy parks, painted with the colors of fall, and along picturesque canals – until our bike rental expired. Auto traffic in the inner city was minimal and it was nice to see people of all ages enjoying an afternoon on two wheels.
After a long bike ride, it feels great to stretch your legs with a walk. We ventured over to the Church of Our Lady, which houses the only one of Michelangelo's masterpiece ever to leave Italy during his lifetime: the Madonna and Child. The sculpture was originally intended for a church altar in Italy but was purchased by a wealthy Belgian family and gifted to the Church of Our Lady. While we may have been "museumed out" from our adventures in Italy, we could not miss the opportunity to see a Michelangelo.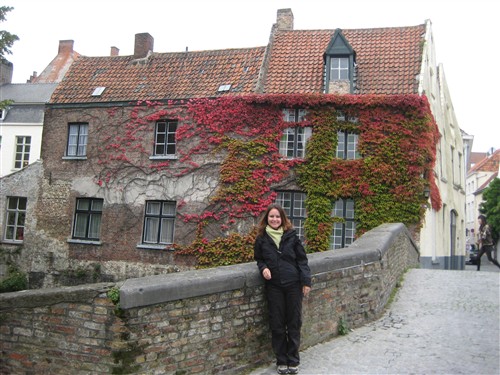 Our last day in Bruges, my 33rd birthday, was wonderfully uneventful. While our travel pace has been significantly more relaxed in Belgium than it was in Italy, we had still spent most of every day pounding the pavement. I wanted a day of rest and the cozy common room of our hostel provided a perfect place to hibernate with good books and free Wi-fi. When we finally did emerge in the afternoon, we meandered toward the canal and bought tickets for a canal boat ride. Unlike the Venice of Italy with its canals full of personal, municipal, gondola and commercial boat traffic, the canals in Bruges transport only small, motor-powered tourist boats. We had seen them everywhere – with tourists packed in like sardines – and it seemed like something we just had to do. Our boat was equally crowded and the thirty-minute ride seemed rushed but it did afford views of charming waterside homes and other historical gems that could not be seen from the street. The excursion was pleasant but I would have preferred a canoe.
With a strange celebratory energy in the air, we indulged in a round of overpriced beers in the Grote Market, which is decidedly most alluring at dusk when the dim streetlamps and fading daylight cast the stunning building facades in a soft, romantic glow. Walking through the square at this hour is like stepping back in time. The tour groups have dissipated, horse-drawn carriages pass by with the clippety-clop of metal horseshoes on cobblestones, and you can imagine the medieval square in its maritime glory. Just off the square was a lovely Greek restaurant, The Olive Tree, which we had spied earlier. We sat down for a quiet dinner and a relaxing conclusion to a perfect birthday.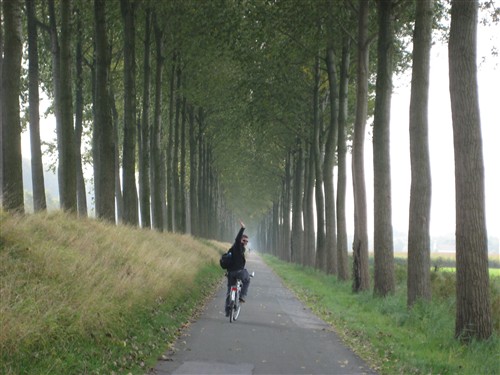 Belgium was not a part of our original Europe itinerary but rather an afterthought that, by happenstance, became a week-long stay. Belgium's charm is refreshingly unpretentious, likely a result of its proud beer-drinking culture. Every beer in Belgium is served in its own unique glass and any local can excitedly explain the difference among the three Chimays. The air is brisk but everyone is outside, bundled up in jackets and scarves, engrossed in good-spirited conversation over heavy food and big beers. It would be difficult to choose a favorite city of the three that we've seen. Brussels has such a festive multicultural energy; Antwerp is laid back and livable; and Bruges is one of the prettiest cities on the map. We love Belgium – the architecture, the people, the beer, and the food – but are somewhat relieved to be moving on from the ubiquitous and irresistible temptations of gluttony.