December 31st 2007
Posted under U.S.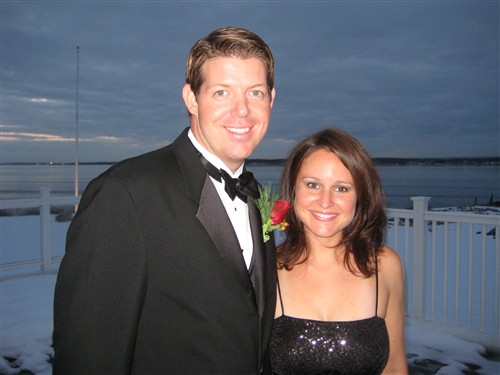 We left Johannesburg on the evening of December 18 and, after thirty-one hours and three connections, we arrived in Boston sleep deprived (neither of us can sleep on planes) but otherwise unscathed. As we arrived on American soil, I began to softly sing every patriotic song that I could think of. Mark picked us up and drove us to Providence where we met up with more of the Rooney clan. We all caught up over a quick drink in the hotel bar before they headed off to the Mulhearns' for dinner and we passed out for a good twelve hours. When we finally re-surfaced, the pre-wedding festivities were already brewing as more friends and family began to arrive.
It had occurred to us just a few weeks prior to the wedding that we didn't have anything appropriate to wear, couldn't realistically buy anything in South Africa, and wouldn't have time to shop in Providence. Thankfully, we knew just who to call – an expert in the retail arts – my mom. Within a few days of receiving a list of our sizes, she had secured full attire for us for the entire weekend's affairs, including all of the proper undergarments, shoes and accessories, and shipped them to Providence. Momma, you rock!
The rehearsal dinner took place at the University Club at Brown University. Everyone looked ravishing, particularly Mark and Meredith who were both glowing, and the venue was gorgeous. I was still a bit shocked by my own transition from cargo pants to stockings, high heels, and a strapless bra. I had forgotten how much I love Aaron clean-shaven and in a tie. Dinner was a lavish winter buffet followed by an array of decadent desserts to please every palate. Many heartfelt toasts were given in honor of the happy couple and we were even serenaded by Christmas carolers dressed in colonial attire with tall top hats, tiny spectacles and plenty of holiday cheer.
The wedding ceremony and reception at Warwick Country Club were beautiful and adorably personalized. The club is set on the shore of Naragansett Bay where Mark and Meredith spent the summer boating and falling in love. The bridesmaids donned floor-length black gowns, carried red roses, and walked to the delicate melody of a string quartet. The bride was stunning – her gown divine. When the pastor introduced Mr. and Mrs. Mark Rooney, I think that Aaron and I both realized how happy we were to be there. The reception was merry and energetic with an almost constantly packed dance floor. We sipped pomegranate martinis and ate enough hors d'oeuvres to qualify as a full meal, which didn't stop us from indulging in the four courses that followed. The evening was so much fun that, before we knew it, the band was announcing the last song of the night. In a flutter of hugs, Mr. and Mrs. Mark Rooney said their goodbyes and rode away in their limo. We stumbled across the freezing parking lot to Mark and Meredith's Volvo (the first "o" is pronounced short if you live in Rhode Island) and struggled to figure out the GPS so that we could find our way back to their condo. We were happy to realize that, because Mark had lent us his Blackberry for the weekend, he wouldn't have it on his honeymoon.
At 5:00am on Christmas Eve, we arrived at the airport in Providence only to find that our flight to Chicago had been canceled. Bah humbug! We eventually secured two seats on a later flight but were told that there would not be any connecting flights to Moline. After calling every rental car company at O'Hare, we determined that there was not a single car available at any price. Resigned to spending Christmas eve in a hotel, we called my parents with the sad, though not surprising, news and Daddy came to the rescue by driving to Chicago to pick us up!
We had made last-minute secret plans to surprise my family by having Aaron's mom bring our puppy from Phoenix and we were dying to see our little child substitute. Still mildly zonked from the doggy valium, our little Lenasaurus went totally crazy when she saw us. She kept jumping from Aaron's arms into mine and back again until finally we both laid down and let her crawl all over us and smother us with four months worth of puppy kisses.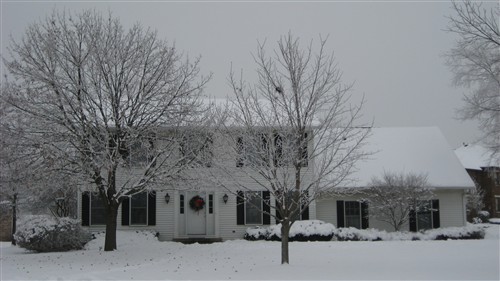 We spent the next seven days with our family, relaxing, visiting and driving each other crazy as only relatives can. We had a white Christmas, which also meant freezing temperatures, so we rarely left the house. We didn't mind, though. There's no more beautiful, warm and inviting place than my parents' house at Christmas. The tree looks amazing every year, the house is trimmed inside and out with Christmas accents and the kitchen is full of Mom's cooking. This year, Aaron and I had requested pasticcio, spanakopita and my yiayia's homemade bread and all three were waiting for us when we arrived. One of my fondest childhood memories is of sitting in Yia's kitchen and dipping her homemade bread, toasted with melted butter and Papou's honey (he was a beekeeper), into a dainty cup of coffee with cream and sugar. They are both gone now but Mom has the bread recipe mastered and we still have a single last jug of the honey with Papou's name and phone number on the label. I ate the toast for breakfast every morning until it was gone and even had my coffee with cream and sugar one morning so that I could take myself back to that hazy memory in a tiny kitchen in Dubuque, Iowa where I always felt spoiled rotten and infinitely loved.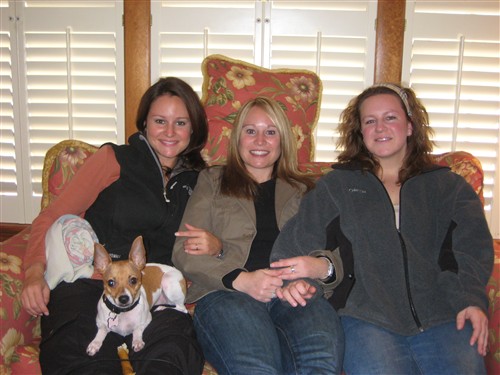 Lena stole the show for the entire week. My family is as crazy about her as we are and she went from one lap to another, received a minimum of a hundred kisses each day, and was the main topic of conversation. When we finally left, it was a toss up as to who they were more sad to say goodbye to, us or Lena. We loved every minute of being home for the holidays but it was hard to say goodbye. We would love to have our family and friends meet us somewhere along the way but we understand that, while we're busy squandering our fortune, most other people's lives are continuing on as usual. It will be initially hard to return to the hostel world after basking in the comforts of home for two wonderful weeks (I'm already bracing myself for the squat toilets in India) but whatever adventures and challenges the next fourteen months bring will be met with open minds and open hearts. On New Year's eve, we are off to India with big dreams. The world is beautiful and, with a new year ahead full of promise, we feel blessed for this opportunity to see it.