October 31st 2007
Lamu is one of several islands that form a small archipelago off the coast of northern Kenya. It had been described to us as a backpackers' island with cheap accommodations and nearly uninhabited, white sand beaches. We arrived by ferry, optimistic about five days of inactivity. I wanted to catch up on some writing, read a couple of books, eat, drink and lay on the beach. Period. We'd imagined days spent on the beach and nights in the seaside lounges so, with our packs in tow in the sticky afternoon heat, we checked out a few "mid-range" hotel rooms, in which we only intended to sleep. We selected a sea view room at the Bahari Hotel, negotiated a reduced rate for a four-night stay, and paid cash up front. We had reconnected with Marie, from our safari adventure, on the bus from Mombasa and she also took a room at the Bahari.
Happily relieved of the burden of our packs, the three of us strolled along the shorefront road. The people of Lamu were easy-going and happy, always greeting us with a friendly "Jambo!" when we passed by. The population of the small island is primarily Muslim but the men were unlike any Muslims that we had yet encountered; they were dreadlocked, Rastafarian Muslims in Bob Marley t-shirts and surf shorts who live life "pole pole" (slowly, slowly). They say "Welcome to Paradise! Hakuna Matata! No worries, Mon.", which we immediately loved and adopted into our own vocabulary for the next five days. In stark contrast, the Lamu women were fully concealed but for their eyes, more commonly than in any other place that we've been. They generally didn't speak to us except to return our greeting and, even then, only sometimes.
The city is located upon an industrial shoreline, dotted with hand-made wooden boats. There are large, commercial fishing boats, small motor-powered ferries, and dhows, which are long, wooden sailboats. It didn't take long to discover the single tourist attraction that almost every dhow "captain" was trying to push: a day sail to the neighboring Manda Island with fishing, snorkeling, and a nice fish barbecue on the beach with coconut rice and fresh fruit. It didn't sound particularly appealing, especially after one look at the dhow itself, which clearly offered no shade from the intense island sun.
We spent the next morning at Shela Beach, which was a good forty-minute walk from our hotel. The soft, white sand beach was every bit as pristine and beautiful as we had imagined but more raw than we had expected. There were no resorts or restaurants whatsoever, meaning no shade structures or services. The few other inhabitants were some scattered tourists and a few random locals. Our only refreshments and sun protection were those which we'd packed in our bags. The water was calm and warm, isolated from the Indian Ocean by the islands of the archipelago, and we swam and played like children for a couple of blissful hours. We relaxed and read on the shore until we were sufficiently sweaty and sunburned and then packed up and walked back to town. It would be our only day at the beach but our first swim in the Indian Ocean was the highlight of our stay on Lamu.
We spent the remaining days hiding out from the oppressive heat, which seemed to infiltrate every establishment on the island. Our sea view room turned out to be especially hot with not even a whisper of a sea breeze blowing through the open windows which warmly welcomed a swarm of mosquitoes each night. Aaron and I each got food poisoning on separate occasions and spent respective afternoons huddled in vile misery. I personally lived for the hearty breakfasts each morning, which never made us sick and had the most delicious mangos that I have ever tasted. All of the fresh fruit in Kenya has been amazing: pineapples, apples, bananas, mangos, papayas! They are sweet, juicy bites of perfection that sweep me away to a tropical paradise, if only in my imagination.
Our chance meeting with the Now Legendary Captain Barracuda came during one of our many aimless strolls down the industrial shorefront road, just before sunset. We came across a couple of sun-kissed tourists who were just stepping off a dhow onto the dock. We had all but sworn off the dhow trip but when we curiously inquired about their experience, they said that we should just do it, that it was a nice excursion. From behind them, a friendly and unobtrusive local stepped off the boat and introduced himself as the captain of the ship. "I am Captain Barracuda!" he said proudly. We began to entertain the idea of a dhow trip once again and felt that the recommendation of those tourists had been good due diligence in choosing a captain. We booked a trip for the following morning, leaving at 9:30am and including fishing and a fish barbecue on Manda Island. We gave Captain Barracuda a small deposit to buy the food and felt satisfied with our decision.
The next morning, however, our dhow trip began to go south as quickly as it began. When we arrived at the established meeting point, Captain Barracuda said that the two other passengers were running late and he was going to check in on them. After almost an hour, he returned alone and rather disappointedly said that he would take the three of us. We boarded the boat to find few comfortable places to sit and nothing in the way of fishing equipment or provisions. Something just didn't seem right but I ignored my instincts, which were shouting at me to disembark immediately and forget about the whole thing. Soon the crew boarded, as well as a fourth passenger, a single, cheerful Iranian girl, and then we were off. The sky was overcast with thick clouds and the sail to Manda Island was pleasant. The crew had raised two Bob Marley flags at the stern and almost immediately lit up a joint, which they passed around amongst themselves. Cool, I thought. Maybe if they get stoned enough, we'll get serenaded by five Muslim Rastafarians singing Marley songs and this party could get interesting. No such luck.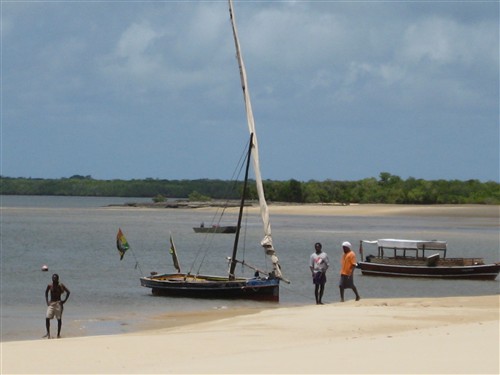 The dhow anchored off the Manda Island shore and we all stepped onto the beach. Captain Barracuda informed us that we had started too late to do any fishing but that we could eat our fish barbecue, which was available whenever we were ready, under a shady tree. Some of the crew walked down the shore and others stayed on the boat. We found some shade near the beach and set down our things. I was dying for a swim and almost immediately waded in but the bottom covered with rocks and the water was so hot that it burned my sun-kissed shins. There would be no swimming that day. Before long, we wandered over to the tree, under which our barbecue was to take place. There was a man cooking over a fire so we lay down in the cool shade of the tree and waited. Soon a group of young people joined us under the tree; they had just returned from fishing and were having a wonderful time. After over an hour of waiting to be served our meal, one of the crewmen from our boat joined us. In just a few short minutes of conversation with him, we managed to uncover the dishonest schemes of Captain Barracuda. As it turned out, we were speaking to the captain of the ship, a very cool, friendly guy who had been told by Barracuda that we had paid only 300 shillings each for a sail out to the island and nothing else. The real captain knew nothing of our arrangement for fishing and lunch and was certainly unaware that we'd paid more than twice that much. The fish barbecue being prepared was for the other group and not for us! The dhow trip ended abruptly with a dramatic confrontation with Captain Barracuda and a silent sail back to Lamu. Everyone in the crew was now aware of the deception that had taken place. The real captain was cool and apologetic as he too had been swindled. Back on land, Barracuda begrudgingly refunded the majority of our money after we threatened to report him to the tourist office. Lamu is a small island. I am certain that our experience will scar his livelihood as a dhow "captain" for a long time. It really is unfortunate that greedy scam artists like Barracuda can sour what might otherwise be a pleasant experience for all.
Two days later, as we ferried away from Lamu toward the Manda Island airport, we were happy to leave. Despite the heat, the mosquitoes, the mediocre food and the dhow scandal, we don't regret the experience. The Lamu people were warm and welcoming. The streets were safe to walk alone at night and the views really were spectacular. We saw at least ten baby donkeys, much to my delight. The uncomfortable moments were separated by fresh-squeezed juices and crab cocktails at sea view restaurants and cold beers with the moonlight reflecting on the quiet, evening waters. For most exotic destinations, there is value in simply experiencing them. For many, Lamu truly is paradise, even without umbrella drinks and air-conditioning.
The Manda Island airport was a group of thatch-roofed pavilions with small airplanes. Our flight was quick and comfortable and, as I took in the aerial view, I thought about the discomfort we could have spared ourselves if we had flown both ways. Our bus rides were hot, sweaty, bumpy and foul-smelling but also exhilarating. It is easy for people of moderate means to fly from one air-conditioned tourist location to another, completely isolated from the local population but those people miss out on so much of the colorful culture of Africa. We endured the discomforts alongside the locals and for that we were granted unparalleled landscape views and a powerful glimpse into the beating heart of Kenya. No regrets.
That said, we spent our last night in Nairobi at the Hilton. We decided to treat ourselves after a fulfilling but rough two weeks of travel in Kenya. Actually, when we entered the lobby to find out how many of our precious Hilton hotel points it would cost, Aaron took one look at my face and knew that we were staying, no matter what. With Aaron's corporate Hilton status, we were upgraded to an executive suite and checked in right away.
We jumped around like monkeys when we discovered the air-conditioning vent, sofa, three kinds of thick, fluffy towels, an array of fragrant Crabtree & Evelyn products, and a hot water pot with a lovely assortment of coffees, teas and biscuits. We had not experienced this level of luxury since we left our home sweet home in Texas and since then we have developed a whole new appreciation for it. I vowed not to leave the premises until they kicked us out the next day. We bought tickets for a shuttle to Tanzania the next afternoon and spent the evening in true relaxation mode. It is amazing how a single blissful night of comfort can rejuvenate the mind, body and spirit. We took the remainder of that night "pole pole", sipping tea, watching movies and enjoying every detail of our little slice of paradise. "Hakuna Matata, Mon". We had no worries.