March 28th 2008
Posted under Australia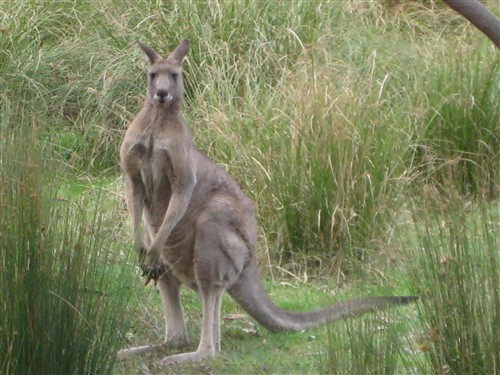 The Barossa Valley, home to such familiar wine labels as Penfolds, Wolf Blass and Jacob's Creek, is a region of very flat vineyards – sprawling golden fields and old trees – spread out among three small towns. It is Australia's best known wine region but we decided to limit our exploration to wineries that have little or no presence in the States. We had driven from Adelaide to Barossa on a whim and, at 5:30pm, had no accommodation lined up. Our second inquiry yielded us a room at the Vineyards Motel, a roadside establishment with seventies-style psychedelic carpet. The room was thoughtfully stocked with a fridge, microwave, toaster, hot pot and a nice array of coffee and tea. We immediately felt at home and settled in for a quiet night of movies.
The next morning, we got a late start, stopped at the Barossa Visitor Info Center for a good map and then grabbed a quick lunch at a local bakery before heading out on the wine trail for a beautiful afternoon of tasting. The region specializes in Shiraz; we were impressed by the Shirazes and the Cabernets (which are more dry and earthy than California Cabs) and we also found the whites delightful. After South Africa and New Zealand, we were happy to be back in the land of reds. We especially enjoyed Rockford Wines. The cellar door was the original nineteenth century stone building which had a dark, cavernous ambience with characteristic antique oak barrels and dusty wine bottles and a perky wine steward. Rockford is known locally for its Black Shiraz – a bubbles-infused holiday red – but it sells out each year in less than six weeks from its December release date so we didn't get to taste it.
The cellar doors always close around 5pm and there isn't much to do in the evenings in Barossa aside of dining in one of the four-star restaurants. We were feeling a bit more casual than that so we retired early to the motel and spent the evening watching movies on T.V. The room was so spacious and comfortable and a welcome reprieve from the bunk bed hostels that we've been subjected to on the Aussie backpacker circuit. I was happy to stay in and enjoy the quiet comfort.
We were back on the road early the next morning – mostly due to the Bear's prodding – and headed south to another wine region called McLaren Vale. Some travelers whom we'd met in Queenstown had raved about a good and wine pairing experience that they'd enjoyed at a McLaren Vale winery called Penny's Hill so we decided to drive down there to check it out. One of the wine stewards in Barossa had recommended a scenic back road route and we looked forward to seeing some Australian country. The road was beautifully lined on both sides with eucalyptus trees forming a green canopy overhead.
A few miles outside of Barossa, we came upon our first Kangaroo Crossing road sign, which incited an exchange of startled, mischievous looks. "I bet we'll see some," I said excitedly. "The problem is that it's too late in the day," replied the omniscient Bear, "I think they only come out at dawn and dusk." "Whatever…I think we'll see some." Two minutes later. "I saw one! Holy shit, I think I saw one! Stop the car!" Aaron slowed to a stop and then backed the car onto the shoulder. Sure enough, it was a kangaroo, staring suspiciously at us as I crept cautiously toward the barbed wire fence that separated us. Aaron had spotted an entrance to a conservation park just a short distance behind us and we backed up to the entrance. There was a trail cutting through an open field and we walked along with our eyes peeled. Then, suddenly, we saw it! A mother kangaroo suckling her joey about fifty yards away. She spotted us and we slowed our movements so as not to alarm her. As we watched from a comfortable distance, we saw five or six other kangaroos grazing and hopping through the bush behind the mother and joey.
We have heard kangaroos referred to as giant rats but we thought they were magnificent! Their faces were deer-like and sweet; their movements fluid and graceful. We watched for a while, inching closer and closer until our proximity seemed to concern the mother. We didn't want to disturb the feeding so we backed away and crossed to the other side of the trail where two more mother/joey pairs grazed peacefully while two adult roos lay in a patch of tall grass. Again we moved slowly forward toward the closest pair and, although they were cognizant of our presence, it didn't seem to bother them. They turned their backs to us and continued grazing. Standing in that straw-colored field, surrounded by kangaroos in the golden light of morning was one of the most magical experiences in my memory. The two adults in the grass eventually stood upright, rubbed their bellies and hopped away. I was so mesmerized that I couldn't pull myself away until Aaron decided that it was time to get back on the road.
We walked slowly back to the trail and reluctantly headed toward the exit when, suddenly, a kangaroo hopped across the path just a few feet in front of us. It gave me a start and my subsequent gasp startled it right back but it remained, tentatively, a mere ten feet away while we jumped on the fantastic photo-op. Kangaroos are an essential Australian experience and we could not have dreamed a more natural and peaceful scenario in which to encounter them.
After a few more hours of poorly-marked back country roads, we arrived in McLaren Vale in the early afternoon. The only budget accommodation listed in our guide book was a camp and caravan park so we drove there directly to inquire about lodging. We've been flying by the seat of our pants on lodging lately, choosing to figure it out upon arrival, and it's been exciting. There was a range of options from camp sites to caravans (trailers) to fully-powered cabins with temperature control and televisions. The cabins were a little steep so we opted for a trailer and also rented a set of bedding for an additional $10. We pulled the car around to our designated lot and hopped out to check out our new digs. The trailer was modest-sized and probably thirty years old but spotless and well-equipped. We were impressed by the efficient use of space in its design. Inside was a double bed, a kitchen area with a booth-style table and two sets of bunk beds. Outside, next to the trailer, was a shed-size, self-contained private bathroom. It was much more atmospheric (Did I just use the word "atmospheric" to describe a trailer???) and cozy than the bunk bed hostels and I was positively giddy about the experience. We unpacked the car, posed for the requisite trailer pictures, and then went out in search of Penny's Hill. Unlike Barossa Valley, McLaren Vale vineyards are primarily clustered along one main road so Penny's Hill was easy to find.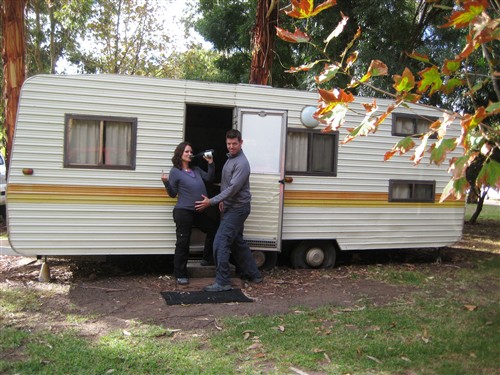 A pretty, old stone house at the property entrance stood behind a picket fence, surrounded by trees. The cellar door and restaurant lay beyond the house, backed by a wide expanse of vineyard. We entered a small, plainly decorated dining room with an outdoor patio and a big window framing a square of sun-kissed grapevines. We sat at an elegantly set table with crisp linen and gleaming bulbous stemware. The pairing was called the Morsels Menu – five courses each paired with a proprietary wine from the cellar:
First course: Tempura fried Kangaroo Island Abalone with wakame salad and wasabi aioli paired with an aromatic Riesling
Second course: Grilled stone fruit and haloumi salad paired with a Viogner blend
Third course: Pumpkin and sage stuffed rotolo pasta, pan-fried in a burnt butter sauce, topped with capers, and paired with a Rosé
Fourth course: Steamed snapper filet with red chutney in a cinnamon lime broth paired with a Grenache
Fifth course: Masala-crusted, twice-cooked Angus beef with vegetable salad in beetroot dressing and spiced yoghurt sauce paired with a Shiraz
I have only one word to describe this experience…ORGASMIC!!! We chewed slowly, savoring every mouthful of unique flavor profiles. We left the two-hour dining experience warm and fuzzy from the generous pours and overwhelmed by the tantalizing tastes that lingered on our palates.
On the way (well, actually, out of the way) back to the trailer park, we stopped off at a couple more wineries that our Penny's Hill server had recommended. The McLaren Vale wine lands were more hilly and picturesque than the wide flat expanses of the Barossa Valley and we took in some great views from Samuel's Gorge Wines in the hills.
Back at the trailer park, we settled in for the night. We didn't spring for the temperature-controlled unit so we were bundled up against the autumn chill. We spent the evening playing Uno, reading and (astonishingly, considering our locale) piggybacked on a spotty wireless internet connection. In a moment of lax judgment, I broke open the bottle of dessert wine that we'd bought at Penny's Hill and plunged recklessly towards belligerence. Aaron laughed every time I professed my love for the trailer and he promised (threatened) to buy me one as soon as we get home. Penny's Hill was changing their Morsels Menu from the summer menu to the autumn menu in two days and I worked all night to sway Aaron to stay two more nights in the trailer so that we could do it again. I had succeeded in winning him over on at least one more night by the time we fell asleep but, when morning came, this little camper had a hangover and the thought of another day of wine tasting was borderline repulsive. We decided instead to continue our road trip. We checked out of the trailer park and headed southeast towards Hall's Gap in the Grampian Mountains.
It's been an exciting few days in Aussieland with a flourish of new experiences. We are headed east towards Melbourne in great spirits and with eight or so days to stop and explore along the way. I suspect and hope that we haven't seen the last of the kangaroos.