Posted under Australia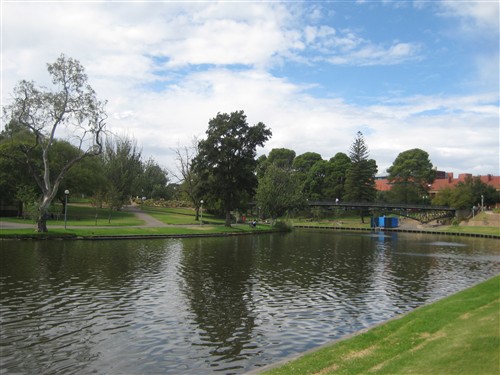 We flew out of Sydney on a gray, rainy morning and emerged in Adelaide, two hours later, under clear sunny skies. Our hostel was in the city center and we spent the day exploring the city on foot. Adelaide, known for its beautiful parks and gardens, has wide sweeping streets, nineteenth century European architecture, two universities, white sand beaches and an active cultural arts scene.
The gorgeous weather begged us to be outdoors and we happily complied. We found an Asian food alley and fought the swarms to indulge in a Chinese lunch on a busy patio. While chomping on our dumplings, we watched demure women in Geisha costumes handing out flyers to passersby and people lining up at a stall across the way selling Taiwanese bubble milk tea, which naturally roused our curiosity. Bubble milk tea, as we soon discovered for ourselves, is thick chilled tea-infused milk with gelatinous pearls on the bottom, which get sucked up through a fat straw. It's brilliant! And it wasn't just the kiddos lining up for it. We later walked through the nearby Central Market, stocking up on specialty groceries to get us through the Easter holiday.
Easter Sunday started out a little rough. I had this grand idea to lead the family on a nature walk that was recommended and mapped in our guide book. We started off well and, when Aaron instinctively second-guessed a proposed turn, I snapped the map away and arrogantly scolded him to follow the leader. It took a mere ten minutes more for us to collectively determine that I had misread the map and led us completely astray.
There have been moments in my life of sheer and utter mortification at my own behavior and idiocy – most people who know me well can attest to that – but it's been a while since all of the blood rushed to my head in shameful, speechless self-deprecation. Aaron must have sensed my fiery emotional state because he graciously allowed me to fume in peace without adding a razor-sharp "I told you so" to my fragile state of inner torment. It feels awful to realize your own incompetence and even worse when it has been exposed. It wasn't until hours later, when I'd had a chance to cool off, that we could laugh about the whole ordeal – how snappy and confident I had been and how quickly I became an ostrich with its head in the sand.
We lay around the hostel for several hours in the afternoon and then decided to get out for some fresh air and beer. The cool evening air was a welcome reprieve from the stuffy hostel and I felt my spirits lifting as we strolled down Rundle Mall Road, past street performers, sidewalk tradesmen, skateboarders and families, to a pub called Austral. Nearly all of the outdoor tables were packed with locals but we snagged one and sat down for a salty pub dinner and a couple of beers. The usually bustling Rundle Mall was wonderfully quiet.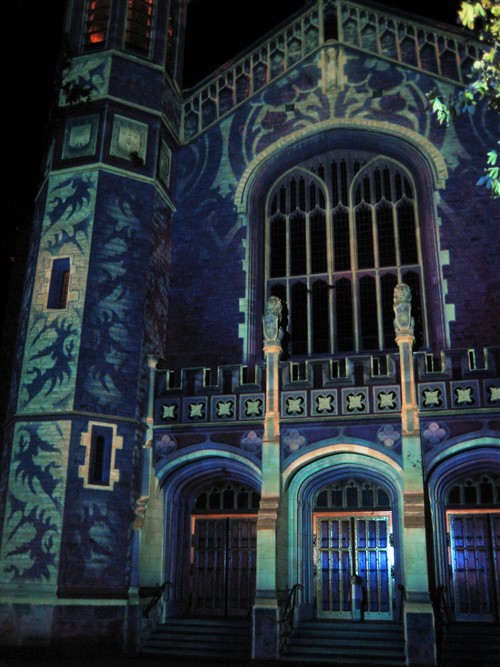 We walked a while after dinner, enjoying our rehabilitated moods, and stumbled upon a fabulous community event called Northern Lights. The innovative creators devised a brilliant light show using a series of nineteenth century stone buildings, which transformed their classic facades into illuminated psychedelic cartoon houses. Each of the six buildings had several rotating patterns and "ooohs" and "aaahs" of the mesmerized crowd followed each successive change. The front courtyards of each building were full of spectators. Children squealed with delight. Cameras flashed. Ubiquitous smiles brightened faces, young and old. I darted from one façade to the next, beseeching Aaron to follow my movements and photograph all the best ones.
The Monday after Easter is a public holiday in Australia so everything is closed. We walked a few blocks to Linear Park on the Torrens River. It was another cloudless day so we rented bikes and rode on a trail along the river to Henley Beach – a quiet white sand beach frequented by locals and virtually untouched by tourism. We sat in the sand and made a picnic, staring out at the almost waveless sea. As we made our way back to the bike stand, there were many people on the trail and in the surrounding parks enjoying the beautiful weather.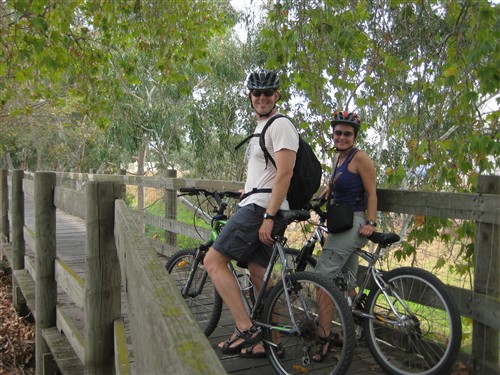 The river was dotted with fountains, black swans, ducks, and paddle boats with multi-colored umbrellas. It was refreshing to see so many people outside. We dropped off the bikes and walked the trail in the opposite direction through the city's botanical gardens before heading back to our grungy home base to relax for the rest of the afternoon and evening. So that was Easter in Adelaide. No family dinners, no church (we're Orthodox Christians so we will celebrate Easter on Apr 27 this year, which is no excuse for Sunday truancy), no chocolate bunnies…just a brief emotional breakdown, a brilliant light show and a sunny riverside bike ride.
One Response to "Northern Lights"
Ryan & Inge-Marie on 27 Mar 2008 at 6:10 pm #

Hi guys, sounds like you are having a great time!! We are making our way throug SE Asia and are missing the great Australian wine we got so used to. Enjoy the rest of Oz and have a bottle on us.
Take care, Ryan & Inge-Marie