July 31st 2008
Posted under France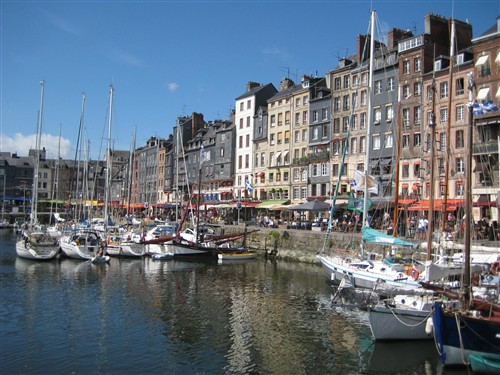 With the car packed up, we left Paris and set out for Normandy. My parents had recommended a stop in the historic seafaring town of Honfleur along the way and we decided that we should not miss it. The picture-perfect town was situated around a small harbor full of extravagant pleasure boats. Surrounding the harbor were outdoor cafes and boutique shops in gorgeous old buildings with flower boxes in every window.
Since I couldn't walk far, Aaron dropped us off in the main square and parked the car. We made one slow, careful lap around the harbor, stopping for a lovely lunch of salads and mussels on the water and again for cones of gelato. The town was drenched in bright summer flowers and overtaken with impeccably dressed French and foreign tourists. I found myself longing for a sundress, pretty sandals, and an afternoon to wile away sipping French wine on the deck of my sailboat. We took some last photos, vowing to return someday with the budget of two-week vacationers, and said goodbye to beautiful Honfleur.
Hours later, we reached our destination for the night – the tiny town of Ceaux in Lower Normandy, just ten minutes from Mont Saint Michel. We could see the abbey in the distance as we searched for our hotel and, after quickly settling into our room, we went right for it.
Rising from the flat golden plains like a Gothic fairy tale castle against a backdrop of ocean meets sky, Mont Saint Michel casts an awe-inspiring silhouette. The Mont sits atop a small rock island connected to the mainland by a natural bridge. At low tide, the island is surrounded by flat white sand and is only fully surrounded by water during seasonal equinoxes. A tiny town with a population of only 42 rounds the circumference of the Mont within an old stone wall. Catering to the throngs of tourists, the lower floors of the buildings have all been converted to souvenir shops and restaurants, creating an avenue of crowded commercialism around the abbey, though Mont St Michel remains a fully functioning town complete with a post office and garbage service. My post-surgical handicap precluded me from tackling the many stairs inside the Mont so I parked myself inside a café with a Nutella crepe while Aaron and Valerie ventured further inside.
On our way out of town the next morning, we stumbled upon a beautiful field of wildflowers edging the pale blue ocean. Aaron and I hopped the low barbed wire fence and waded into the patch of red, white, violet and pink blossoms. By the time we'd finished frolicking, at least four more cars had stopped along the shoulderless two-lane highway to join in. The French traffic was not amused and conveyed as much with their annoyed honking. We didn't care, though; the wildflowers in Normandy were simply too beautiful to miss.