July 20th 2008 by Aaron & Tina
Posted under Nepal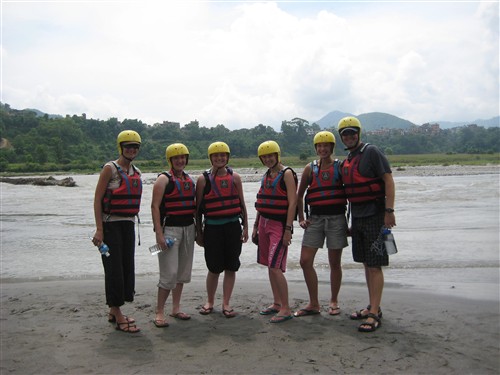 Tina wasn't interested in anything involving camping but I was eager for another outing, so I ventured out alone on an overnight rafting trip. One of the local rafting shops, Paddle Nepal, put together a two-river, one night camping package; a surprising feat in the off-season. With our experiences on the Zambezi setting the standard, I was keeping my expectations low. Our party consisted of one guide, three safety kayakers, and six rafters: four twenty-something British girls – volunteer teachers at local schools – and a young professional woman from San Francisco on holiday.
After brief introductions and the short bus ride to the drop point, we were briefed on the requisite safety procedures and set off down the Seti River. The lower Seti, normally a slow-moving, tranquil flow dissecting a lush river valley, swells significantly during the monsoon rains. The cold murky brown water ran fast and delivered a thrilling ride with big waves and long, washing-machine rapids. The Class III-IV rapids were fun, but markedly calmer than those on the Zambezi – a relief for the fearful first-timers on our trip. We survived the first day without a single casualty – nobody fell out of the raft – and we arrived at our sandy riverside campsite in the early afternoon. Our campsite was at the confluence of two rivers, the Seti and the Trisuli, which we would raft the following day. Our guides set up camp and cooked a wonderful spaghetti dinner; and I fell asleep early to the pitter-patter of rain drops falling on my tent. This was my first night apart from Tina in almost a year.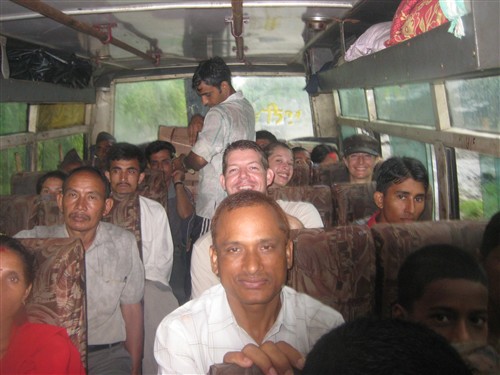 The next morning we were surprised to learn that we would be taking local buses instead of chartered transport. It wasn't a big deal but I soon realized that it was going to be a lot longer day than I had anticipated. We hailed down a nearly full local bus heading upriver, and after loading all our gear onto the roof, we were off toward our drop point on the Trisuli. By the time we reached our stop and descended to the river's edge, the rain was pouring down, really pouring, like where's-Noah-with-the-Ark pouring. The Trisuli River was significantly colder than the Seti and with no sun, torrential rain, and violent rapids; I was chilled for the entire ride. The trip downriver was fun but underwhelming as our guide steered clear of the more menacing and fun-looking rapids. Our short two-hour ride was over as quickly as it had begun.
After waiting a frustrating three hours for a suitable local bus to deliver us back to Pokhara, we loaded up and were once again on the move. We've taken plenty of local buses during our year on the road and while they're always a fascinating looking glass into the local culture, they are also slow, uncomfortable and otherwise miserable. The 100km trip back to Pokhara, with a chartered vehicle and normal traffic, should have taken little more than two hours. Our local bus took five hours. This is completely explainable of course – the local buses stop at every town and small village and every place in between where someone's standing on the roadside waiting to be picked up. We were also delayed by a local strike – an everyday occurrence in Nepal where people go on strike for every imaginable reason – which blocked the main arterial road linking Pokhara and Kathmandu for nearly five hours. Luckily, we arrived as the strike was dissolving and only waited for about thirty minutes before traffic began moving once again.
The return trip, while long, was still incredibly interesting. Every local who boarded the bus argued ferociously with the conductor about their respective fares and I stared in amazement as the negotiation unfolded, wondering if, somehow, I could absorb some of the natural negotiating prowess each possessed. I watched through the bus window as a live chicken was decapitated before my eyes by a Nepali man preparing dinner on the doorstep of his rural home. On another stretch of road I saw a group of knife-wielding men huddled around a fresh buffalo carcass, skinning and carving up the dead beast. While it is decidedly more difficult to shock or impress me at this point in our adventure, there are times when I'm still amazed by the things that I see. But then again, it's just another day in Nepal.
One Response to "A Tale of Two Rivers"
Andrew Leonard on 21 Jul 2008 at 8:46 am #

Yeah, I'm going to say it was probably good Tina stayed behind on that one…….I myself like my buffalo a little on the raw side 😉

When you get back to Dallas, you'll be well seasoned to ride DART 🙂 lol