April 14th 2008
Posted under Australia
Sunday
We flew into Cairns in the late morning and checked into Caravella Backpackers – a far cry from our Melbourne penthouse but conveniently located across the street from the Cairns esplanade. Despite its coastal location, Cairns does not have much in the way of a beach – the tide goes out extraordinarily far, leaving a muddy, swampy shoreline. The esplanade is a beautiful area along the water's edge comprised of walking paths, playgrounds and a park area with shade pavilions and a public man-made lagoon which, on a Sunday afternoon, is packed with swimmers, picnickers and bikini-clad sun-worshippers.
Behind the esplanade are several streets packed with restaurants, bars, and dive shops and stalls selling mostly souvenirs, beach attire, and tours. We immediately noticed that Cairns caters to the Japanese tourists – most of the signs and menus are in both English and Japanese. Eager to do some diving on the Great Barrier Reef – the seventh wonder of the world – we stopped into a few dive shops to make inquiries, pondered the options over lunch, and booked a live aboard dive trip departing on Tuesday evening.
Monday
Coincidentally, our good friends from Texas, Amy and Eric Arnold, were to be in Port Douglas for a few days. After spending the morning poking around the beach shops in Cairns, we rented a car for the day and drove about an hour north along the coast to squeeze in a visit with the Arnolds before our dive trip. We met them at their very posh resort – the Sea Temple – and spent a few sunny hours catching up over poolside cocktails. They were in town in a semi-business capacity so we kept our visit short but it was wonderful to see them again. We miss our friends in Fort Worth!
Tuesday
After checking out of our hostel and returning the rental car, we puttered around town until it was time to pick up our rental dive gear. We went with a dive company called Taka Divers but rented our dive gear from another shop (because it was cheaper) so we had to carry the heavy gear a few blocks from one shop to the other. Along the way, we saw huge swarms of flying foxes soaring through the trees overhead. A shuttle bus collected us from the Taka Dive Shop and dropped us off at the dock, where we and our gear were efficiently loaded onto the boat. Some of the best dive spots on the Great Barrier Reef are along the northern outer reefs, called the Ribbon Reefs, so our ship cruised all through the night, about twelve hours in total, while we ate, relaxed and snoozed comfortably in our cabins.
Wednesday through Friday
The morning began with an introduction and safety briefing over a big breakfast. Our first two dives of the day would take place at one of the Great Barrier Reef's best known dive spots, called the Cod Hole. Since I only had 30 logged dives under my belt, Aaron and I were separated on the first dive and I went down with a small group to do a checkout dive with an instructor. It is a common practice for less experienced divers to do a checkout dive when diving with a new company. You basically go down and demonstrate a few skills such as flooding your mask and then clearing it and also tossing away your regulator (mouthpiece) and then locating, replacing and clearing it. These skills are crucial in the event that some oblivious diver's flailing limb knocks your mask and/or regulator off your face. Panic is not an option 15-30 meters underwater.
So my little group descended to a spot of ocean floor, surrounded by a vibrant coral garden, and kneeled in the sand to begin our exercises. Less than a minute after we'd gotten situated, two giant potato cod (and when I say "giant", I mean four feet long and about a foot wide) nudged their way in between us and hovered there for the duration of our stay. They were so friendly and curious that they kept getting in the way of our exercises. One of the cod hovered between another diver and me, resting its big fish lip on my arm for about five minutes. The instructor kept nudging them out of the way but they were enjoying the camaraderie with the bubbling aliens in space suits too much to be moved. It was adorable and amazing!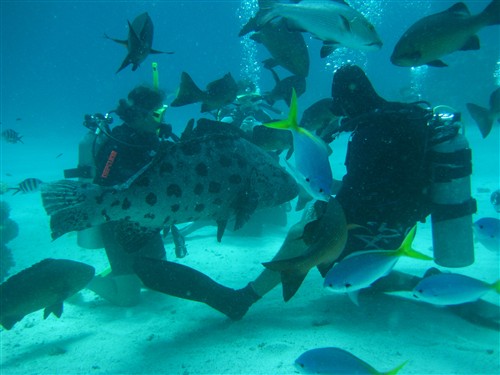 Our second dive in the Cod Hole was a cod feed wherein the entire group of divers – eighteen in all – knelt in a big circle on the ocean floor while one of the dive instructors hand-fed a couple of cod with chopped-up fish parts, which he had brought down from the boat in a plastic container. The instructor moved around the inside of the circle, stopping in front of each kneeling diver to release a few fish parts so that everyone got a close-up view of the feeding frenzy. What made the cod feed most interesting, however, was the school of red bass (a.k.a. rats of the sea) that competed for and often won the prized fish chunk. The bass, which are not small fish, have sharp little fangs that stick out vampire-style from their fish lips and, when the feed is commencing in front of you, the swarm of fanged bass and giant cod darting in all directions less than a foot from your face is mesmerizing and intimidating. When the last chunk of fish was gone, the divers paired off and went exploring.
In the Great Barrier Reef, divers are encouraged to dive without a guide because the sites are notoriously easy to navigate and the conditions are mild. This was the first time that I went diving without a guide – just Aaron and me – and I must admit that I was a little apprehensive at first, mostly because of my prima donna mentality. Theoretically, if I have a problem down there, I want as many people attending to me as possible. What I learned, however, is that diving in pairs is the way to go! You can move along at your own pace, unhindered by the weakest link in a group dynamic. You can choose to linger longer if you see something cool or move along faster in search of better coral or more action. Also, I recently obtained a little contraption called a tank banger, which can be used to create an obnoxious racket if I'm feeling particularly neglected by my cheeky little buddy. And, as it turns out, I prefer diving with Aaron as an independent pair.
The corals that comprise the Ribbon Reefs are stunning and diverse. I am usually content to hover around the walls, mounds and pinnacles of coral and admire their beauty, regardless of the fish life. However, the Great Barrier Reef is known for its shark population. Being a victim of the Jaws phenomenon, which caused millions of terrified viewers worldwide to develop an instantaneous and intense phobia of ocean swimming, I was naturally nervous about diving in shark-infested waters. Most avid divers will tell you that, when it comes to underwater exploration, seeing a shark is the ultimate experience. It equates to seeing the big cats – lion, tiger, cheetah, leopard – on a safari. There is always a chance that a shark could attack a diver – they are wild animals after all – but it is a very rare occurrence. Despite the Jaws implications, sharks are not coldblooded killers. Humans are not their food source. In most recorded incidents of shark attacks, the unfortunate victim was either mistaken for food or the victim of a shark's curiosity. That is why most shark attacks involve a single bite rather than a full consumption. The shark takes a bite, realizes the person is not food, and swims away, leaving the victim to seek emergency medical attention or bleed to death. At least that is what we are told by scuba professionals, Great White Shark cage diving guides and everyone else in the shark tourism business. While the words of these experts certainly reek of bias, the experts do have the greatest interest in educating themselves in shark trivia.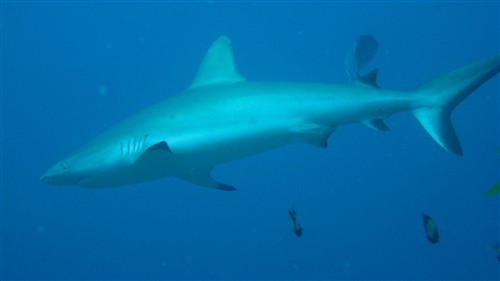 I kept reminding myself of the low odds of getting attacked by a shark in order to overcome the Hollywood-inflicted Jaws phobia of my youth. I've never in my life stepped into the ocean without thinking of sharks. I was afraid but often the danger in something is what makes that it exhilarating. As Aaron omnisciently predicted, I developed an immediate obsessive fascination with the sharks. We spotted sharks on more than half of our dives over the course of the trip. On one dive, we hovered behind a pinnacle while three sharks – two white tip reef sharks and one larger, more intimidating grey whaler shark – patrolled back and forth on the other side. Their sleek, grey bodies moved powerfully and gracefully through the water. Their eyes were black and merciless…soulless. When a shark comes into your sights, you stare intensely – your eyes widen, your pulse quickens, you remind yourself to breathe – until it swims away and disappears into the blue. You exchange little cheers and underwater dance moves with your buddy and then resume your study of the reef.
We dove ten times over the course of three days, including two night dives; following the second night dive, I vowed never to do a night dive again. I did one in the Red Sea as part of my Advanced Open Water certification and it was the only Red Sea dive that I hated. I vowed then never to do it again but decided to give it another chance since so many people swear by night diving. After three night dives, I have determined that I hate everything about them. I get disoriented in the dark and hate that I can only see what is directly in my torch beam. I can't see all of the beauty that surrounds me which, in my opinion, is the reason to go diving in the first place. I don't care about lobsters, crabs, free-swimming eels and whatever else only comes out at night. Also, it is colder at night and, after a full day of diving, I would rather drink beer than struggle into a wet wetsuit for a night dive. And that's final.
All in all, we were very satisfied with our dive experience on the Great Barrier Reef. The crew on our boat was young, fun and professional; the ship was well-equipped and comfortable; the professional chef dazzled us with decadent buffets at every meal; and the diving was superb! It is always a little sad when good times come to an end but we disembarked with ear-to-ear smiles which remained on our faces until the excitement of the four-day adventure melted into fatigue.
And now our Australian exploration has come to an end. After spending a month Down Under, we have barely scratched the surface of this enormous country but we are nonetheless pleased with our experience. The Aussie culture is so similar to American culture that we found ourselves under-stimulated at times, though the splendid scenery, the wine lands, the wildlife and the diving have been spectacularly thrilling. We have enjoyed the Western comforts but not the Western prices. We must admit that we are eager to return to Asia where the culture is a bit more interesting and the travel a bit more challenging; where we can be minorities again.