Posted under Australia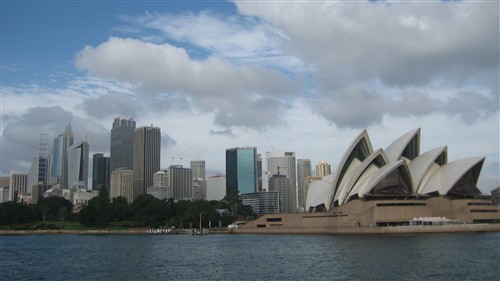 Arriving on the early plane from Auckland, we took a shuttle bus to our pre-booked hostel, Kanga House, in the Sydney suburb of Kings Cross. The hostel was disappointingly shabby, dirty and crowded with grungy twenty-year-olds; disappointing because we had such great luck with hostels in New Zealand. The bright side of the situation is that we have been forced to be outside from morning 'til night. The kitchen is too cramped and dirty to consider self-catering so we're eating every meal out – a nice change actually – and we've quickly discovered numerous takeaway sushi stalls from which we can stuff ourselves for less than $10. Kings Cross has undergone many incarnations from its nineteenth century origin as a neighborhood of grand estates to its current manifestation of funky backpacker vibe with a seedy strip club element and the token vagabonds with the heroin itch. Beautiful terraced Victorian and Art Deco homes turned into guesthouses are literally overflowing with backpackers and the sounds of drunken debauchery can be heard at all hours of the night. There is a bohemian café and pub culture as well as a deliciously multicultural cuisine offering, especially Asian fare. Despite our deficient digs, we really like the laid back aura of the neighborhood.
Strangely relieved to be without a car, we tackled the city on foot. Sydney is a very walkable city with wide sidewalks on every city street. We headed straight for the city center, strolling down William Street with its Bentley, Maserati, Ferrari and Lamborghini dealerships and cutting through beautiful Hyde Park, which on Tuesday midday, was full of people enjoying the outdoors: families enjoying picnics, young lovers entwined beneath shady trees, business people on lunch break, college coeds flaunting their toned and tanned youth, and tourists taking it all in.
We walked through streets lined with flashy, modern skyscrapers, their street-level windows filled with the most pretentious nouveau fashions and sidewalks crowded with flawless physiques sporting the latest trends. Curving around St. Mary's Cathedral on the eastern edge of Hyde Park, we reached the entrance to the Royal Botanic Gardens and the adjacent Domain, a grassy recreation area. The welcome sign at the garden entrance said, "Please walk on the grass. We also invite you to smell the roses, hug the trees, talk to the birds and picnic on the lawns." The lush green gardens with old European fountains and sweeping trees delighted our senses as we strolled along the winding paths.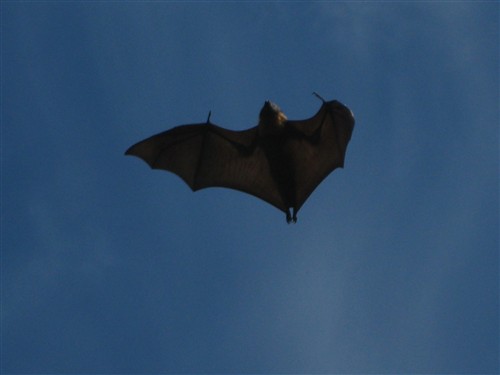 One of Australia's most tantalizing intrigues is its unique mix of flora and fauna. Walking under a canopy of trees, we stumbled upon a colony of grey-headed flying foxes, a.k.a giant furry bats! Hanging upside down from the tree tops, hundreds of the sinister little creatures screeched, squawked, played and antagonized each other as we watched in stoic fascination from below. Their glossy black bat wings wrapped vampire-style around their furry bodies to shield them from the sunlight as they dangled from the highest heights. We stood watching their antics and acrobatics, fearful of a flying fox descending upon us, voluntarily or by accident, until I finally decided that we'd tempted fate long enough.
We moved on to a scenic walkway along the edge of the gardens bordering scenic Sydney Harbour with a view of Australia's most recognized structures: the Sydney Opera House. Positioned on the tip of a peninsula, the architectural masterpiece is set against a backdrop of the Sydney Harbour Bridge and jagged Sydney cityscape. It is undoubtedly the most photographed and striking view in Sydney. We walked to the front entrance for a closer look and then stopped at a café for a cool drink in view of the Opera House. Newly refreshed, we headed back through the Botanic Gardens, rounding the far peninsula while dodging bus loads of Asian tourists and taking a short cut back to Kings Cross.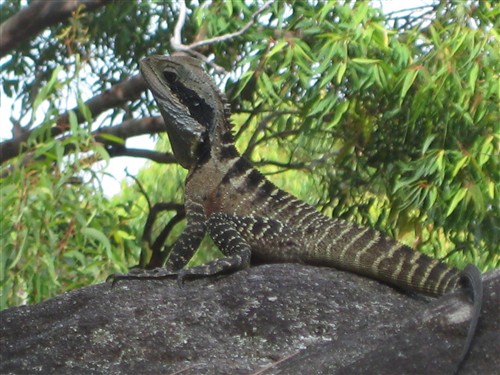 The next morning was equally sunny and we set out for the ferry dock, cutting through the Botanic Gardens again since the dock is conveniently located next to the Opera House. Aaron wanted to do the Manly Scenic Walk, which is ten kilometers long and reputedly one of Australia's most beautiful walks. It began with a ferry ride, with the best views of the Opera House, to the northeast suburb of Manly. Just outside the ferry dock, we bought provisions for a picnic lunch, picked up a good trail map at the Visitor Information Center, and followed the signs for the Manly Scenic Walkway. The well-marked path began by edging between a picturesque beach and a neighborhood of oceanfront houses amid beautiful old trees. It led us along sandy pedestrian beaches, through waterside nature reserves and along quiet coves dotted with white yachts and sailboats. The terrain changed frequently from paved trails to sandy beach to bedrock surrounded by subtropical rainforest and native bush. The path meandered through Sydney Harbour National Park, in which we spotted numerous goannas. Beautiful in a reptilian sort of way, the skittish foot-long lizards appeared every few minutes during our walk through the park, sunning themselves on rocks and running upright in quick bow-legged strides. After a long stretch along beautiful Clontarf Beach, the walk concluded at the Spit Bridge where we caught the city bus back to the city center. After two days of pounding the pavement, our feet were throbbing and we were actually excited about returning to the Kanga House to relax for the rest of the evening.
Day Three in Sydney began with a leisurely breakfast followed by a walk to Hyde Park. We claimed a shady spot under a big tree and became part of the sprawling scene. It felt wonderful to stare out across the open lawn, engross myself in the latest novel and enjoy the gentle breeze. We sat for just over an hour, which was all the idleness that my listless Bear could handle in one sitting, before packing up and heading for Darling Harbour. In true Sydney form of endlessly engaging sights and activities, Darling Harbour is home to the Sydney Aquarium, Sydney Wildlife World, the Australian National Maritime Museum, an aquatic-themed IMAX theater and two wharfs lined with trendy cafes and restaurants. We twiddled our thumbs outside Wildlife World, debating the prospect of paying sixty bucks for the privilege of elbowing our way through swarms of screaming children to see kangaroos and koalas in a simulated natural habitat before shucking the idea in favor of a visit to the Sydney Fish Market.
West of Darling Harbour, on the edge Blackwattle Bay, the warehouse-style fish market appeared at the end of a trail of raw fish stench wafting through the air. In the late afternoon, patrons crowded around a huge oyster bar; glass cases displaying gigantic Australian lobsters, soft-shell crabs, green-lip mussels, scallops, eel, squid, octopus, huge salmon, snapper, tuna, king prawns, sea snails, trout and every imaginable ocean dweller, neatly organized on beds of crushed ice; sushi bars, a wine cellar, delicatessen, bakery, and a fish and chips shop. The energy was high inside the bustling fish market as customers hand-selected the freshest items from the displays to carry away or enjoy with a bottle of wine at one of the indoor tables. Having just eaten a late lunch and having no desire to cook in the nasty Kanga House kitchen, we perused the colorful catch but remained spectators.
The walk back to Kings Cross was long and, on the verge of wilting in the afternoon heat, we stopped on a shaded bench in Hyde Park to rest. We sat for a while, listening to songs on our iPod and watching passersby. I am enamored with the park. I wonder how many people live here and take it for granted.
We treated ourselves to a lovely Vietnamese dinner at a place in Kings Cross. Feasting on Vietnamese spring rolls, crispy duck, and stir-fried seafood and vegetables al dente renewed our excitement for our upcoming visit to Vietnam. We are thankful for our matching adventurous palates. Shortly thereafter, we stumbled upon Reese's Peanut Butter Cups – which we have been craving for months – in a corner store. With our sugary booty, we retired to our respective bunk beds like good little campers. Aaron painstakingly took the top bunk, aptly renamed "the penthouse", because I get up more often during the night. For an only child, he is adoringly thoughtful and generous. This never ceases to amaze me.
Today, our last day in Sydney, finally feels like Fall. We awoke to drizzle though we haven't felt a drop since we left the hostel this morning. The air is cool and crisp, overcast but still enjoyable. Many businesses are closed for Good Friday but we've managed to bounce from one café to another, maintaining a solid caffeine fix and attending to the usual rainy day business of planning travel and playing online. Tomorrow, we're off to Adelaide on the morning plane.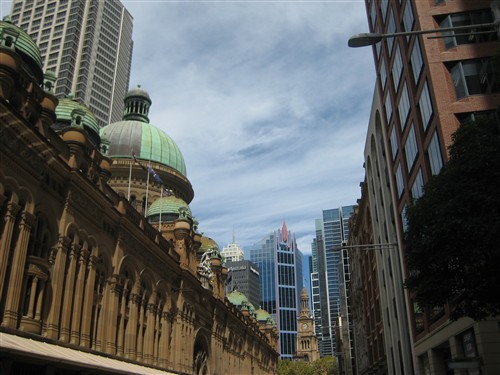 We have really enjoyed our time in Sydney. It has all of the perks, style, cultural arts, elegance and luxurious temptations of a cosmopolitan city. For those of us in the zero-income demographic, there are manicured parks and gardens, pristine beaches, museums, galleries, a plethora of bohemian haunts to satisfy the multicultural palate, and plenty of interesting characters to keep the people-watchers intrigued. Sydney is walkable, livable and lovable. We love the healthy, vibrant outdoor culture and the beauty of the people, landscapes and architecture. Sydney is definitely a place to hang your hat.
4 Responses to "Walkabout in Sydney"