Posted under New Zealand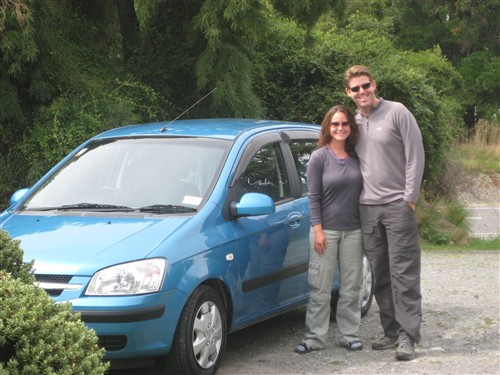 Somehow we must have driven through a cloud of bad chi this morning which subsequently hovered over us for the remainder of the day. It began with a terse dialogue about arbitrage, which resulted in a stubborn and profound silence for the three hour drive to Auckland during which we hit a bird with the car. We arrived at our hostel and checked in only to find that the kitchen and all of the restrooms were "closed for cleaning" and then got barked at by a Vietnamese cleaning man with a bad attitude when we stepped into the "closed" kitchen to put our perishable items in the fridge before heading out for the day.
Our first order of business was to drive to the rental car company to file a claim for our previously mentioned hit-and-run incident in Rotorua. We filled out the requisite forms but the two girls who reluctantly helped us were more concerned with getting rid of us so they could attend to their now delayed lunch plans. With a minimal exchange of words gradually breaking the morning's stubborn silence, we then drove into downtown Auckland to check out the area and find some lunch. We splurged on a sunny oceanside patio restaurant and ate up the stellar ambience along with our pretentiously priced entrees. Things were beginning to look up as we strolled along the lively and fashionable Queen Street, window shopping and people-watching. We had seemingly reacquired our playful, happy mood as we arrived at the car to find a parking ticket! "(insert curse word here!)" According to the sign posted two car-lengths in front of us, our curbside spot was free on Sunday. However, after reading the ticket details, we looked around and noticed a "pay for parking" sign inconspicuously placed several car-lengths behind us. "(insert curse word here!)" Needless to say, we were not happy.
As we drove off in a huff, I, the appointed navigator, was distractedly reading the back of the ticket and neglected to navigate, causing the frustrated and short-tempered driver to execute a series of illegal u-turns which, if unluckily noticed by a keeper of the law, would surely have resulted in a further ticket. Thankfully, it wasn't and didn't – a minor detail that did not stop the navigator from verbally condemning the maneuver thereby fueling the driver's ill temper even more. And shortly thereafter, that same driver misjudged the distance of a curb in front of the hostel and managed to break off a piece of the cheap Hyundai hubcap. "(insert curse word here!)" Was it the driver's erratic behavior resulting from the navigator's combined misdirection and criticism that led to the aforementioned mishap or might it have still occurred under more calm, cool and collected circumstances? The world will never know.
At the end of the day the Youngs wordlessly decided to call a truce, make dinner together and wash away our shitty day with a bottle of wine. The truth is that whenever we have a spot of bad luck or bad judgment, my spirits are actually lifted by the knowledge that, as long as we have our health, no small thing can break us. I remind myself at those moments that even a bad day on the road is better than a good day at work. No, it's not always sunshine and roses on the road…but most of the time it is!
2 Responses to "It's Not All Sunshine & Roses"
Little Bear Mom on 18 Mar 2008 at 8:29 am #

Thank you for sharing your "moments that even a bad day on the road is better than a good day at work".
I am looking forward to meeting you in France.
Hugs, Little Bear Mom

Mark and Mer on 20 Mar 2008 at 11:04 am #

a fight about arbitrage?! Like arbitrage arbitrage? Like, 'practice of taking advantage of price differential between two markets' straight out of an economics text book…that arbitrage? I think i know what happened…you were at the Indian McDonalds and you saw that a Big Mac was 400 rupees and you realize that this is $0.75 and one of you (probably Aaron) said, "wow that's an arbitrage opportunity, we could buy all the Indian Big Macs, and sell them in the US for the US price of $1.35 and make $.60 gross profit on every Mac" Tina being the wiser, said, "that's fucking stupid…what about import taxes and the costs of travelling back and forth between the US and India, what about spoilage, handling, and insurance. What about currency exchange ever moving toward purchasing power parity."

Tina, you can come and work for McKinsey any day.

Aaron, it's Long-Term Capital Management trading desk for you!

I will say…the Men's NCAA tourney is not the same without you guys…or should i say, it's not the same to bag on my father when i don't have you bagging with me. I 'went with my heart' a little this year and despite Lute being out i have AZ getting to the elite 8 in both brackets…call me sentimental. You can check out how bad Mer is beating me on the McK pool…. she picks in the most unfun way i can think of…higher seed wins everytime…literally with 4 1seeds in the final four..boo!

http://games.espn.go.com/tcmen/group?groupID=61094&entryIDFrom=3515687&selGrp=61094

and here is her family's bracket (that im in and she's not)

http://occrew.mayhem.sportsline.com/brackets

and yes i DO have UGA beating Xavier in the first round. I like underDawgs!