September 24th 2008 by Tina
Posted under Belgium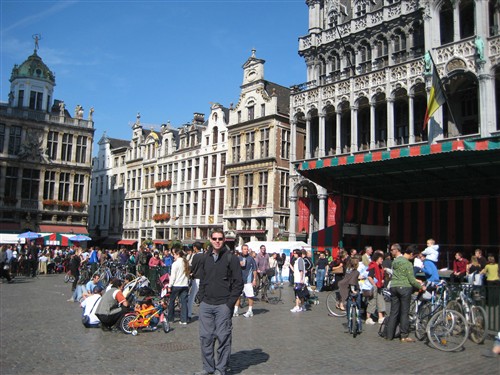 Today was Dimanche Sans Voitures (Car-Free Sunday) in Brussels – the capital city of Europe. Cars and motorcycles were banned from driving in the city and all public transportation was free. The fall weather has definitely arrived…or perhaps we have finally arrived at the fall weather after a year-long perpetual summer. In any case, the change of season is refreshingly welcome. It's football weather and it feels like home.
The Young family arrived in Brussels in an unusual state of unpreparedness. Our plans to visit our German friends had recently fallen through and, in our gluttonous two week love affair with Italy, we had neglected to make any plans or bookings beyond our two nights in Brussels. So now we were in beautiful Brussels with a red hot business agenda. It was time for some quick decisions. We hopped on a free tram to the city center, found a place with free Wi-Fi, and immersed ourselves in a cyber-tangle of planes, trains and automobiles until early afternoon.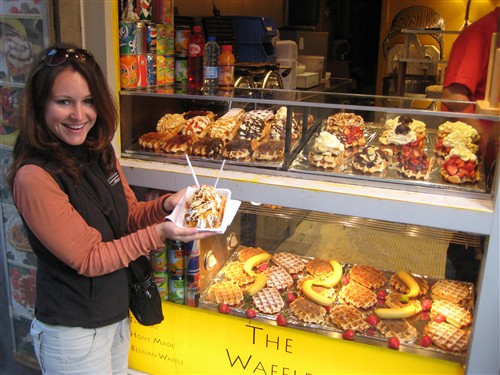 When we finally reemerged, Car Free Sunday in Brussels was in full swing. Bicycles and pedestrians owned the cobblestone streets. Families pushed baby strollers and everyone from kids to senior citizens glided through town on two wheels. The whole multicultural, multilingual population of Brussels seemed to be outside, enjoying a sunny day in their pedestrian friendly city. It was a beautiful sight.
Belgium is known for several gastronomic delights: beer, chocolate, mussels, waffles, and French fries ("frites") drenched in mayonnaise. Aaron's first order of business was to obtain some frites, which he did at the first corner frites shop that we stumbled upon. The fresh-from-the-fryer frites were served in a paper cone, smothered in mayo and ketchup. As an aspiring spokesperson for the Association of People Who Hate Mayonnaise, I steered clear of the lard-soaked bites but the ketchup-only bites were divine.
We walked next into the Grand Place – Brussels' historic market square – to discover a grand celebration that filled the square with music, beer and merriment. The Grand Place is one of the most beautiful public squares that we've ever seen. With magnificent 14th-17th century buildings in a variety of styles and lovely outdoor restaurant tables, the square seems both old and lively. The music and beer were deliciously tempting but we wanted to walk around a bit more before joining the revelry.
Leaving the square, we walked down an aromatic little street lined with Greek restaurants toward the Place St. Catherine and Brussels' beautiful cathedral with its grand façade resembling Paris' Notre Dame. It was Sunday afternoon and the church bells were ringing. We bought our first hot waffle from a waffle van and joined the locals in the small park in front of the cathedral, enjoying the medley of the church bells.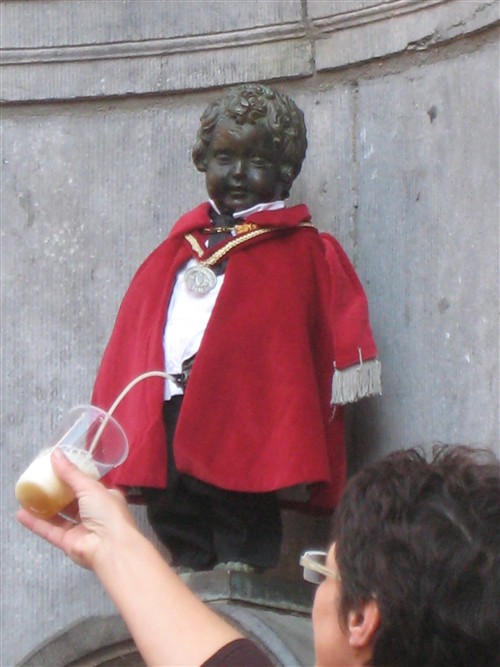 Our next stop was at a small bronze statue – Brussels' beloved city mascot named Manneken Pis, a.k.a "the Piss Boy". His likeness is everywhere – on postcards and replicas lining every souvenir shop window. Following the signs for Manneken Pis, we came upon a small square full of commotion. As it turns out, Piss boy has a wardrobe and it was time to change his clothes. A crowd had gathered around his fountain, including a group of cheery old men, dressed in garments identical to the Piss Boy's, drinking beer, singing songs and pushing around a replica of the statue on a cart, making it "piss" on the shrieking onlookers and laughing all the way. While this was going on, one man was gingerly changing the Piss Boy's clothes with the utmost love and affection, ruffling his bronze hair and pinching his nose. When the little statue was decked out in his new duds, he was hooked up to a beer keg and cheered on as his stream filled cup after cup with the local grain. What a spectacle!
The chill in the air and the energy in the streets had rallied us for a return to the Grand Place and the obligatory rounds of Belgian beer. The square was even more alive in the late afternoon hour. The outdoor restaurant tables were full and band with Santana-like sounds had taken to the stage. We enjoyed a couple of beers in the middle of the action – a fantastic spot for people-watching – and then moved on to restaurant row for more frites and steaming pots of mussels. Can this day get any better? we wondered, as we washed down the savory shellfish with cold beer.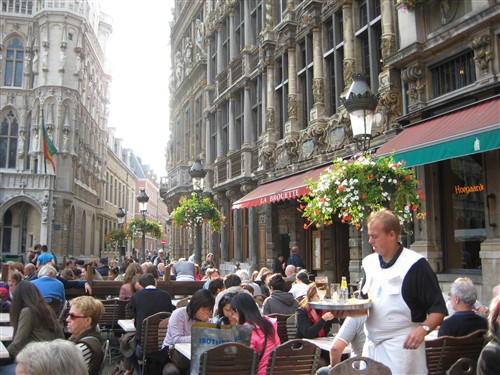 On our way back to the hotel, with happy hearts and even happier round bellies, we suddenly heard classical music – loud classical music. Rounding the corner, we looked up to discover a man with a full DJ setup, spinning lively classical tunes from the top floor balcony of a vacant building in the middle of the city. A crowd had gathered on the street below, mesmerized by the melodies that filled the cool night air and resonated through the streets. Naturally we wondered, Is this guy going to get arrested for disturbing the peace? This can't be legal. Then we read on a flyer that this performance was part of a free concert series – Le Concert Invisible – that this guy puts on at random locations around the city. Everyone loved it.
So this was Car Free Sunday in Brussels. We still don't know whether or not the festivities were related to the green initiative. Either way, it was a glorious day!
One Response to "Mussels in Brussels (and Beer, Chocolate, Waffles & Frites)"
Pam Verhille on 26 Sep 2008 at 8:42 am #

Tina…..Wait until you see Bruge! I LOVED the frites in Belgium…..try asparagus with like an egg sauce. Don had horse!! We leave Monday for Egypt and Kenya…..going to read your blog so I won't miss anything! happy trails to you and Aaron