Posted under Japan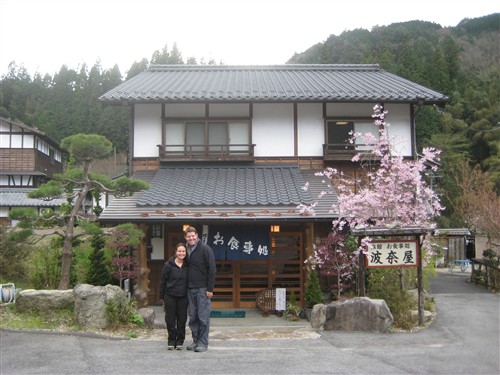 During a train ride to Nara, we had sat with a middle-aged American couple who were part of a larger tour group. As we engaged in a friendly exchange of Japan travel stories, they recommended a trip to the Nakasendo Highway – an old post road linking Kyoto with Tokyo along which many historic post towns had been restored to their original two hundred year old appearance. Eager for a taste of rural Japan, we made some quick alterations to our itinerary to fit it in.
The journey from Kyoto to the old post town of Tsumago, in the midst of the Kiso Valley, required four trains and a bus ride but was surprisingly painless nonetheless. The alpine mountains were a refreshing change of scenery. The bus dropped us off a stone's throw away from Hanaya Ryokan – the traditional Japanese wooden home-turned-guesthouse where we would spend the night. The owner greeted us inside as we removed our shoes in the foyer and placed them on a shelf. I slipped into a pair of the slippers provided but the largest ones were too small for Aaron's American size elevens so he slid around in his socks on the polished wood floors. We were shown to our room on the second floor – it was modest-sized with tatami mats on the floor and a low table in the center of the room with two square cushions. Tea service for two was ready and waiting and we were instructed to take tea and settle in. Dinner would be served at six o'clock.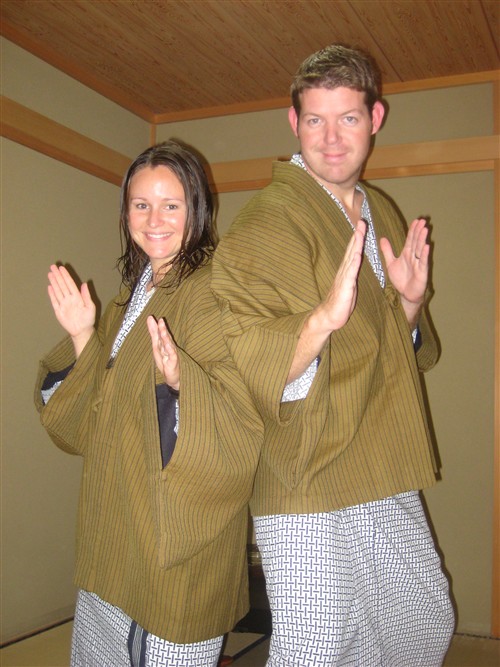 After our tea, we went out to check out the town. The main trading area of Tsumago was a scenic twenty-minute walk from the ryokan, along a winding gravel path. The traditional wooden buildings had been beautifully restored and converted into small cafes, guesthouses and specialty shops. The afternoon was sunny and warm, which positively impacted Aaron's shopping stamina as I flitted from one shop to another. In place of lunch, we sampled the offerings at a few of the snack shops, including chestnut softserve ice cream, sticky buns filled with sweet red bean paste, and matcha (powdered green tea) served with a delightful chestnut cookie. With a sack full of treasures in hand, we walked back to the ryokan. The owner suggested that we take a bath to relax before dinner. We slipped into the yukatas (lightweight Japanese robes) that were hanging in the closet of our room and ventured downstairs into our respective bathrooms. The women's bathroom had a regular shower as well as a deep wooden Japanese bathtub. I lifted one of the wooden planks covering the tub to get a faceful of steam from the hot water. I showered first and then attempted to step into the bath but the water was so unbearably hot that I only made it up to one knee before giving up. Aaron's bathroom had a much larger tub and he claimed to have had a relaxing dip. Perhaps the Japanese think that, because women have a naturally higher pain tolerance than men, they find scalding bathwater relaxing. More likely, I just needed to add a bit of cold water from the tap.
Our yukatas also came with a heaver waist-length overcoat, which we wore down to the dining room at six o'clock sharp. A long inner wall of the dining room was made entirely of sliding screens which opened in several places to reveal four low tables each with an elegant array of authentic Japanese dishes. We took our seats, wide-eyed and giddy, at our table-for-two. There was a Japanese couple, also in their robes, at the table on one side of us, a Spanish couple on the other side and a table of six Italians at the far end, none of whom seemed to have gotten the robe memo. Their loss – dinner in your pjs is the bomb!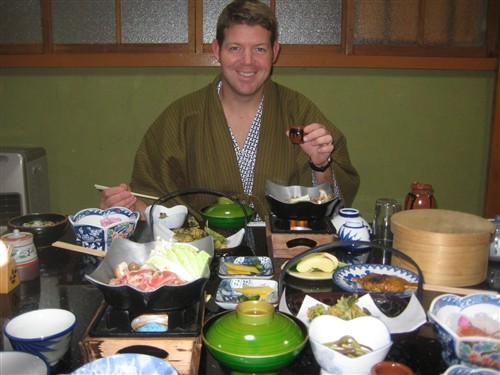 Among the many individual dishes were salmon sashimi, cold soba (buckwheat) noodles, shabu-shabu (thin slices of raw beef and vegetables cooked tableside in a pot of light broth over charcoals), a delicious sticky rice ball on a stick doused in a rich satay sauce, and, of course, miso soup. We ordered a carafe of hot sake and savored our elaborate meal. During the meal, we noticed that the Japanese couple had been served their salmon Izakaya-style – the head and tail of the fish placed on opposite ends of the platter with the body skinned and cut into bite-size pieces between its extremities. Aaron was disappointed that we didn't get the truly authentic experience but I must admit my relief at the discovery. I have been a sushi-lover for years but, for whatever reason, I have a mental block about eating something while its lifeless eyes stare back at me. That's just creepy! We concluded the meal with a steaming pot of green tea, thanked our hosts and retired to our room.
We slid the table against the wall and pulled the bedding out of the closet. We laid the Japanese futons, side-by-side, and topped them with the fluffy featherbeds. We spread the soft cotton sheets and warm blankets and crawled into one of the most Heavenly beds that I have ever experienced. Even the pillows were sublime. Had it been logistically plausible, I would have lobbied to splurge on one more night in the ryokan, just to sleep in the bed again. We slept like angels and woke early the next morning.
Breakfast was served in the dining room promptly at 7:30. The traditional Japanese breakfast included a bowl of sticky rice, a cold, spongy, block-shaped egg cake soaked in a sweet vinegary syrup, and a small, whole fish braised in a thick brown sauce. After the previous night's dinner, I was not especially hungry but I gave everything a try…except for the fish, of course. It laid on a square white plate, lonely except for a rosemary garnish, its little dead eye staring at me as I ate. I've always been a carnivore. While I understand that all animals, including humans, have a place in the food chain, I often fight a sense of guilt over killing a living thing so that I can eat it. I attempt to trick the guilt by only eating meat or fish in a form that does not resemble the living animal. It has worked well enough thus far to keep me carnivorous but I am continually put off by bones, legs, heads or tails on my plate with a few odd exceptions. I don't mind, though. My discriminating palate has proven to be one of the many idiosyncrasies that make me the weird little person that I am.
Aaron ate the whole fish, head first, both to shock me and to prove that he could keep it down. He's a braver soul than I. I just stared in disbelief as he bit the head off, then the body, then the tail and swallowed each piece quickly before his mind could communicate to his gag reflex what he was eating. Of all the foreigners at breakfast, Aaron was the only one who ate the fish head, a fact that he took great pride in announcing. After breakfast, we packed our bags and stored them at the ryokan while we walked the old post road to the neighboring town of Magome. The twisting, gravel road wound through thick alpine forest. It was another beautiful spring day and we marveled at the abundance of cherry blossoms, roses and daffodils in brilliant bloom. The 7.8 kilometer hike is almost entirely uphill from Tsumago (elevation 420m) to Magome Pass (elevation 801m) before descending the final stretch into the town of Magome (elevation 600m). About fifteen minutes into the walk, Aaron remembered a sign that we had seen in the Tsumago tourist office, warning that bears have occasionally been spotted along the hiking trail. The sign said that the bears can be dangerous if startled and recommended renting a bell from the office to "announce" your presence on the path so as to deter the bears. Of course, we had forgotten all about the bear bells so we sang loud, off-key marching songs along the way instead. If there were any bears in the area that day, my hideous singing voice undoubtedly sent them running with their paws over their ears.
We reached Magome in about 90 minutes, traversing a mountain pass along the way – it was quite a workout. Magome was a pretty town with a steep cobblestone street running through the middle. The shops were much like the ones in Tsumago so we checked out a few and then sat down on a streetside bench with a couple of chestnut softserve cones and watched the crowds walk by. Most of the tourists in the Kiso Valley were Asian and middle-aged. The ryokans are relatively pricey (but well worth it!) , which deters the younger backpackers. The old post town experience is a more spa-like and cultural experience. The ryokan ambience is quiet and peaceful. The Kiso Valley is a cultural treasure where families live and work in lovely historic communities with breathtaking mountain views. They plant spring flowers and cultivate small gardens behind their beautiful wooden homes. While the restored buildings in the old post towns now have modern amenities such as electricity, running water and motor cars in the drive, the overwhelming feeling while walking the streets is one of stepping back in time.
As the generations of humanity have advanced further into the age of technology, efficiency and mass production, I often mourn the loss of personal artistry in modern products. While I certainly appreciate contemporary comforts, particularly those relating to la toilette, I have always had an affinity for old things. I used to hear people, mostly of my grandparents' generation, say things like "They just don't make 'em like they used to", usually referring to the inferior quality or durability of modern products but I think the expression also applies to artistry. The beautiful intricacies of historic buildings and finery throughout the world are often lost on the modern versions. I wonder what future generations will make of our skyscrapers and master-planned, cookie-cutter suburban communities.
I truly enjoyed our walk through the past and I am thankful that someone thought that these quaint post towns were worthy of preservation. The little old towns were an enlightening and refreshing contrast to the bustling metropolises that we have so far experienced in Japan. We took a bus from Magome back to Tsumago to collect our bags and continue our journey. We smiled amusedly as the little old Japanese grandfather from the ryokan drove us through town in his Lexus at breakneck speeds and nearly skidded into the train station parking lot.
One Response to "One Night in a Ryokan"
Little Bear Mom on 26 Apr 2008 at 4:41 pm #

"Dinner in your pjs is the bomb!" It's kinda like eating with your fingers —- always a pleasant experience.

"sleeping like angels" is it really possible without your little furry, painted "I MISS YOU SO MUCH doggie"?

Aaron – you are quite the showman, with the event of enlightenment of going though the hole in the wood of the Buddha's nostril and the eating of the entire fish head. What's next?

On to the next adventure. …..

Thanks for keeping us "me" entertained, always!

Little Bear Mom & Lenasuarus