Posted under Japan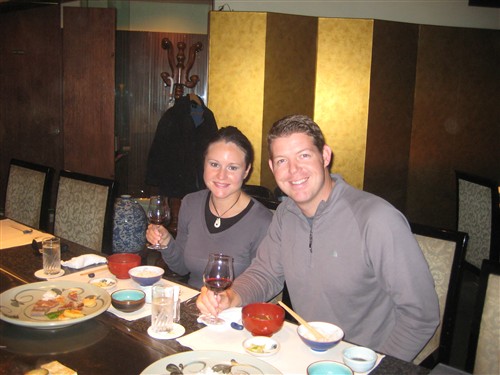 By noon, I had turned from a geisha back into a pumpkin and, despite the incessant drizzle, we stayed the course of all-day adventures. The trains have made it easy to zip around Japan and, since it was lunchtime anyway, we decided to fit in a little side trip to Kobe (pronounced "ko' bay") to indulge in some Kobe beef – a regional variety of Japanese beef known for its heavy marbling and decadent flavor. After three years of d.i.n.k. (dual income, no kids) life in Texas, Aaron and I have consumed our fair share of premium quality steaks. While I assumed the hype Kobe beef was not unfounded, I kept my expectations out of the clouds nonetheless.
Aaron had selected the highly recommended Wakkoku restaurant below the Crown Plaza Kobe hotel. We were seated at a teppan table inside the dimly-lit dining room. The surrounding tables were full of businessmen, drinking wine and smoking cigarettes while their chef prepared their meal on the large iron griddle.
We ordered some wine and a set meal of several courses, which seemed to appear at random as our chef began our meal preparation in a dazzling display of showmanship. The two steaks were presented raw alongside another plate of raw vegetables. The steaks were thin and pristinely cut to display the fatty marbling. The chef began by sautéing thin slices of garlic as well as some mushrooms and sliced peppers. He spooned small mounds of coarse ground pepper and salt onto each of our plates along with the vegetables. He then seared a portion of each of our steaks and served us each three small sizzling pieces.
Let me just preface the following description by saying that, no matter how deliciously accurate is my account, you cannot truly understand the intensity of its magnificence unless you try it yourself. I picked up the first piece of steak with my chopsticks, dipped it gently into the salt and pepper, and slowly, ceremoniously slipped it between my lips. It was tender, salty and intensely flavorful with a divine richness that made it melt in my mouth. I glanced over at Aaron who had the same warm, euphoric smile that I felt stretching across my face. Each subsequent bite incited the same sensation of pure savory pleasure and regal indulgence. The remainder of the steak was prepared gradually over the course of the meal so that each piece was slightly sizzling from the griddle. Even the fat trimmings were utilized to add a salty richness to the fresh vegetables sautéed as accompaniments. We savored every bite of the Heavenly beef and have rarely left a dinner table more satisfied.
Having gotten the experience that we had come for – a culinary experience that exceeded our "Big Texas" expectations – we took the elevator up to the Crown Plaza's Sky Bar to take in the skyscraper perspective of downtown Kobe and then hopped back onto the train to get on with our day.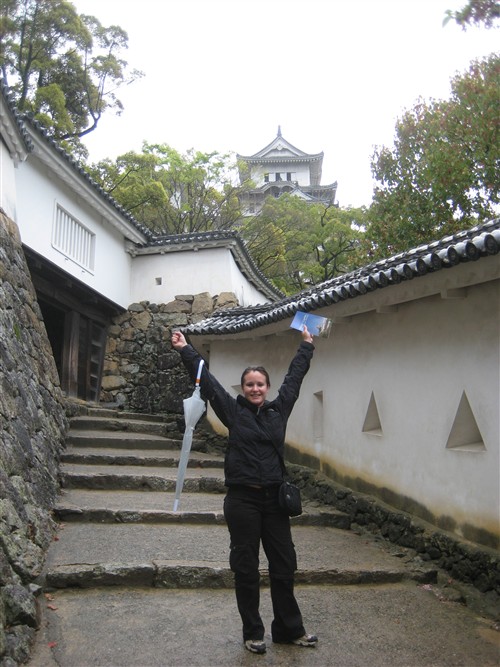 Our next and final stop was Himeji Castle in the city of…you guessed it – Himeji. Having lingered long over our Kobe lunch, the late afternoon was upon us. The castle was open until 5pm but the last admission was allowed at 4:00. The train spit us out at 3:45 about a kilometer from the castle, giving us exactly fifteen minutes to find the right station exit and sprint to the castle entrance. Painfully out of running shape and weighted down by rain jackets and our decadent Kobe feast, we made a mad dash up Otemae-dori in the rain. With burning lungs and heaving breath, we arrived at the outer perimeter of the grounds. We had the elevated castle in our sights but the ticket counter was still a good three hundred meters away. We had slowed our pace from all-out sprint to weary jog but when we heard the five-minute warning over the loudspeaker, we summoned our deepest reserves of energy and made a break for the gate. As we began the final one hundred meter uphill stretch, two male gatekeepers were standing with stopwatches, good-naturedly cheering us on until, at last, we steamed through the gate with mere seconds to spare, arms raised in triumph like the famous scene in the Rocky movies.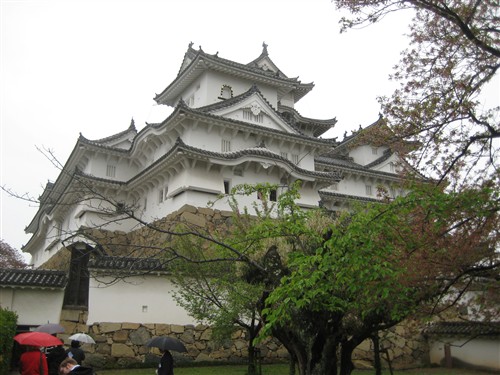 Built high up on a stone foundation, Himeji Castle is an impressive display of power and defensive ingenuity. The wooden structure is insulated by moats and high stone walls. Its fortifications include strategically placed openings for shooting arrows and guns or pouring boiling water onto unwelcome visitors. The interior of the castle is composed of heavy, dark-stained wood which held the dampness of the rainy day. From the sixth storey landing, a lord could look out over his vast lands in all directions. I could almost smell and feel the feudal history in the dark walls and heavy wooden beams; these walls held the restless spirit of battle. Himeji Castle was one of the most magnificent Japanese buildings that we have seen and one of the few castles that remain in their original wooden form. Although it took me an hour to fully recover from our race against the clock, the thrill of the chase enhanced the entire experience. In hindsight, I think that it was fate's way of reminding us that it is important to maintain a good level of fitness. Many years ago, I wrote a short poem which has since served as a sort of credo:
Live boldly and ferociously
With constant forward momentum
A mad dash to the finish
Unstoppable until death
While the vigor of my credo may prove to wane with age, I was thankful for the not-so-subtle reminder today that my chances of madly dashing anywhere are greatly reduced with a belly full of steak.
2 Responses to "Kobe & Himeji"
Little Bear Mom on 26 Apr 2008 at 4:03 pm #

Tina, your musings never cease to amaze and entertain! Love, Mom

Ed Maroon on 29 Apr 2008 at 4:57 am #

OK I am hungry now. My mouth is watering. Great visual writing. Nothing better then Kobe steak.

Glad to hear you guys are still going strong. How does Japan comapre to other countries you've visited? Also, can you at some point rank order the countries you have visited. If I only have 3 countries to visit in my lifetime, I should go to …..

Great job on the blogs!

Be safe.

Ed