Posted under China
"In heaven there is paradise, on earth Suzhou and Hangzhou" –Chinese proverb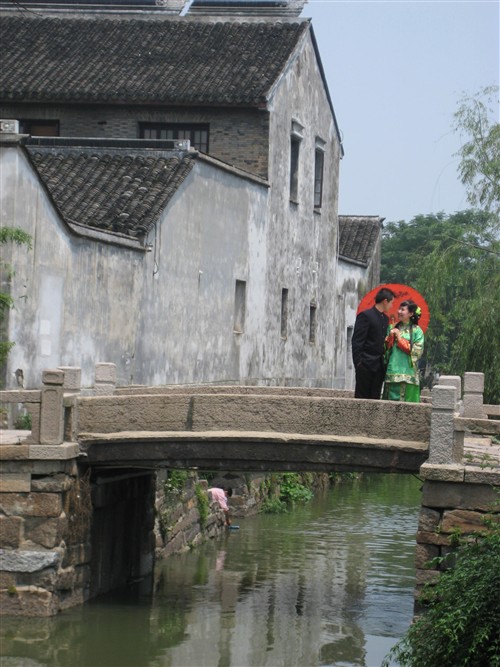 We boarded the morning train with our bags in tow, excited to spend a couple of nights in the quaint canal town of Suzhou, the "Venice of the East", known for its beautiful Oriental gardens. The ride was quick and comfortable and we arrived at the Suzhou train station in wonderful spirits. We had a hostel room booked and planned to take a taxi from the train station. As we exited the station, we discovered that the city was in the midst of a torrential downpour. There were at least 300 people waiting in line in the rain for a taxi. After quickly exhausting all other options, we joined the taxi line.
We had not been waiting five minutes when a woman approached us and asked where we were going. I handed her the slip of paper on which I had written the name of the hostel and a diagram of the crossroads (in English letters). As she scanned it, I spoke the name of the hostel "Mingtown". She nodded and handed the paper back. "Thirty yuan", she said. This was about double what we thought fair so we declined. She shrugged and started to walk away. About thirty more seconds of standing in the seemingly stagnant taxi line in the rain caused us to reconsider. We followed the woman to a small shelter and waited for our car to arrive. Five minutes later, we were riding through the potholed, rain-soaked streets of Suzhou with no regrets about our decision.
Fifteen minutes later, our driver pulled over on an overpass. He gestured toward a stairway leading down to the streets. Hesitantly, we collected our bags and stepped out into the pouring rain with our single umbrella for shelter. We descended the stairway to a series of gray, narrow streets decorated with red Chinese lanterns. We picked a direction and started walking, looking for a familiar street name. After several minutes of frustrated wandering, we began to ask the locals for help finding our street. They all seemed confused but agreed that we needed to walk back up the stairs and take a taxi. Their collective response was disconcerting but we didn't have a better idea so back up the stairs we went. Then, across the street, we spied a Hostelling International sign. Halleluiah! That had to be it! We made our way across the street and over to the entrance of the building. The hostel staff was welcoming and the lobby was warm and dry. Aaron gave his name to the reservation desk; they did not have our reservation but said that they had a room available for us. It was then that we saw the hostel name: Mingtaughan. Sounds a lot like Mingtown, right? It immediately dawned on us that the woman at the train station could not read the English name on my piece of paper. It was only after I had spoken the name "Mingtown" that she claimed to know the place.
The staff at Mingtaughan naturally tried to convince us to stay there instead, which would have been a fantastic idea had we not secured our reservation at the other hostel with our credit card. We would have been charged at the other hostel anyway. After we explained the situation, the staff explained that Mingtown was on the other side of town and we would need to get another taxi. They wrote the name and address of the hostel in Chinese and sent us back to the overpass to hail a cab. Back out in the rain, we watched several full taxis pass by. When a car finally stopped for us, we showed the driver our Chinese paper from the hostel and, for some unexplained reason, he refused our fare. Five minutes later, the same thing happened again. I probably don't need to mention that I was beyond seething at this point. The usual "I hate Chinas" transcended the confines of my inner monologue and escaped my mouth (despite my best efforts to hold them in), colored with some especially unsavory adjectives.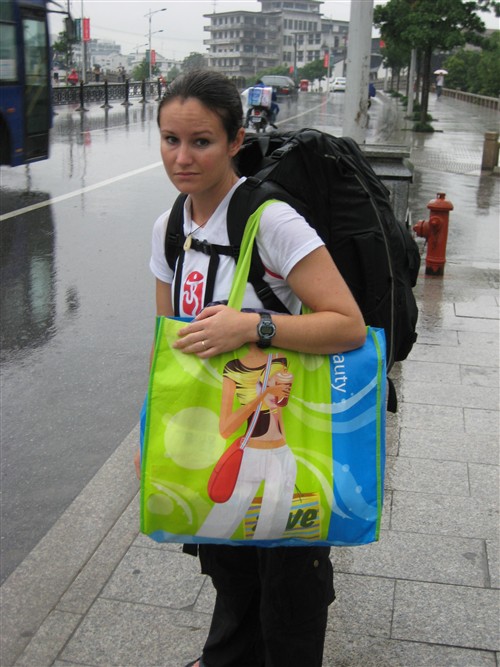 When a rickshaw driver pulled up, I didn't even want to bother with him but Aaron was feeling more optimistic, or perhaps more desperate, and handed him the paper. The driver quoted us another 30 yuan and we didn't argue. We just got in. There was a cover atop the rickshaw but the sides were open and we were almost completely exposed to the elements. We huddled together on the tiny seat, barely wide enough for two little Asian butts, much less our collective junk in the trunk. We rode for a good thirty minutes, passing the train station from which we'd come; the driver stopping several times along the way to ask other rickshaw drivers where the street was. After many stops and a few u-turns, we FINALLY arrived at Mingtown. I was ready to give that rickshaw driver a big smile and a hug. Aaron pulled out a 50 yuan note and handed it to the driver but rather than dipping into his little box for 20 yuan in change, he tried to tell us that we owed him another ten, that the fare was 30 yuan per person. Suddenly, I felt a powerful rage come over me, a rage fueled by three weeks of squat toilets, secondhand smoke exposure, pushing, shoving, spitting, lack of queues and basic manners, foods soaked in oil and MSG, foul smells, constant gray skies, pedestrians never having the right of way (even in the crosswalk)…and I channeled all of that rage toward the rickshaw driver in a wild-eyed, high-volume, curse-filled rant that he likely didn't understand a single word of but still understood the point perfectly well. When the stunned driver attempted to maintain his ground, I lunged forward, snatched the 50 yuan note out of his hand, and told Aaron to get out of the vehicle. At that point, the driver realized that he was in danger of getting paid nothing; he reached into his change box and quickly produced two 10 yuan notes. The transaction was complete.
Inside the hostel lobby, we began the check-in process. As Aaron attended to the paperwork, I noticed a sign on the wall, warning travelers not to patronize cyclos or rickshaws in Suzhou and not to believe anything they say. Well, it was a little late for that. We were shown to a room on the top floor with leaks in the ceiling that soaked nearly every surface except for the nice wooden canopy bed. We later switched rooms and began to unpack our bags, the contents of which had been soaked through from the rain.
Since we were already drenched, we decided to brave the downpour once again for a hot meal. After getting a few unpromising suggestions from the hostel staff, we ventured out onto the narrow canal road to see what we could find. We found nothing but a smoke-filled coffee shop, a bar, and a tiny dumpling shop where the women inside shooed us away as quickly as we had entered. Despite our rain gear, the ubiquitous wetness of the day soaked the exposed bottoms of our pant legs so thoroughly that the water spread all the way up to our waists. Fed up, we returned to the hostel empty-handed, pissed off, and resigned to sustain ourselves until morning on the fruit and nuts that we had in the room. It was a long night.
The next morning brought a reprieve from the rain and we rented a couple of bikes to explore the town. Suzhou is, in fact, a modern city with pockets of its former charm tucked away in canals and narrow stone roads lined with the original whitewashed buildings. Cars are prohibited from the canal roads, which makes them perfect for a relaxing stroll or a bike ride; and through the tree-lined streets and cobblestone lanes, there is a sense of beautifully preserved antiquity. Small wooden boats float the canals. Women fill buckets from water wells. Farmers push carts of fresh produce through the streets. Laundry hangs along the whitewashed walls of centuries-old residences. We even saw a woman bloodletting a chicken that fought for its life with all of its diminishing strength as blood dripped from its sliced throat into a metal pan. I found it disturbing but Aaron has a stronger stomach for these things.
Once you leave the quiet confines of the canal streets, Suzhou begins to lose its charm and morph into another bustling Chinese city with fast, noisy traffic, busy shopping areas and swarms of people. Normally, we would consider this a bad thing but the fact is that we were starving. Finding good food in China that does not contain MSG has proven to be a frustrating endeavor. They put it in EVERYTHING! Even the packaged cashews that I bought at the supermarket contained MSG! When Aaron located a TGI Friday's in the town center, I considered it a gift from God. We parked our bikes and ate like kings.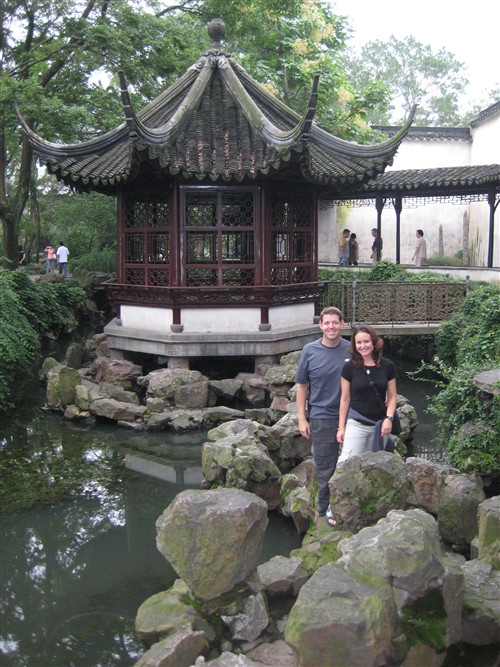 We spent the remainder of the afternoon exploring the Humble Administrator's Garden, which is said to be the largest and most impressive garden in Suzhou. Dating back to the 1500s, the garden was vast and lovely with the usual combination of lotus ponds, bamboo groves, pavilions, foot bridges, and stunning natural rock formations. It was a beautiful, sunny Saturday and the garden was overcome with crowds of people, which detracted slightly from its charm and serenity, but it was still a great place to spend the afternoon.
Our visit to Suzhou ended much less dramatically than it began and we had already reached the point of being able to laugh at our own misadventures. As our cab reached the train station after an easy, ten-minute ride, we couldn't help but laugh at the 12 yuan fare. It can be infuriating when a transaction as seemingly simple as a taxi ride turns into a wet and wild goose chase. Though, as seasoned travelers, we are constantly on guard against scenarios like these, they cannot always be avoided and, unfortunately, the potential is significantly higher in a non-English-speaking country. The truth is that situations like our Suzhou adventure cause me to marvel at the resilience and problem-solving capability of Team Young. The old saying, "That which does not kill you makes you stronger," has been reaffirmed a hundred times over throughout our travels and every day in China alone.
5 Responses to "Lost in Translation"