September 14th 2007 by Tina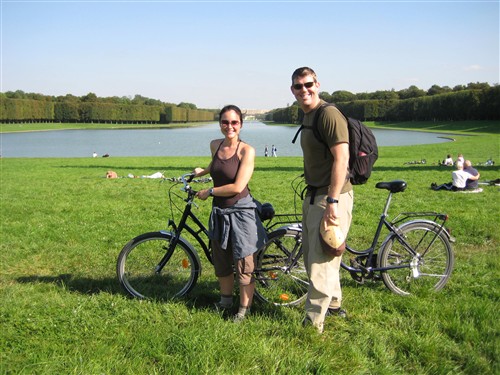 Versailles was magical!  We began with a tour of the Chateau and its majestic salons and corridors.  The muraled ceilings, the regal red and green silk wallpapers, the gold-embroidered bed coverings, and oil portraits of generations of royal bloodlines entice the imagination into romantic fantasies of inhabiting such celestial palaces.  We dream our own faces into the marble busts atop the mantles and into the portraits of gents and demure dames in Renaissance gowns of velvet and lace, with pearly-white heaving bosoms.  The Royal Apartments seem almost fictional as one cannot reasonably fathom a life in such luxurious excess. 
The Hall of Mirrors incites pure delight with its glistening crystal chandeliers refracting colorful light from the floor-to-ceiling paned windows offering the best view of the Edenesque gardens below.  The inner wall of the hall is aligned with gold-trimmed mirrors, creating the illusion of space and light.  Also spectacular is the Hall of Battles, a long, lavish corridor lined with enormous oil paintings depicting centuries of French battle scenes.  The tourist headsets are complimentary with the price of admission and we enjoyed listening to the recorded stories of many of the battles portrayed on these great walls.
And then there were the gardens!  The sunny afternoon made for a gorgeous descent into the main garden, where the bright green lawn seems to end in the sky.  We lounged in the grass along the edge of a cross-shaped canal and soaked up the sun, pondering the rental of a rowboat.  The gardens were vast beyond the water, though, and at Aaron's suggestion, we opted to take bikes instead.   This turned out to be a brilliant choice as we spent the next glorious hour gliding along with the gentle breeze coolly carrying us through the autumn woods.  As we merrily pedaled along, I felt a youthful freedom that I had not felt in years!  It was exhilarating to feel suddenly devoid of inhibition, devoid of uncertainty and anxiety, and to be childishly, wholeheartedly, breathlessly living in that moment!  Time stopped for us; it was a vision that will be safely tucked away among my fondest memories in that treasure chest of perfect moments.
2 Responses to "Versailles"
Lizzi on 16 Sep 2007 at 9:06 am #

I'm babysitting your little princess next weekend. Can't wait. Miss you!!!

Alexis Coutris on 17 Sep 2007 at 4:46 am #

I feel like I am there with the both of you! The way you vividly depict every bit of your trip is beyond amazing! Thank you for letting us be a part of your trip, I can't wait to see where I am going next!! Love, Alexis