November 23rd 2007 by Aaron & Tina
Posted under Africa & South Africa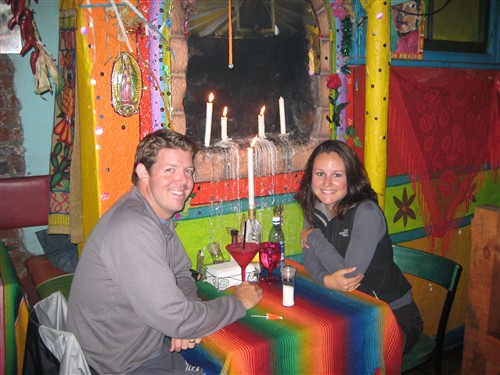 From our first moments in Cape Town International Airport, it was clear that we were no longer in Africa, at least not the Africa that we have come to know. We were greeted by shiny marble flooring, brightly lit storefronts, and an unfamiliar odorless environment. Driving from the airport to our hostel felt like any major highway in the U.S., minus the traffic. Late model cars, including many expensive German-engineered models, cruised along the immaculately paved thoroughfare. It seemed strange that our driver wasn't dodging pot holes or swerving to avoid oncoming traffic. The ride was pleasantly uneventful.
Cape Town bears an uncanny resemblance to San Francisco. A constant cool breeze pushes inland from the bay and whips around the hilly, narrow streets. Tall downtown skyscrapers are surrounded by modern waterfront shopping and tourist malls, newly constructed sea view condominiums, and historic buildings restored to their original Victorian architecture. Our hostel is on Long Street, a lively, cosmopolitan area in downtown Cape Town with an eclectic variety of restaurants, cafés and jazz bars catering to every taste and persuasion. Our third-story room overlooks the busy street below and the sounds of raucous revelers can be heard throughout the day and into the wee hours of morning.
On our first morning, we woke to gray skies, wind, and rain, which thwarted our plans of exploring the city on foot. We decided to rent a car and drive down to Cape Point and the Cape of Good Hope. Tina conveniently forgot her driver's license at the hostel so I was the designated driver while she acted as navigator. Driving in South Africa is quite different from driving in the U.S. – everything is backwards! Cars drive on the left side of the road and the driver's seat is on the right side of the car; there are different road signs, traffic circles instead of stop signs, and kilometers instead of miles. To complicate matters, our rental car had a manual transmission which, of course, required shifting with the left hand. There was no initiation – no question as to whether I'd ever driven backwards before; I had an English language driver's license and a credit card so they gave us a car. With a map and a prayer, we pulled onto the street and headed out of town.
Soon we merged onto the rain-soaked coastal highway and felt that marvelous sense of freedom and control over our own destiny that comes with a car, a full tank of gas, and an open road. The drive was beautiful even in the thrashing rain. Huge waves crashed against breaker walls protecting the sleepy seaside towns which dotted the coast. We arrived at Cape Point and braved the wind and rain to hike up to a lighthouse lookout over the sea where the Indian and Atlantic Oceans collide. We backtracked a few kilometers to the Cape of Good Hope, where we battled the elements and the tour groups for a quick picture at the southwesternmost point in Africa. The views of the cape peninsula from all angles were stunning. Tall, rocky mountains with sheer cliff faces, covered in a lush green flora, jut into the sea while the cold waters of the Atlantic and the warm waters of the Indian Ocean flow seamlessly into each other and crash angrily onto the shore.
On the way back to town, we spotted signs for an African penguin colony so, of course, we had to stop. We've seen lions, giraffes, cheetahs, and rhinos. We've seen elephants, flamingos, hippos and dolphins…but we hadn't seen penguins yet! We entered the outdoor observatory and walked along the path toward the penguin habitat. The wind and rain had intensified and, while our Gore-Tex jackets protected our upper bodies, our pants quickly became soaked much to the dismay of my warm-weather wife who began letting out whiney squeals with each gust of wind. I knew that our time with the penguins was limited. There were at least a hundred of the sleek-bodied birds flocked around three large boulders, shielding themselves from the wind. They waddled around in their natural tuxedos, forming little social circles and flapping their wings. Our close proximity to the birds – about five feet – didn't seem to bother them but rather piqued their curiosity. They seemed to be wondering what we fair-weathered humans were doing outside in such nasty weather. We bid the penguins farewell and headed back to town. The rain continued nearly uninterrupted throughout the evening and through the night.
Thanksgiving day in Cape Town began with rain once again. But by noon, the skies had cleared and we ventured out to the Victoria & Alfred Waterfront to do some shopping and sightseeing. The Waterfront is a huge master planned complex on an active wharf with over 400 shops, including a modern shopping mall, numerous restaurants, and tourist offices advertising excursions around the bay and to nearby Robben Island, where Nelson Mandela was imprisoned. We browsed bookstores and shops, gawking at all of the luxurious items we would have once considered buying when we were gainfully employed. We spent the afternoon basking in the sun on the deck of the Paulaner Brewery, guzzling half-liter Hefe-Weizens and enjoying the unseasonably cool South African summer. We returned to Long Street for a wonderfully decadent Mexican Thanksgiving dinner: nachos, fajitas and margaritas!
4 Responses to "Thanksgiving in Cape Town"