November 30th 2007 by Tina
Posted under Africa & South Africa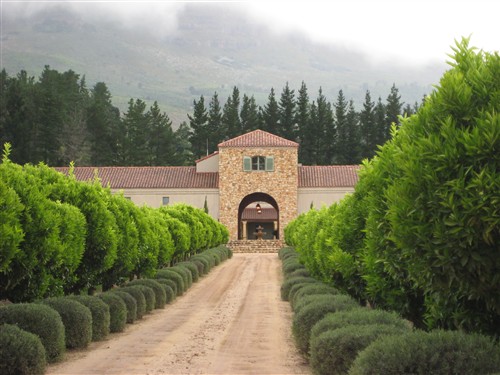 We rented a car for a few weeks and, with beautiful Cape Town fading in the rear view mirror, headed for the wine country. Stellenbosch, the most well-known wine region of South Africa, is a charming and picturesque university town nestled in a rocky mountain valley. It is only a thirty minute drive from Cape Town so, despite a leisurely mid-morning departure, we spied the first welcoming Stellenbosch wineries before lunchtime. With the eagerness of two kids in a candy shop, we pulled into the first winery, called Spier. The property was breathtaking with perfectly parallel grapevines in varying shades of green and a lush lake surrounded by gently rolling hills and old, sweeping trees.
We went straight to the tasting room and dutifully whet our whistles with our first tastes of the coveted fermented grape juice for which we have grown an almost obsessive fondness. The art of wine tasting is a distinctly pleasurable experience. A line of delicately thin, pristinely cut, perfectly polished glasses just barely bottom-filled with luscious liquid in shades of gold, purple and dark red, sparkling elegantly in the sunlight, showing off the unique personality of each wine fills my heart with vibrant warmth and pretentious giddiness. Every precise step in the tasting process contributes to the perfect overall experience: holding the glass of wine (always by the stem, PLEASE!) up to the light to examine its color and legs; swirling the wine within the glass to open up the aroma; gently inhaling the bouquet, identifying particular fruits and spices, preparing your taste buds for the indulgent climax; sipping the wine, letting those first drops slide across every part of your tongue, taking in the full flavor profile – a combination as unique as DNA. And then there is the requisite discussion because each wine is different for every person, according to his or her taste preferences. Give a group of people each a glass of wine from the same bottle and they will likely each identify a unique combination of scents and flavors. Aaron and I have always enjoyed discovering wines together. When we find a new wine that we both love, it is like finding a hidden treasure. The South African wine regions produce an abundance of outstanding whites, specifically Sauvignon Blancs and Chenin Blancs – both of which we love – but the reds leave much to be desired, according to our big, juicy California red-soaked palates.
After our tasting at Spier, we wandered into their gourmet deli and created our own picnic lunch to have beside the lake. It was a gorgeous sunny Sunday and many locals seemed to have the same idea because the lawn around the lake was full of beautiful blonde families. The scene resembled a commercial for some type of All-American product – little girls in pink Sunday dresses with matching ribbons in their golden hair, children riding miniature ponies, all smiles while smiling Dads looked on and Moms gossiped with each other and fussed over the youngest ones. We ate slowly, happily absorbing the golden sunshine and the wholesomeness of the moment, daydreaming of a future day when we might bring our own smiling children for a Sunday picnic…someday. Places to go, things to see first!
After a brief but leisurely stroll around the lake, we hopped back into our trusty VW Polo and hit a couple more wineries before checking into our hostel. Many of the wineries were closed on Sunday so we spent the afternoon driving through the grassy hills and valleys, exploring the winding, tree-lined roads. The day was so lovely that we decided to splurge on dinner at a trendy Mediterranean seafood restaurant on the cute little main street in Stellenbosch.
The hostel only had availability for one night (which didn't break my heart since it had communal bathrooms anyway) so we packed up our things the next morning and upgraded to another place on the other side of town. Banghoek Place turned out to be a grand improvement! It was a cozy lodge with tastefully decorated rooms, a modern and well-stocked self-catering kitchen, and a more mature clientele than the grungy twenty-something backpackers with whom we usually co-habitate on the road. We settled into our room, thanked God for the Heavenly bed with the big down comforter (it's cold here, even though it's summer), and put on our drinking hats for a full day of tasting!
We headed for the hills north of Stellenbosch, where we stumbled upon wineries in such plenty that we had to pass two or three for every one that tempted us inside in order to keep the loose lips of intoxication at bay. The skies were gray and melancholy but wineries are always filled with cheer and smiling people who all come for the wines and the ambience. Winemakers are a proud breed – it is evident in the individuality and opulence of the settings they create in which to present their prized potions. Each winery has its own personality and you feel a sense of familiarity with the winemaker as you wander, wide-eyed and awestruck, through the magnificent properties. Some are contemporary with metal details while others are rustic, French country or antique but, whatever the style, all wineries and their rolling vineyard backdrops are simply gorgeous!
As the consolidated effect of our morning tasting began to catch up with us, we stopped in to DelVera Cellars in search of lunch. What we found first was a cheese factory which offered cheese tasting! We walked along the chilled cases and tasted about fifteen varieties, all produced on the premises. The cheese was delicious and just what the doctor ordered to soak up some of the vino that was coursing through our veins! We indulged in tastings through the early afternoon when I finally decided that my taste buds were overwhelmed. Aaron, being the young buck that he is, had a bit more stamina so we compromised on one final winery, called Waterford, which boasted wine and chocolate pairings. There's always room for chocolate!
We sat on upholstered chairs at an elegant round table for two as our cute-as-a-button co-ed sommelier presented the wines. I baby-sipped the obligatory whites in eager anticipation of the sweet finale. A glossy, rectangular board was placed in front of each of us, containing three meticulously placed, thin slabs of embossed chocolate each below a short paragraph describing how the specific flavors of the chocolate perfectly complemented the corresponding wines.
As a general rule, I prefer not to mix sweets and wine. Wine first and, when the wine is completely finished, then sweets but ne'er the two shall mix! These particular pairings, however, shocked my finicky taste buds into a new level of appreciation. The locally-produced chocolates were flavored with unusual spices and flowers, which mimicked and enhanced those flavors in the wines. The first pairing was masala chai dark chocolate with a spicy shiraz with a common flavor of spicy cinnamon; then a rock salt dark chocolate, made to imitate the savory essence of salty meats, was paired with a dry-finishing cab that made my mouth water for a juicy, salty steak; finally, a rose geranium milk chocolate intensified the soft honey and raisin flavors of a sweet port. Our taste buds were singing! We enjoyed the pairings immensely but, with the chocolate, it was love at first bite! The sommelier informed us that the chocolate was only available at the winery and in the small town of Greyton, where it was produced. We bought a bar of the masala chai and ended our day of tasting on a sweet note.
We were having such fun exploring the winelands that we made a reservation for one more night in a neighboring wine town. The next day, we were surprisingly fresh-faced, considering our recent exploits, and drove into the charming little wine town of Franschoek. It has the same storybook appeal as Stellenbosch with Old Dutch architecture and almost as many four star guest houses as residences. We had booked a night at Otter's Bend, a family-owned property with lovely wooden guest cottages built on the edge of a shallow river. Our cabin was basic but romantically secluded. The best part, however, was the common area – a large, open wooden shed with a wood-burning fireplace, a long rustic dining table, and fully-stocked kitchen. There was a bar area in one corner, cut from a huge, oak wine barrel and a working cast-iron wood-burning stove. Antique workmen's tools hung from the walls and big steel skillets dangled from a metal rack above the stove.
After a relatively short day of exploring the Franschoek wineries, we had a casual, early dinner in town and retired to Otter's Bend for the evening. With about an hour of daylight remaining, we took a walk along the dirt road that separated Otter's Bend from the neighboring properties: a vineyard, a horse property and a white-washed, Dutch-style, four star bed and breakfast, all set against a mountain backdrop. The views were spectacular and we walked until we ran out of daylight. We spent the rest of the evening in the common area of the lodge, which we had all to ourselves. Someone had already placed kindling and logs into the fireplace so we stoked up a blazing fire, boiled two cups of steaming hot coffee, lit a Cuban cigar and pulled out the dark chocolate bar from Waterford. We succumbed to the trance-like enchantment of the crackling flames and felt like the only two people in the world, wrapped in a cocoon of warmth against the crisp, cool wilderness outside our door.
The next morning, we were off again to Wilderness National Park, on the southern coast, to begin our drive along the famous Garden Route. As we'd been looking at the map the previous evening, we noticed that a stop in the town of Greyton (where the chocolate was made) would require only a small deviation from our route to Wilderness. The owner at Otter's Bend had given us a hand-drawn map of a scenic back road route to Greyton that promised spectacular views and, as the master's of our fate, we made a command decision to take a little detour for chocolate!
The sun was shining in a cloudless sky as we drove through the jagged mountains surrounding Franschoek and onto the back country roads, which were alternating stretches of dirt and black top. We passed hidden vineyards, sprawling farms, glassy lakes and meandering streams through fields of gold and green. There were tiny towns along the roads with as many horse drawn carriages as cars. Almost every farm and town advertised a bed and breakfast and we could have stopped in any of them and gotten happily lost for a few days if not for our gluttonous mission.
We found Greyton easily and drove slowly along its single main street, keeping an eye out for Von Geusau Chocolates. We found instead a small tourist information office, where a friendly woman pointed us in the direction of Le Petit Chocolat, an adorable corner coffee and sweet shop that sold the coveted chocolates we were after. There were several more varieties than we had seen at Waterford and – God Bless Greyton – samples! Aaron is the only man I've ever met who is a bigger chocoholic than I am and we are a dangerous combination in a sweet shop! The kind-faced woman at the counter must have thought we were absolute pigs as we stacked one bar after another onto the counter, all of them obviously for ourselves. With six bars of gourmet chocolate, a couple of hand-selected truffles, and a package of cookies in tow, I felt my pig snout growing as we pulled away from Greyton and headed toward the coast.
4 Responses to "Cape Winelands"