Posted under New Zealand
It rained like cats and dogs on our last day at Abel Tasman and we spent the day in Motueka, relaxing indoors and planning the future. The rain fell without reprieve and the air was so thick with tiny droplets of mist that we still got soaked on our single dinner-seeking venture outside despite the cover of an umbrella. We didn't mind the weather, though, because it forced us to take a day of rest and catch up on a few things before moving on to our next destination: visiting the Fields in Nelson. To recap, we met Jerry and Hayley on Zanzibar while swimming with dolphins. They were, at the time, doing some brilliant volunteer work at a farm and cheesery in Zambia and had invited us to stay with them at the farm for a few days, which we did. The upcoming arrival of their first baby shortened their volunteer stint and they've moved back to Jerry's hometown to await the blessed event.
We stayed with the Fields for three nights at their home in Brightwater, just outside of Nelson, and truly relaxed amid their warm hospitality. We immediately fell in love with Bear the Cat, who won our hearts when he leaped into bed with us the first night and nestled himself between Aaron's legs. He lost a few points with me later when he brought a dead bird into the house but that's what cats do. Still, he was kitten-soft and playful and endlessly entertaining.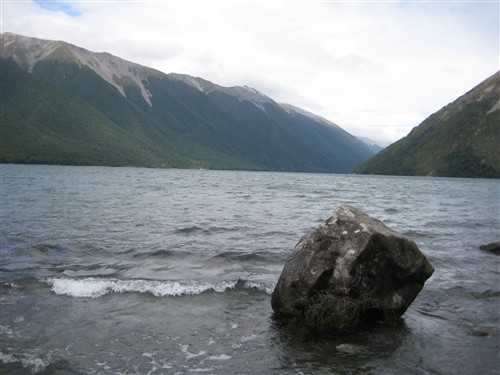 During the days, Aaron and I ventured out – once to Nelson Lakes National Park and once into charming (with hanging flower baskets everywhere) downtown Nelson – while Jerry worked and Hayley relaxed around the house in her wonderfully round, uncomplaining eighth month of pregnancy. In the evenings, we dined together and drank local wine (well…three of us). The Nelson region is wine country and, while lesser known than the neighboring Marlborough region, it has some impressive wineries.
Our stay with Jerry, Hayley and Bear the Cat was pleasantly uneventful. We had a lovely drive around town, including a stop at a favorite swimming hole and an impromptu visit with Jerry's adorable parents, and a farewell dinner at a delicious lakeside seafood restaurant. The days flew by and, as we were packing our bags once again, I admiringly reflected on the Fields' gift of homemaking. During both of our brief stays with them, we felt immediately welcome and comfortable and the feeling remained through our entire visit. It takes a special knack to create that atmosphere and the Fields seem to do it effortlessly. I think that they would make wonderful guesthouse proprietors.
Back on the road, we set out for the much-anticipated destination of Marlborough and it wasn't long before the highway landscape turned to meticulous rows of grapevines against a backdrop of mountains and pale blue sky. Blenheim is the most popular home base for wine tourists but we chose the much smaller town of Renwick for its closer proximity to the wineries and, accordingly, the allure of touring the wine lands by bicycle.
Were it not for its prime location, the one horse town of Renwick would be anonymous but our cozy family-run Watsons Way Backpackers guesthouse was overflowing with curious little winos. After checking into our runt of a twin room, undesirably located just off the common area, we spent the remainder of the gorgeous sunny day relaxing, walking the length of the town in a mere twenty minutes and succumbing to the temptation of the corner fish and chips shop. We have enjoyed self-catering again in New Zealand – a must on a backpacker budget – but we nonetheless feel inclined to sample the local cuisine, however deliciously fried and devilishly detrimental to our arteries it may be. I don't know if anything batter-dipped and deep fried could really taste bad but this fish was sensational! Despite a joint discontent at living life on the pudgy side these days, we resolved to have fish and chips from the nameless corner shop again before leaving Renwick and vowed to eat more healthily after that (and yes, Momma, I know that "a diet that starts tomorrow never works")!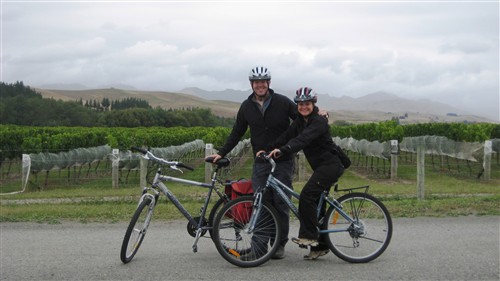 The next day was for wine tasting! After a leisurely breakfast, we rented bikes from the guesthouse proprietors and set out into the wine country. The weather was overcast and breezy but it didn't detract from our giddiness. Riding a bicycle is a delight too often reserved for childhood. Since learning to drive, I've had only one great mountain bike, which was subsequently stolen out of my house in Tucson and never replaced. It's a shame because, in the few opportunities that we've had on this trip to rent bicycles, the old familiar feelings of freedom, possibility and youthful exuberance came rushing back with the first whisper of breeze through my hair. Despite Aaron's long-time love of road cycling, I have never considered the sport/hobby because he rides so damn early in the morning and, as previously mentioned, I don't function well before my first cup of hot black, caffeinated, kidney-wrenching sludge. Still, having recently partaken in the two-wheeled pleasure, I discovered a rekindled passion for it and, much to Aaron's delight, plan to add it to my repertoire of outdoor endeavors when we return to the real world again.
There were several familiar winemakers on our planned itinerary as well as a few conveniently located boutique wineries. Aaron had requested panniers (saddlebags) for his bike so that we could fill them with wine bottles purchased along the way. Our first stop at Spy Valley – a beautiful twenty-minute ride from Renwick – yielded an expectedly excellent tasting, conducted by a perky and inquisitive sommelier, and a bottle of unoaked chardonnay. Next, a fruitful impromptu stop at Bladen Vineyards led us to discover an array of lovely boutique wines produced by a friendly couple from the North Island who once dreamed of owning a vineyard. We are continually inspired by fellow dreamers and these two were living their dream and pouring it proudly for anyone who ventured up the gravel drive to their outdoor tasting patio. Forrest Winery had a crackling fire in their tasting room – a warming reprieve from the chilly wind – and a patio area where we lingered to eat our picnic lunch. We had the place to ourselves and the wonderful sommelier invited us to enjoy the fire and grounds for as long as we liked.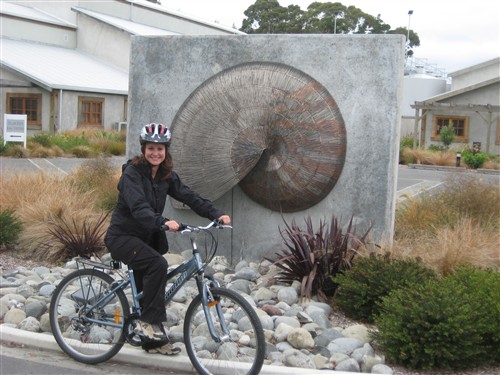 I've been especially looking forward to the Nautilus Winery since, many years ago, as my first-ever taste of Marlborough Sauvignon Blanc, it catalyzed a preference shift from California Chardonnays to Marlborough Sauv Blancs lasting through the present day. When a shift like that occurs, a wine lover remembers the details. First tasted at Bistro Zin in Tucson sometime around 2002, I ordered a bottle at every subsequent visit (which, in those glory days, was frequent) until it somehow slipped off their wine list. I have not come across it since, though many others have tickled my palate from the roundish depths of polished glasses. It was a pleasure to taste it again at Nautilus after all these years and it was as delicious as I remembered.
By this time, we are happily buzzed and the bottles in our panniers are clinking when the rotation of Aaron's pedal occasionally collides with them. We make silly stops to photograph grapes (it's harvest time in Marlborough so the grapes are ripe for the picking) and ourselves and to scare sheep in the pasture. Actually, if the truth be told, my mischievous partner in crime with the shit-eating grin shouted to scare them while I was trying to get a picture of them. He gets away with a lot of mischief for having such a cute face and because his heart of gold shines through everything he does. God help me if my babies are as convincing.
We glided back to Watsons on the wings of mild intoxication and, after the panniers had been relieved of their clinking cargo, we relinquished the bikes. Mid-afternoon must be prime tasting time because there wasn't a soul in sight at the hostel as we wiled away the hours until just before dinnertime when the winos began to trickle in with their grocery bags and liquid treasures from the day's exploits.
The next day was sunny and gorgeous and we set out for another day of tasting, this time by car due to the longer distance of some of the selected stops: Montana, Cloudy Bay, Alan Scott and two retailers – the Wine Room and Wine Cellar – each representing a group of winemakers without their own cellar doors, including Kim Crawford and Nobilo – two of our favorites for Sauvignon Blancs. Not surprisingly, however, the aromatics dominated both days' purchases and we came away with soft, supple Pinot Grises and well-rounded Rieslings with flowery bouquets.
For dinner, we found ourselves back at the fish and chips shop, devouring every bit of our salty fried cod. The natural result of this greasy indulgence is the fatty food coma, which is best endured in couch potato form, but just as I had finally laid down with my book, eager to succumb to the wave of fatigue, I heard a familiar voice asking an unfamiliar question: "Want to come outside and play tennis with me?" and I knew the little stinker was serious. I reply, "Hell no, I don't want to play tennis! I've just spent the last three hours drinking wine and gorging myself on fried food." Aaron: "Come on, it'll be fun. We'll just hit the ball a few times." Me: "I feel like poo. Besides, I've played tennis recently and I'm terrible at it." Aaron: "Then just come out with me while I play by myself against the wall." Me: "No!" Aaron: "Last chance." Me: "Fine, I'll bring my book," and I peel myself out of bed. Aaron grabs a couple of balls and two rackets (just in case) and, before I know it, I am playing tennis in cargo pants and sandals. The things we do for love!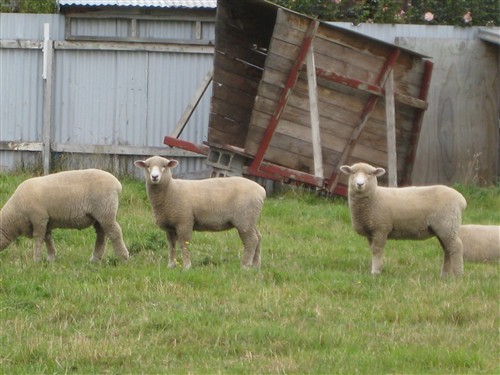 Our week in the wine country concluded our travels in the South Island. The next morning, after ambitiously swinging the rackets again, we packed up the car and drove north to Picton to catch the ferry across the Cook Strait to Wellington in the North Island. We've enjoyed the outdoor adventures, the arresting beauty of the landscapes, the glaciers, the wine country and especially the sheep, but we're ready to see what the North has in store.
One Response to "Wine Country"
Jean Nelson on 12 Mar 2008 at 11:34 am #

Tina- Don't worry about your diet. You are there to enjoy and you look great in every picture I have seen!!