September 4th 2007 by Tina
Posted under U.S.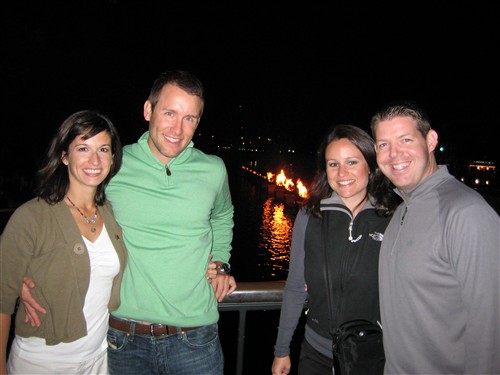 First stop: Boston!  We were ecstatic about seeing Mark and meeting Meredith and Boston/Rhode Island has turned out to be an appropriate first step in our adventure: a full immersion in American history and culture. 
"Waterfire" (a Providence summer tradition):  We walked from Meredith's place into downtown Providence around 8:00pm and the narrow canal (a.k.a. Providence River) was lined with spectators, gazing at the burning log fires over the water.   Gondolas glided along the river and one gondola full of volunteers dedicatedly cruised from one end to the other, adding logs to all of the fires.  It was a beautiful community event – lots of families enjoying the outdoors.    We enjoyed an amazing dinner at Nuovo: cool, slippery, local oysters, braised beef spare ribs in a rich, succulent dark sauce, lobster…and a big, juicy Markham Merlot which complemented the meat perfectly.  Magnifique! 
Sunday was all about the boat.  Narraganset Bay is breathtakingly beautiful.  There is a shade of blue that is specific to the Atlantic Ocean: maritime blue, I'm calling it.  The feeling is not of surf boards and beach bums but rather of surly seamen and preppy argyle and plaid-donned Rhodies.  We spent a cloudless, breezy day wakeboarding, skiing, napping on the bow, and snacking on chilled watermelon and meatball sandwiches (compliments of Meredith's mom).  We stopped for an early dinner in Newport at a favorite spot of Mer and Mark's called Scales & Shells.  Lobster Fra Diablo was a gargantuan cast iron skilled filled with every variety of the freshest shellfish over pasta in a spicy marinara sauce.  Four of us shared a Fra Diablo for two, washed it down with tart, salty margaritas, and we all left fat and happy.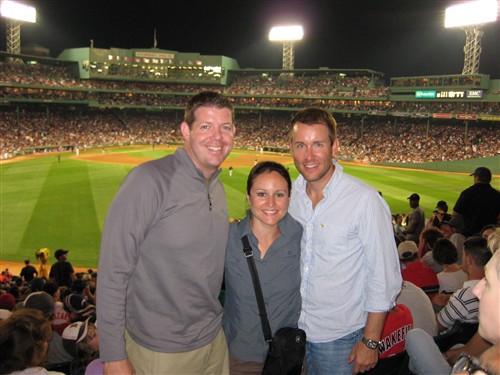 The next morning, Mer had to work so the three musketeers jumped on a 45-minute train ride to Boston.  Mark's place is strategically located in the bustling South End, where he can justify not having a scrap of food in his fridge because everything you could possibly want is available right downstairs.  Humping our backpacks up the two steep flights of stairs to his top floor digs was equivalent to about 10 minutes of squats.  We are determined to lighten our packs!    Aaron was psyched to see a game at Fenway and we secured last-minute tickets outside the stadium after some intense negotiations.  Our efforts were rewarded as we enjoyed a great night at the ballpark.  Fenway is a relatively small stadium so it has a kind of hometown feel.  We aren't huge Red Sox fans or even huge baseball fans in general but, for those few hours, we felt like Bostonians cheering on our home team. 
The Boston Duck Tour: For a mere $27 per person, you can spend an hour and a half of your life riding around Boston in an amphibious vehicle (the Duck) that drives like a car but also drives right into the water like a boat.  There are no windows and plenty of opportunities to "quack" in unison at everyone around town. 
We celebrated our third wedding anniversary today with dinner in the North End, famous for it's Italian cuisine.  Fate lead us to a little place called Bacco, where we feasted and drank too much red wine.   After a quick night cap at the Oak Room, we are back at Mark's place.  And tomorrow…Paris!
4 Responses to "And…they're off!"