February 24th 2008 by Tina
Posted under New Zealand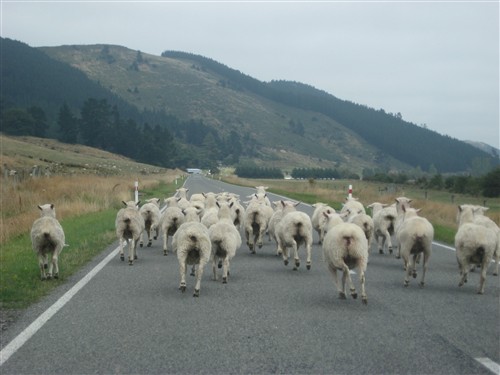 G'day! Welcome to New Zealand! Population: 4 million humans; 40 million sheep. The locals are called Kiwis, gentlemen are blokes, friends are mates, and vowels are consistently butchered in the endearing Kiwi-accented English. The most common fast food is fish and chips or "fush 'n' chups" and, not surprisingly, lamb is a staple entrée on Kiwi dinner tables. New Zealand's two islands, the North and South Islands, are together about the size of Colorado and rival its stunning alpine landscapes. The Lord of the Rings films were shot against New Zealand's fairytale backdrops. The remote islands attract almost 3 million foreign tourists each year who are drawn to the postcard-perfect views, outdoor activities, beaches, lakes, mountains, wineries and lack of terrorism. The weather in NZ is gorgeous right now – sunny, breezy and 70s during the days and cool enough for a light jacket in the evenings. The sun doesn't set until sometime between eight and nine o'clock so each day is long and full of possibility.
We arrived in Christchurch on a late night flight, made our way through Passport Control, collected our bags and moved on to the Customs area. New Zealand has exceedingly stringent regulations regarding potentially contaminated items that may be carried into the country. Bringing food, herbs and wood products into NZ is prohibited. Also, you must declare which countries you have visited in the past 30 days and what animals you have been exposed to. For us, that included India and Thailand and a host of filthy animals. We fully expected to be detained but the Customs officers were impressively expedient. They took our hiking shoes, the bottoms of which were covered in dirt, into a back room and brought them back spotless and disinfected. We made it through in less than ten minutes; a similar process would have taken about five hours in Africa.
We took the airport shuttle to a guesthouse that we had booked in advance. It turned out to be a house in a middle class suburb outside of town. The owner answered the door, quite abruptly demanded the cash for our two-night stay, showed us to our room and that was the last that we saw of her. While the room was perfectly comfortable, we both felt the same isolated feeling of being in an unfamiliar suburb with no car, phone or internet access. The next morning, we walked a few blocks to catch the city bus into the city-center. From there, we spent the majority of the day getting our bearings, doing some trip planning, and strolling around town. The first thing that we noticed about Christchurch was how expensive it is! Coming from Thailand, where you can feast on Pad Thai for sixty cents, we were a bit shell-shocked by the prices of daily essentials – approximately 15-20% higher than prices in the U.S. We quickly came to terms with the fact that we would be exceeding our original NZ budget by at least 100%. Christchurch is reputedly one of the three most expensive cities in NZ along with Auckland and Wellington so maybe we'll catch a break somewhere down the road.
Christchurch was described as the most English city in NZ and it is evidenced by the Old English architecture of many of the homes as well as the Gothic-style stone cathedrals, ubiquitous in the quaint town of 300,000 people. There is also an element of modernity in the newer commercial plazas in the city center and contemporary cafes and art galleries. The Christchurch Cathedral in the center of town is the most recognized landmark. It opens up to a bustling town square, called Cathedral Square, with cheap food carts, musicians playing for donations, locals and tourists walking through or stopping to enjoy a coffee or ice cream on a shaded bench. There is a large chess board designed into the concrete and strikingly oversized red and black chess pieces – up to three feet tall – are strategically maneuvered across the board by players with concentrated looks while onlookers ponder each move.
In my opinion, the most charming attraction in Christchurch is the magnificent Hagley Park. Comprised of about 500 acres of sprawling green lawns, meticulously manicured landscape, mature trees, botanical gardens, a rolling river and well-trodden walking paths, it is an oasis in the city. It is a place to go for long walks, to enjoy a picnic, throw a Frisbee or a rugby ball; it is an escape from the hustle and bustle of urban life. The park provides not only beautiful scenery but also a venue for exercise, relaxation, healthy outdoor activities and community events. A city that invests in the creation and maintenance of public parks is a city that cares about the quality of life of its citizens.
Our ambitious itinerary entails a scenic road trip around the South Island, then taking the rental car to the North Island via ferry and driving up to Auckland and the Bay of Islands in the north. A month in NZ seems like a long time until you try to plan your itinerary – there is so much to see! After scouring Christchurch on foot, we finally found a rental car for the month and are invigorated by the freedom that comes with having wheels. New Zealanders drive on the left side of the road and the steering wheel of Little Blue (our Hyundai rental) is on the right side but at least this one is an automatic. New Zealand is a top destination on both of our wish lists and we feel the roller coaster rush of the upcoming adventure already surging through our bodies. With a full tank of gas, a sunny day, and a scenic open road, we're off!
3 Responses to "4 Million Humans; 40 Million Sheep"
Brooke Rose on 29 Feb 2008 at 2:01 pm #

I love catching up on your trip. It has been awhile with the move. We are all settled in in Philly and loved getting your postcard. Email me sometime and I will give you our new contact info. Stay safe and have fun. We miss you guys. We haven't met our new neighbors yet but I am sure not as fun as you guys. Love ya, Brooke

From the Jellyfish on 29 Feb 2008 at 10:45 pm #

Aaron, I'm a little concerned about the picture above…your ass is looking a little pale!

From the Jellyfish on 29 Feb 2008 at 10:45 pm #

and furry…