February 17th 2008 by Tina
Posted under Thailand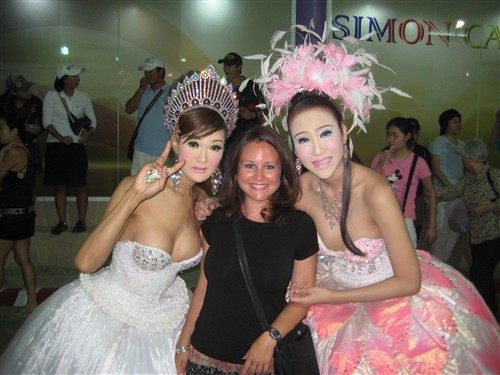 After a glorious boat trip, we decided to spend our last two nights in southern Thailand in a beach town called Patong, well known for its raucous and somewhat seedy nightlife. We were dropped off near the beach around 5 p.m. and, having made no prior reservation for a hotel room, humped our burdensome load around town in the muggy afternoon heat looking for cheap digs. It wasn't long before we settled on "beach budget" accommodation at nearly three times the rate we'd paid everywhere else in Thailand. The spotless air-conditioned lobby with smiling receptionists in tailored silk suits and complementary iced chrysanthemum tea enveloped our weary senses like a desert oasis and we eagerly booked the last available room in paradise, relatively speaking, for two nights.
We freshened up and went out exploring. Our hostel was two blocks from the beach and every street was crowded with sun-kissed tourists patronizing the endless merchant stalls and patio restaurants. The sun was just beginning its slow descent behind a jagged mount jutting out from the mainland and already the city was alight with flashy, Vegas-style neon signs advertising disco clubs, go-go bars, and beach-themed restaurants. As we walked down the pub and club-lined Th Bangla road, a medley of party tunes rang out from the booming open-air venues already speckled with the most eager revelers. It was Valentine's Day – the happy Hallmark holiday has spread to Thailand – and fancy beachside restaurants straightened their tables and perfected their displays of fresh seafood over crushed ice beds on the sidewalk, enticing inside those pheromone-saturated tourists looking to celebrate love and lust with reckless abandon of all financial boundaries.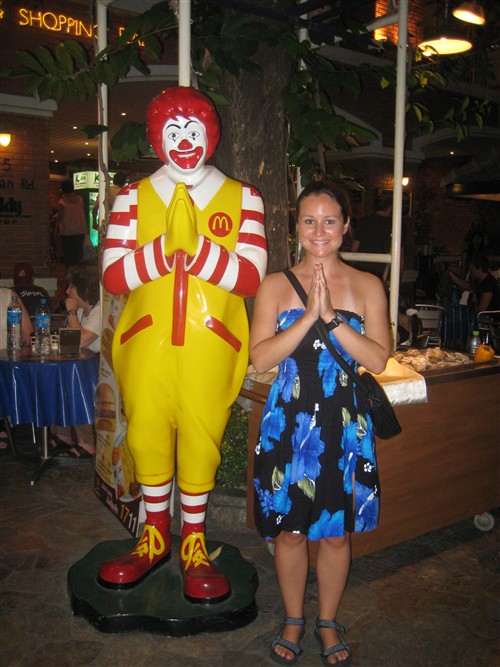 As we leisurely strolled by the lines of lobster tails, gargantuan prawns and all varieties of fresh fish, the candlelit tables with well-dressed two-week travelers toasting glistening glasses of vino, we were almost immune to the decadence in which our former yuppie selves would once have thoughtlessly indulged with the easy swipe of a credit card. No, after four straight days of Thai cuisine on the dive boat, we had tunnel vision and, at the end of the tunnel, was Ronald McDonald saying "Sawasdee Khrap" with traditional Thai prayer hands. In the States, our fast food cravings were few and far between but, on the road, those golden arches symbolize a little taste of home. So often while traveling, we order a dish that is considered "international" to that particular country and it never meets our wishful expectations. For example, I ordered spicy Chinese chow mein noodles in India and got spaghetti noodles swimming in Tabasco. Aaron ordered a grilled cheese in Thailand and got two slices of cold toast with lettuce, tomato and a non-melted slice of white processed cheese. An Italian restaurant in India isn't owned by an Italian expatriate but rather an ambitious Indian whose interpretation of Italian food would surely induce a spew of curses from any true blood Italian. At McDonald's, you know that the double cheeseburger and fries tastes exactly the same in Thailand as it does at home. With our bellies full of greasy fast food, we rolled ourselves back to the hotel to relax and hibernate after our long day.
We slept in and spent the day at the beach, which was already crowded upon our arrival. We secured a couple of beach chairs under an umbrella and took in the scene. While topless sunbathing is generally discouraged, there are enough Europeans on their much-coveted-by-axe-grinding-Americans month-long holidays to ensure uninhibited displays of old, sagging boobs. While I wholeheartedly admire women with the self-confidence to bare it all, it does seem unfortunate that with all of the obviously expensive, custom designed sets of knockers on the beach, the only ones bared are those of the fabulous fifty-plus matrons with nipples approaching belly button levels. You go, girls!
The Patong Thais have the beach commercialism mastered. Without ever leaving the comfort of your chair, you can secure a variety of deep fried delights, skewered meats, perfectly ripe fresh fruit, smoothies, beer, cocktails, nonalcoholic beverages, coconut oil, wall hangings, sunglasses, handbags, sundresses, musical instruments and massages among other things. The powder white sand and emerald green water live up to Thailand's reputation for idyllic beaches. We spent the better part of three hours reading under our umbrella with intermittent dips and bouts of people-watching thrown in for good measure and then wandered back to the room to clean up for our first evening activity: a drag show at the Phuket Simon Cabaret.
Homosexuals and transvestites enjoy widespread acceptance in southern Thailand. The often indistinguishable kathoeys or "ladyboys" are commonly considered the third gender. All of the performers at Simon Cabaret are genetically male but their hormone-induced curves, breast implants, stage makeup and unbelievable tuck jobs (unless they've actually had the snip) leave even the most critical eye in doubt. We were blown away by the quality of the performance; the brilliant costumes, elaborate sets and energetic lip-synched dance numbers held our firm attention for over an hour until the grand finale signaled the end of the show and the beginning of the rest of our night.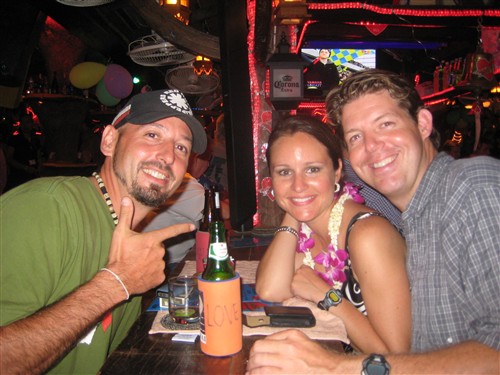 Back on the streets of Patong Beach, we learned that Jon would come over from Phuket Town and meet us around 11:30 so we had a couple of hours to kill around town. With our day at the beach finally pushing a wave of fatigue over us, we alternated between beer and iced coffee as we bar hopped and browsed the cute little clothing shops. By day, Patong is a family-friendly atmosphere but the blackening sky brings out the seedier elements – beautiful, young Thai prostitutes accompanying unattractive, middle-aged western men; scantily clad "ladyboys" dancing on bars and posing for raunchy photos with tourists for cash; costumed cabaret dancers beckoning patrons inside and plenty of adult entertainment venues offering menus of perversities. Sex is definitely for sale in Thailand. We met Jon and a few of his friends and had a spectacular night of alcohol-induced people-watching as we bounced around to a few different bars. When we finally made it back to our hotel, around 4 a.m., we passed out and woke the next morning (surprisingly not hung over) with just enough time to quickly shower and check out. It was the perfect end to our adventures in southern Thailand.
3 Responses to "Dude Looks Like A Lady"
Little Bear Mom on 17 Feb 2008 at 9:32 am #

Tina, Is that a new dress? You look fabulous in it!

Ollie SimpSon on 18 Feb 2008 at 6:41 pm #

Hey guys, just checking in to see where you're at today. Man, sounds like Thailand is off the hook at night. Anyways, stay safe and continue to have lots of fun.

Love ya, Ollie & Colleen SimpSon

Andrew Leonard on 19 Feb 2008 at 9:48 am #

You'll never look at McDonald's the same way 😉